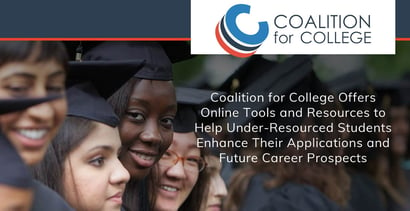 Experts share their tips and advice on BadCredit.org, with the goal of helping subprime consumers. Our articles follow strict
editorial guidelines
.
In a Nutshell: Earning a college degree can be an important step toward financial security, but for under-resourced students, that can seem out of reach. Coalition for College supports those students by providing financial assistance and a suite of tools that help with the college application process. Students can store and assemble their portfolios, qualify for application fee waivers, and simultaneously apply to multiple member schools. Coalition for College also hosts virtual college fairs and other events that help students narrow their choices and gain valuable insights into the admissions process.
When she was preparing to apply to colleges, Stacey Kostell didn't investigate financial aid because she assumed she wouldn't qualify for any assistance. As a result, she worked to support herself while taking classes and earning her degree.
Now, she works to ensure other students have an easier time applying to colleges and understanding everything else involved in the process.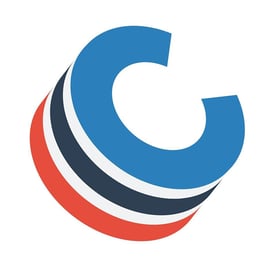 "Going to college wasn't easy," said Kostell, now the CEO of Coalition for College, which seeks to give students the tools and resources they need to pursue higher education. "I thought about how great it would be to talk to students not only about going to college but also get them thinking beyond the school next door. Plus, help them understand the cost, graduation rates, retention, and all of that. That's what drew me to this work."
Coalition for College comprises 150 colleges and universities across the United States that have banded together to increase access to higher education. Its mission is to support low-income, under-resourced, and first-generation college students by providing responsible financial aid options and tools that will advance their academic careers and prepare them for that horizon of adulthood.
As the first step on that path, the Coalition for College facilitates early engagement in the college application process. It offers planning tools through its MyCoalition platform, which allows prospective students and parents, teachers, coaches, and counselors to get a head start on long-term academic and professional success.
Online Tools Help Students Organize and Share Materials
MyCoalition is free for students, families, high school teachers, administrators, and counselors, and it offers a suite of tools and resources to help students start planning college applications.
"I think the unique part about MyCoalition isn't the application; it's the tools," Kostell said. "A student can get onto MyCoalition their freshman or sophomore year, learn about the college application process, and also start building their application."
The backbone of the process is the Locker, a cloud-based storage space where students can maintain a record of their activities and achievements in high school. Students can upload academic papers, artwork, videos of events and competitions, standardized test scores, awards, and recognitions. Those documents provide the raw materials for their college applications, and, by starting early, students save themselves a mad scramble to collect them later on.
Watch on
Integrated with each Locker is Collaboration Space, where students can share their materials with teachers, counselors, coaches, and other mentors. That support team can offer advice and feedback on their applications or their college trajectory.
"It is a way for students to think about building a portfolio — even if not all of it is going to go in their college application," Kostell said. "They can share those pieces with someone they trust to help them think about what to include."
MyCoalition Counselor is a knowledge base that students can use when researching and applying to schools. It includes information, articles, checklists, and other resources about college applications.
"It's a platform that anyone can use and benefit from, whether under-resourced or well-resourced," Kostell said. "It's built so they can share things with their community-based organization (CBO) or their high school counselor or others who are helping them through the college selection process."
A Streamlined Application Process Provides Convenience and Cuts Costs
Once students have prepared their materials and selected their desired schools, MyCoalition allows them to apply to more than 150 coalition member institutions simultaneously. They fill out the information once, saving the time and strain of completing multiple applications. Materials stored in the Locker can be selectively submitted as part of each application packet.
"The student doesn't have to have a laptop or store that information somewhere," Kostell said. "That storage is supplied to them through the Coalition, so it stays with them wherever they go."
Through MyCoalition applications, students are also eligible for fee waivers. These are available to veterans and active service members as well as lower-income students. In the latter case, the waivers allow applicants to bypass the payment screens on participating member school applications. No documentation or verification is required; they simply have to answer a few questions to determine eligibility.
"They don't have to keep answering those questions or determine a different set of eligibility requirements every time they fill out an application," Kostell said. "When they fill out the basic profile, that series of questions will tell them if they're eligible for a fee waiver, and every school accepts that no questions asked."
As an additional financial benefit, MyCoalition users can submit their SAT scores for free and with minimal effort.
"They don't have to log on and fill out a whole set of questions for the College Board. They just say, send my SAT scores to these schools," Kostell said. "It makes it easier for the students, and it's one less step."
Virtual College Fairs Bring Important Information to Students at Home
The college fair is a rite of passage for high school students bound for higher education. At these events, they can meet representatives from colleges and universities, ask questions, and gain insight that will help them weigh their educational opportunities.
But due to school closures and social distancing during the COVID-19 pandemic, in-person fairs are not an option for the class of 2020. Coalition for College's solution is a virtual college fair that simulates the authentic experience as closely as possible.
"In a college fair, typically, students walk from table to table and have conversations," Kostell said. "That's a little bit more difficult to do in a virtual environment."
As an alternative, students can "attend" a series of panels and presentations that provide general information applicable to all prospective students, such as how to narrow down a list of colleges and how to appeal to admissions offices. Students can also enter group chats and engage directly with college representatives who can provide more specific information and advice regarding particular schools.
"Our big goal was to have 1,000 students participate," Kostell said. "In the end, more than 10,000 students registered for our first fair. It's information that students need."
Based on that success, Coalition for College is preparing other, similar events. Some, like the virtual college fairs, will be geared toward meeting student needs. Others, like an upcoming event in May, will help school counselors adapt to this new college application process, which has undergone a sudden transformation and will undoubtedly continue to evolve.
"The college process for students applying in the future is going to be different," Kostell said.
Coalition for College: New Offerings Keep Pace with the Changing Nature of Education
Under the weight of social distancing and stay-at-home orders, education has undergone a sudden, seismic shift to online learning. But for students, that means more than just listening to a lecture or taking a test from the couch.
With restrictions on large gatherings in place, students won't get to take proctored SAT or ACT tests. As a result, some schools are already abandoning test score requirements for incoming students and instead placing renewed weight on other criteria.
The times, and our educational norms, are changing. But Coalition for College is changing along with them.
Users can now enjoy refreshed and revitalized Coalition for College website. The new format features additional content that will be delivered via the means students prefer, Kostell said. That includes the helpful articles contained in MyCoalition Counselor.
Coalition for College is also investigating ways to accommodate the platform's increased use by transfer students. Rather than going directly to four-year schools, many students attend community colleges. These smaller institutions are typically more affordable and closer to home, both of which help to ease the major life transition. After they've earned their AA locally, they're ready to move on to a larger institution.
"One of the things we've been thinking about is how do we partner better with students and larger transfer organizations or maybe community colleges," Kostell said. "Starting at a community college is great, but our goal would be to help them complete their bachelor's degree."
Coalition for College's tools and resources help students rise to that challenge. And that assistance can form the foundation of an academically and financially successful future.