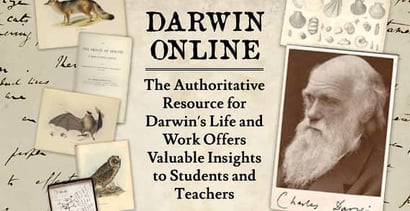 In a Nutshell: One of the most misunderstood figures in the history of ideas is Charles Darwin. But Darwin Online is bringing increased transparency to Darwin by providing open access to a huge body of scholarship surrounding this famous English scientist. All of Darwin's published works are free to read, as is the largest collection of his personal papers and manuscripts. The site also houses a huge library of supplementary material pertaining to Darwin and his theory of evolution. We always look for educational resources to bring to our readers since education is so vital to future earnings potential, and Darwin Online is a world-class example. But Darwin Online isn't just a classroom tool; it's an outstanding way for everyone to become better acquainted with a scientific thinker whose ideas have helped shape the modern world.
What website has inspired poetry, Christmas tree ornaments, tattoos, and caused the University of Cambridge's servers to crash upon its launch in 2006?
The somewhat surprising answer is Darwin Online, the world's leading resource on all things Charles Darwin.
"I call it the Darwin Effect," said Dr. John van Wyhe, Historian of Science at the Department of Biological Sciences and Fellow at Tembusu College, National University of Singapore. "Sometimes you get these huge reactions when it's about him, whereas if you'd done exactly the same thing about someone else, that wouldn't happen. There wouldn't be the interest."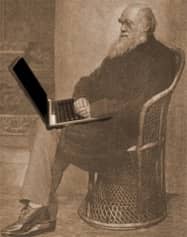 Because there is such interest, van Wyhe created Darwin Online to serve as a comprehensive record of the scientist's life, work, and influence. The archive curates every known document written by Darwin, plus a library of scholarship about the man and his work.
The site hosts over 212,000 pages of digital text and more than 220,000 images, all of the highest scholarly quality, fully searchable, and expertly edited and annotated (including 4,900 original notes). It is, quite simply, the web's — and the world's — ultimate resource on Darwin.
Because education is such a consistent determinant of future financial well-being, we often like to recognize especially helpful resources in this realm, and Darwin Online is certainly that. An exceptional classroom resource, Darwin Online is an outstanding way for students to better understand the importance of Darwin's work. And, of course, it's just as valuable for anyone who simply wants to learn more about one man who changed how humans view the world in which they live.
Discoveries that Changed How We See the World
Darwin's research and ideas made him a major historical figure, even in his own lifetime.
"He changed the world's opinion so much, so quickly, and revolutionized all of the life sciences — not just biology, but all the rest of them," van Wyhe said. "That's why he's regarded the way he is, as having really changed the game."
As such, many scholars devote attention to Darwin, and this has resulted in an enormous body of scholarship. Darwin Online's primary purpose is to make this information available to anyone seeking to contribute to the discussion
"The literature on Darwin could fill a small library," van Wyhe said. "The number of books and articles, it's just unbelievably massive. So it's very intimidating for somebody who wants to start out in this field to do or say anything because there's just this gigantic literature which you'd be expected to master before you could say anything new."
Van Wyhe himself encountered this problem early in his career. After finishing his PhD at Cambridge, he received a fellowship in Singapore. There, he was unable to pursue his research on Darwin due to inadequate library holdings and even fewer adequate online resources.
To remedy this problem, van Wyhe began assembling Darwin materials, and, in 2002, created a website called The Writings of Charles Darwin on the Web. He subsequently received a research grant from the University of Cambridge, and, in 2006, the site became Darwin Online thanks to the effort and support of scholars and librarians from around the world.
"I think this project is now the largest scholarly website on a single human being," van Wyhe said.
The Definitive Source for All Things Darwin
Darwin Online's collection contains every known document written by Darwin.
"We have not only all of his publications, his books, and his articles complete, but also his private papers, his notebooks, his notes, his reading notes, and the articles and things that he snipped out of journals to keep for his theorizing," van Wyhe said.
Many of these personal writings are exclusively available through Darwin Online. Altogether, the site hosts the largest collection of Darwin's notes, papers, and manuscripts ever gathered.
"That's actually the smallest part of what's on the website," van Wyhe said. "We've got materials relevant to anybody who wants to study Darwin."
These supplementary materials include writings by his contemporaries, book reviews and responses, records of specimens collected by Darwin, works written about Darwin and his ideas, and obituaries published to mark his passing in 1882.
"Literally, you could study this topic in any possible direction using Darwin Online," van Wyhe said. "No library on Earth has all of these materials — not even Cambridge University Library."
The sheer abundance of information may seem overwhelming, but Darwin Online's search function makes it easy to find exactly what you're looking for. More importantly, it allows you to answer — once and for all — that burning question: Was Darwin actually responsible for that quote you read on Facebook?
"There's a huge number of fake Darwin quotes circulating around the net and around the world," van Wyhe said. "This is the only place on earth where you can go to find anything Darwin ever said."
If you're new to Darwin, van Wyhe suggests starting with the famed naturalist's biography page.
"It's not very long," he said. "Throughout the text, it's linked into all the content. So you'll get links into the books. You'll get links into his notebooks and his diaries and things like that."
Darwin Online also offers an introduction that helps readers understand the archive and its purpose, while the user guide explains site functionality, contents, and navigation. Together, these aids help readers embark upon and navigate their own journey through Darwin's life and ideas.
The Evolution of an Idea
From the outset, Darwin Online challenged academic exclusivity — the notion held by some that only scholars have earned the privilege of accessing rare notes, manuscripts, and materials.
"The point was that it should be free for everyone. There was a bit of resistance to that in the beginning because some of the older professors didn't like this idea," van Wyhe said. "They kind of felt like their power and authority was a bit endangered by this opening up of all the materials to everyone. But it's changed a lot."
Thanks to van Wyhe's efforts to make this information public, the world has gained a better perspective of Darwin, his work, and its cultural context. He points to Wikipedia as just one example.
"Back in 2002, if you looked up Darwin and Darwin-related topics, it was really thin. The whole entry was basically just a paraphrase of a popular book," he said.
Today, the entries are vastly improved and expanded thanks to the resources now available. Open access has significantly changed how we view the controversy surrounding Darwin's theory of evolution.
"The historical truth is the scientific community was outraged by his theory and debated it, but only for about 10 or 15 years," van Wyhe said. "After that, the debate was over. And it's never, scientifically, been a matter of debate since the 1870s."
Perhaps because the theory was initially so shocking, Darwin is often depicted as having been reluctant to discuss his findings. This was the origin of van Wyhe's own research interest.
"I studied history for all three of my degrees, and Darwin always struck me as this famous person who mysteriously kept his theory a secret for 20 years," he said. "And that always intrigued me. I wondered, 'What was that like when he knew and no one else did?'"
On this topic, van Wyhe ultimately found his answer, but it wasn't the one he expected.
"Sort of by accident, I stumbled across a whole series of evidence that showed this wasn't true at all. He had never been afraid," he said. "Not only had he not kept it a secret, but he talked about it. You can find this in his notes and various other places. He talked about his belief in evolution with all his family, friends, and colleagues all the time. So even though something was in all the history books and all the documentaries about him, it turned out to be completely wrong."
Darwin Online's creator isn't the only person to whom the archive has brought enlightenment and fulfillment. One user emailed van Wyhe regarding the experience of seeing the first edition of "On the Origin of Species" for the first time on the site.
"There it was in beautiful color," van Wyhe said. "He'd heard about this book his whole life. He'd never seen it. And here he had it front of him. He said he wept. He actually cried because of the experience of being virtually given a copy of this famous book."
And, of course, many readers have found ways to use the archive's resources to creative effect. The poetry, ornaments, and tattoos mentioned above are all examples of art and handicrafts inspired by Darwin Online and created using the documents and images it supplies.
"The range of things that people do with it is mind-blowing," van Wyhe said.
An Ever-Expanding Collection of Darwin Materials
While Darwin Online is the world's premier resource on Darwin, it's far from finished, with new material uncovered and added regularly.
One such addition is a reconstruction of Darwin's library aboard the HMS Beagle, which you may know as the famous vessel from his other masterwork, "The Voyage of the Beagle." The collection contains about 400 books that Darwin read and consulted during his five-year voyage traveling around the world.
"Darwin was basically living in this room on the ship, which was a library," van Wyhe said. "We found out which books were in the library and reconstructed it virtually. It exists in no other place today."
Another addition is a German translation of the 10th chapter of "On the Origin of Species."
"That was published in Germany just less than a year after his book came out," van Wyhe said. "Nobody had found this before. It was a new discovery. That's one thing I pride myself on — Darwin Online has turned up a lot of things that were not previously known."
Humanity's view of Darwin is a mirror of the scientist's perception of life: It is constantly evolving. Just as Darwin changed humankind's understanding of the world, Darwin Online is changing our interpretation of Darwin and his ideas. Thanks to this monumental project, we can enjoy an ever-sharpening image of the man, his works, and their continuing impact on our lives.
Advertiser Disclosure
BadCredit.org is a free online resource that offers valuable content and comparison services to users. To keep this resource 100% free for users, we receive advertising compensation from the financial products listed on this page. Along with key review factors, this compensation may impact how and where products appear on the page (including, for example, the order in which they appear). BadCredit.org does not include listings for all financial products.
Our Editorial Review Policy
Our site is committed to publishing independent, accurate content guided by strict editorial guidelines. Before articles and reviews are published on our site, they undergo a thorough review process performed by a team of independent editors and subject-matter experts to ensure the content's accuracy, timeliness, and impartiality. Our editorial team is separate and independent of our site's advertisers, and the opinions they express on our site are their own. To read more about our team members and their editorial backgrounds, please visit our site's About page.