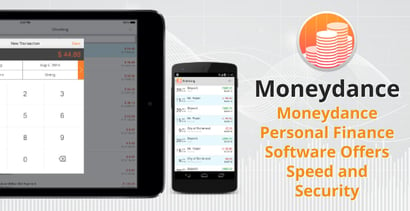 In a Nutshell: Moneydance software has always aimed to help users safely manage their finances, and its 2019 version makes that task even easier. It offers a host of new features that enhance usability and efficiency and simplify data transfer thanks to a secure, built-in browser. Moneydance 2019 automatically imports data from other financial apps and software and includes not only income and payment tracking but also notifies users of debt interest and principal. Altogether, Moneydance 2019 brings plenty of improvements — including iCloud syncing and updates for mobile apps — to give users a powerful tool to manage their financial futures.
Keeping track of personal finances is not at the top of most people's "fun-things-to-do" list, and it was no different for me in college. As many undergrads will tell you, free time is at a premium, and it's easy to use a busy school schedule as an excuse not to keep a tight grip on spending.
It didn't look pretty when I finally made my financial situation a priority after pushing it to the back of my mind for a while. Luckily, I didn't do any damage to my credit or long-term financial prospects with my decisions in college, but many people aren't as fortunate.
Whether you're a student or not, the longer you put off managing your money, the harder it becomes to regain your financial footing. And willful neglect may make a bad situation much worse.
An efficient management system can help ease some of that burden by alerting users to a problematic situation before it becomes a full-blown personal financial crisis. That's why many consumers are turning to personal financial management software, like Moneydance, to help them automate financial oversight.
"With finance, it's so important to stay organized. Once you get behind with things, you lose a lot of control," said Sean Reilly, Founder of Moneydance. "It's good to have these things at the front of your mind because it's so easy to let them go, and then it takes a lot more work to catch up. Moneydance gives you peace of mind and puts the information in front of you."
Recently, the company released Moneydance 2019, which represents its most significant update since 2017. The latest version offers a suite of new features including enhanced security and speed as well as additional adaptability. Users can connect their bank accounts, review spending habits, make payments, and set alerts for bill due dates.
Moneydance 2019 is designed to help users take control of their money and secure brighter financial futures for themselves and their families.
Improving Data Importation While Preserving Security
One of Moneydance 2019's most prominent new features is its inclusion of a built-in browser within the software. The embedded browser allows users to log into their online banking accounts so Moneydance can automatically import their financial data. In previous versions, users had to log in through an external browser, download their information, and manually import it. Now, the entire process is automated.
According to Reilly, many other apps that connect to banking institutions do so through a third-party server.
"They upload your username and password and all of your transactions, all of your account information gets routed through that server. It's insecure and also a privacy violation," he said.
Moneydance previously supported direct connection to a few thousand banks, but now, even if a user's institution isn't supported, he or she can use the browser to connect directly without exposing data to a third party.
Users can also import financial data from apps with ease. Moneydance handles the task of determining the most efficient method of data extraction.
"Drag the file in and Moneydance figures out all the defaults by scanning and analyzing the data. Then you just click 'import,' and it's all in there like magic — especially compared to how it was structured previously," Reilly said.
Moneydance 2019 has drastically improved the importation process by adding simplified data extraction between external sources and a user's own computer. At the same time, it has kept its focus on maintaining data security and peace of mind.
Reminders Can Help Consumers Manage Bill Payments and Reduce Debt
Moneydance features useful automated reminders that are customizable to the user's specific needs whether they want to stay on top of income or payments.
"The scheduling parameters are very flexible, and the applications for scheduling are almost unlimited," Reilly said.
The reminder schedule is displayed on a calendar on the Moneydance homepage. If the auto-commit option is enabled, then these transactions will automatically be entered into the appropriate register. Otherwise, the user will have to enter them manually.
Either way, the platform automatically notifies the user when a payment is due. The user can specify how far in advance they want these notifications. A list of overdue payments — or reminders that are past due — is also displayed prominently, prompting users to address them.
Reminders that track loan payments will automatically calculate and display the difference between principal, interest, and escrow after each installment. This allows users to track how much principal they owe and how much they're paying in interest at each due date.
By showing such a detailed breakdown of debts, Moneydance reminders can even motivate users to pay down principal quickly, reduce the amount of interest owed, and ultimately save money. But at their core, reminders are about keeping income and payments in order and helping users build a sense of confidence around their finances.
Meeting User Needs Through Adaptability and Performance
Previously, Moneydance extensions could only be coded using Java. But for Moneydance 2019, extensions can be created using the much simpler Python programming language.
"This makes it a lot easier for other people to jump in and write code for Moneydance without having to set up a development environment. If they have a text editor, they can write the script," Reilly said. "It lowers the barrier for people developing their own automation tools."
Anyone can share the plugins and extensions they create, providing a veritable library of supplemental tools to other Moneydance users. All tools available to the Moneydance community are checked to ensure data security.
Another innovation is the way Moneydance 2019 stores security prices. Moneydance has always been multicurrency oriented and can even track cryptocurrencies. Security prices were previously stored relative to the user's base currency. But Moneydance 2019 stores them relative to their currencies so that exchange rate updates won't affect the prices of non-base-currency securities.
"In the past, Moneydance converted prices for display, but it always stored them relative to the base currency, and that can cause problems if you update your stock prices and then update your exchange rates. It could make the stock prices change," Reilly said. "Now, that's a lot smoother, and we made it faster and more efficient, too."
When it comes to automation, the cost of efficiency is often a reduction in speed. The more labor a user saves, the more work the computer must complete. But Moneydance 2019 boasts faster speeds than previous versions. The app still stores the entire data file history, which can add up to a lot of information. Now, that older data is compressed and grouped, making current data more easily accessible.
"We've seen improvements of up to 60% faster launching," Reilly said. "And we've seen instances where it launches three or four times faster."
Frequent Updates Improve Service and Accessibility
Although Moneydance 2019 is still on its first version, 2019.2 is on its way, and further updates and improvements are promised to follow close behind.
"We're very happy about the Moneydance 2019 release. But my goal is to keep pushing the updates out regularly," Reilly said. "We're making improvements every day."
In the past, Moneydance updates typically came in large, monthly installments. But moving forward, Moneydance will maintain a continuous flow of updates rolling out to users.
One of the major updates Moneydance users can look forward to is iCloud synchronization. Instead of going through Dropbox, iPhone users will be able to sync their Moneydance mobile app with the desktop software at the click of a button. And its Android and iOS apps will receive additional features.
"Right now, those apps are fairly simple in the number of things you can do. You can see your transactions and account balances, and enter and edit transactions, but that's about it. So we're going to be introducing budgeting and reminders," Reilly said.
Moneydance 2019 provides users with improved performance and the next level of customization through plugins and extensions. At the same time, the software preserves its emphasis on data security and efficiency in managing money, debt, and overall financial health.
Advertiser Disclosure
BadCredit.org is a free online resource that offers valuable content and comparison services to users. To keep this resource 100% free for users, we receive advertising compensation from the financial products listed on this page. Along with key review factors, this compensation may impact how and where products appear on the page (including, for example, the order in which they appear). BadCredit.org does not include listings for all financial products.
Our Editorial Review Policy
Our site is committed to publishing independent, accurate content guided by strict editorial guidelines. Before articles and reviews are published on our site, they undergo a thorough review process performed by a team of independent editors and subject-matter experts to ensure the content's accuracy, timeliness, and impartiality. Our editorial team is separate and independent of our site's advertisers, and the opinions they express on our site are their own. To read more about our team members and their editorial backgrounds, please visit our site's About page.