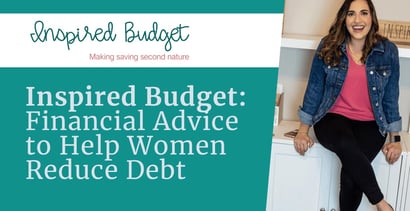 In a Nutshell: Marriage is a team effort, and part of the process is learning how to manage money together. That may involve paying down consumer debt for many couples. Inspired Budget is a resource for women and couples who are struggling with debt and need help. Readers can find free resources on saving, debt, and budgeting on its informative blog. Inspired Budget also offers a premium membership that provides step-by-step support for those who need more detailed guidance. Cutting unnecessary costs, working side hustles, and devoting money to paying down debt can help readers boost their confidence, financial security, and overall well-being.
When Allison Baggerly and her husband got married in 2011, they had never really discussed money. But that changed when the couple found out they were expecting their first child. Faced with new expenses, they looked at their budget to see where their money was going and where they could cut costs.
That's when they discovered that their combined debt totaled $111,000. Just their minimum payments were $1,400 per month — more than they were paying for their mortgage.
"We decided that something had to change," Baggerly said. "We knew that we needed to free up $800 a month cash flow. So that's what we did. We started living on a budget, and we started paying off debt."
They had no credit card debt, but both owed a significant amount on student loans and auto loans. Even though both were teachers, they managed to pay off their debt in only four and a half years.


Today, Baggerly is a mother of two, but she's no longer a teacher. Following her success with budgeting and paying off debt, she launched Inspired Budget. The platform includes a blog, online communities, and other educational resources that aim to help women and couples learn better money management skills to achieve financial independence.
"During the process of budgeting, paying off debt, and managing my money better, it became something that I just did. Every day, it became an identity to me," Baggerly said. "I was a budgeter instead of just someone who was budgeting. I fell in love with it, and I couldn't stop talking about it to anyone and everyone."
A Blog and Resources to Start and Maintain a Budget
Inspired Budget offers plenty of free educational content organized broadly into categories, including budgeting, debt, and saving. The blog caters to DIYers who want to learn how to manage their money on their own.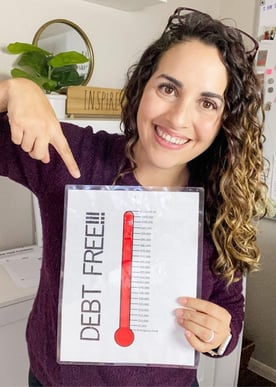 Baggerly offers a free budgeting course that readers complete over six days. It covers how to start budgeting, paying off debt, and using cash envelopes. Subscribers also get a daily, printable freebie to help them get — and stay — organized. They also have access to many more printables for free on the website.
For those needing more step-by-step guidance, Inspired Budget offers a membership program. This program is designed to be clean, efficient, and easy to use.
"So many people write a budget, and it looks beautiful on paper, but it doesn't match their real life," Baggerly said. "So, they want to learn how to write a budget that works, stay on budget, develop a debt payoff plan, and start building wealth. I walk them through this path, so they can see results quicker than if they were doing it on their own."
Inspired Budget has about 400 women in its membership, some of whom are going through the program with their spouses. Members range in age from their late 20s to their 50s, and most of them are mothers. They all share a common desire to renovate their finances.
"They're ready for a change," Baggerly said. "It is perfect for anyone who might need to learn how to budget, but they're already budgeting and not seeing progress. I will take you through a step-by-step system and show you how to write a budget. You can also create a debt payoff plan, stay motivated along the way, save money and build wealth."
Strong Money Management is Intentional and Goal-Driven
Baggerly recommends that anyone seeking to start and stick to a budget should take the intentional spending approach. It's a way to inventory monthly expenditures so people can identify expenses — including subscriptions they rarely use — they didn't know they had. When they cut those costs, they can free up funds to pay off their debt.
"I think that budgeting is knowing your money truth. There are so many things in life we prioritize — family, friends, jobs — but so many people don't prioritize money. However, money affects every single thing, and it seeps into our lives every day."

Baggerly said that she and other women feel more confident and empowered by carefully managing their money. They perform better in their roles as wives, mothers, and employees while experiencing less stress and anxiety, she said.
A crucial element of that security is establishing an emergency fund to provide a financial safety net. Baggerly says that after budgeting, the family's emergency fund exploded from $1,000 to $15,000.
"Then my son had a ruptured appendix," Baggerly said. "He was in the children's hospital for a week, and those bills came to about $13,000. So I think it's essential to have an emergency fund, so you don't go further into debt during this process."
Side Hustles and Cooperation are Keys to Financial Success
Another way women can boost savings and reduce debt is through side hustles. In addition to teaching, Baggerly tutored, taught summer school, and even dabbled in photography. Her husband was a school band director, and during band trips, he would drive the bus and earn an extra $50.
All of those extra earnings went toward paying down debt. With increased revenue and lower expenses, they made fast progress in their journey to financial independence.
Watch on
Baggerly and her husband achieved their goals by combining efforts and forming a unified front against their debt. They both took on extra work and channeled their earnings toward their ultimate goal. But they also made compromises in other areas of their budget.
That is especially important for couples who may have different spending and saving habits. Baggerly's husband accepted that their spending would be asymmetrical within their budget. That compromise — one person spending less to allow the other to spend more — is the type of teamwork necessary to become debt-free.
"I know lots of women whose spouses or partners do not want to deal with the money at all. They don't want to feel constrained," Baggerly said. "The word budget feels like a constraint to them, and so they aren't willing to get on the same page. I see it as freedom. I tell those women that, although it isn't ideal, they can still make an impact in their finances in a positive way, with what they can control."
Inspired Budget: Helping Women Stay Motivated on the Path to Financial Independence
When Baggerly and her husband realized their debt was at $111,000 for the first time, they were in their 20s, living in a small apartment and feeling overwhelmed sitting at their IKEA kitchen table.
"I remember thinking, this feels insurmountable," Baggerly said. "I feel like I'm standing at the bottom of the mountain, and I have no idea how to get to the top. It isn't even possible."
Some may wonder if the uphill battle is even worth the effort and agony. Baggerly knew it was if it meant she could better provide for her children. That motivated her to start working toward financial independence, and it helped her cross the finish line a few years later.
Finishing the journey can sometimes seem like an impossible task. But as daunting as it may feel, Baggerly encourages people to keep going instead of just giving up and living with debt. In fact, it may be an opportunity to make further strides.
"The way I stayed motivated was through social media," Baggerly said. "What I was reading and listening to was positivity. It had a message that told me, 'Okay, you can do this, you can get out of there.' When you get to that point where you feel unmotivated, fill your Instagram feed with inspiring and motivating people, read books, listen to podcasts. There's so much out there."
At every step, keep track of progress, Baggerly said. When you reach a milestone or achieve a victory, no matter how small — even if it's paying off $1,000 on your credit card — remember to celebrate it.
"Maybe the celebration is something small, like buying balloons or flowers, or you go out to a very inexpensive meal," Baggerly said. "But find a way to celebrate that progress. That way, you stay motivated to finish the journey."
Advertiser Disclosure
BadCredit.org is a free online resource that offers valuable content and comparison services to users. To keep this resource 100% free for users, we receive advertising compensation from the financial products listed on this page. Along with key review factors, this compensation may impact how and where products appear on the page (including, for example, the order in which they appear). BadCredit.org does not include listings for all financial products.
Our Editorial Review Policy
Our site is committed to publishing independent, accurate content guided by strict editorial guidelines. Before articles and reviews are published on our site, they undergo a thorough review process performed by a team of independent editors and subject-matter experts to ensure the content's accuracy, timeliness, and impartiality. Our editorial team is separate and independent of our site's advertisers, and the opinions they express on our site are their own. To read more about our team members and their editorial backgrounds, please visit our site's About page.