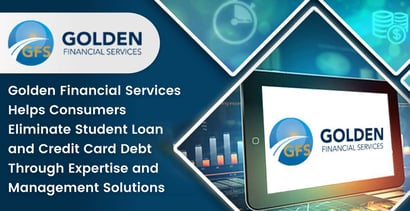 In a Nutshell: When borrowers find themselves facing wage garnishment or other debt collection measures, Golden Financial Services can help them regain their peace of mind. The company offers services that can help consumers reduce payments, deal with credit-related problems, and get them back on track for a better financial future. CEO Paul Paquin's personal experience with rebuilding his own credit gives him practical insight into effective debt relief strategies. Golden Financial Services also assists clients with repayment options on federal student loans and validation for overdue debt.
Paul Paquin, CEO of Golden Financial Services, understands just how much debt can impact a person's life.
He recalled working with one student loan borrower who received a 30-day notice that a lender planned to garnish his wages to recover the debt. The man was also carrying nearly $25,000 in credit card debt that was about to go into collections. Wage garnishment would make it nearly impossible to pay back his consumer debt while living on his already tight budget.
And anyone who has ever been in that position may find themselves wondering, "What can I possibly do?"
According to Paquin, the first thing that borrower did was contact Golden Financial Services, an effective debt relief company, for professional assistance. On his behalf, Golden Financial Services requested a 90-forbearance on the wage garnishment. In that time, he consolidated his student loans and paid off the delinquent debt. After accomplishing that, he worked to cut his credit card payments in half, giving him some much-needed financial breathing room.


"I've personally helped hundreds of people in that situation because almost no other companies will help someone with student loan debt if their wages are garnished. I decided that I would start by helping those people, and that's how I learned how to do it — by helping hundreds of people who'd had their wages garnished," said Paquin.
Paquin even wrote a step-by-step guide on how to stop wage garnishment after it has occurred, and has other instructional materials for those who are facing the possibility. Those guides can help consumers get back on the right track, but Golden Financial Services can guide them further.
The company specializes in debt elimination and management solutions. It offers a variety of relief programs to suit the needs of its clients, including consolidation, counseling, settlement, and debt validation. Once free of the threat of wage garnishment, consumers who have at least $7,500 in credit card debt or more than $15,000 in federal student loans typically qualify for help from Golden Financial Services.
Through these strategies, Golden Financial Services aims to help people manage their debt, pay it down, and avoid the same situations in the future.
GFS CEO Paul Paquin Shares Tips for Dealing with Debt
Paquin understands his clients so well because he has firsthand experience dealing with debt and bad credit. As of June 2018, he had a credit score of over 820, which is almost as high as a credit score can get. But in 2005, it was around 540, firmly at the bottom of the chart.
In that category, most consumers can only qualify for loans with high interest rates, which cost them much more money in the long term. They also can't get unsecured lines of credit, and often have difficulty qualifying for home loans.
Paquin lifted himself out of this financial hole using a few simple methods to raise his credit score. First, he set up automatic bill payment, which kept his debts from piling up and prevented late fees.
And rather than shying away from building credit, Paquin obtained a secured credit card, which he used and then promptly paid off. That responsible use helped him repair his credit score, expanded his credit limit, and eventually enabled him to get an unsecured card with a more favorable rate. He used that card strategically to earn cash back on purchases and then paid off the balance twice per month, further boosting his credit rating.
His score also rose as he strategically disputed invalid items on his credit report — those that were inaccurate, unverifiable, or legally uncollectible.
Most importantly, Paquin learned from his past mistakes and let them fuel his desire to succeed in the future. Anyone with poor credit can adopt this mindset and take the same actions to improve their credit scores.
But when dealing with issues like collections and wage garnishments, the professionals at Golden Financial Services can help clients weigh their options, choose the right course of action, and regain their financial independence.
Teaching Clients How to Approach Student Loan Repayments
As the story Paquin told about a Golden Financial Services client demonstrates, student loan borrowers who can't make payments often face the prospect of wage garnishment. The practice allows creditors to take what's owed directly from a borrower's paycheck. But if borrowers aren't making payments, chances are they can't afford to, and garnished wages make it even more difficult to make ends meet.
"Once their wages are garnished, people often will call a company like Golden Financial Services for help, and they'll want to consolidate," Paquin said. "But once they get their wages garnished, they lose the ability to use government debt consolidation and income-driven repayment plans.That's one really troublesome area and most companies don't even know how to deal with it."
The first step is to contact the collections agency and enter a loan rehabilitation program. The agency looks at the borrower's income and family size and calculates a monthly payment. The lower the borrower's income and the larger the family, the lower this payment will be; Paquin said it can go as low as $5 per month.
Making nine consecutive monthly payments will remove related negative marks from the borrower's credit record, and it will end the wage garnishment. By making multiple payments per month, the process can be completed even faster. Borrowers may then qualify for federal benefits and options, including student loan consolidation, pay-as-you-earn repayments, loan forgiveness, and income-driven repayment plans.
"Let's say you get on an income-driven repayment plan, like pay-as-you-earn at $5 per month," Paquin said. "That's $60 per year, and if you do that for 20 years, you end up paying $1,200. If the original debt is $100,000, that means more than $98,000 would be forgiven."
Debt Validation May Offer More Savings than a Settlement
Once debts go into collections, borrowers can enter into debt settlement to reduce the amount they owe. In essence, this allows the collection agency to recover a portion of the debt that the borrower may be unable to pay in full.
Paquin said that the average consumer will pay about 50% of the total amount owed, which could be a big savings when facing tens of thousands of dollars in debt. But settlement companies often charge fees between 20% and 25% of the total debt, which substantially reduces the value for the client.
"We offer a debt settlement program," Paquin said. "But before we offer debt settlement, debt validation is a less expensive route, and the collections companies often can't prove the debt is valid."
Watch on
When a client chooses to pursue debt validation, Golden Financial Services will dispute the debt on their behalf. The company first requests complete and accurate records from the collection agency, including the original agreement the customer signed when he or she first took out the loan or line of credit. According to Paquin, agencies frequently fail to maintain adequate records, and unauthorized fees are added when the debt is sold.
"The debt accumulates to an amount that the consumer did not agree to pay back," he said. "They rarely can prove the debt to be valid. Nine out of 10 times when a debt is disputed, it gets proven to be legally uncollectible. And the best part about it is that the debt can no longer legally be reported on a credit report. In a lot of cases, it gets removed from their credit as well."
New Legislation Could Ease the Student Debt Burden
When that student loan borrower came to Golden Financial Services after being threatened with wage garnishment, the debt validation process proved that portions of the amount owed were legally uncollectible. Thanks to those steps, Golden Financial Services reduced his debt and got him on track to having the remainder paid off in about 36 months.
And Paquin knows firsthand that the best strategy for dealing with debt is to avoid it in the first place. But that isn't always possible, especially for college students who need funds to complete their education. After graduating, though, they may find themselves earning less than they expected, causing their debt to quickly become unmanageable. For people in those situations, federal help may be on the horizon.
"There is debt relief legislation being discussed right now," Paquin said. "And they're also talking about making it harder to apply for so much money so that people don't get as deep in debt. They're going to cut down the amount you're allowed to get in student loans, so people aren't getting into $200,000 in debt and not being able to pay it."
For those who carry federal student loans, Paquin said the new legislation could reduce the forgiveness period to only 15 years. That could make it even faster to get out from under troublesome debt.
Combined with Paquin's strategies for reducing debt and improving credit, borrowers can take the steps necessary to mitigate its impact on their lives today and work toward eliminating it to ensure a brighter financial future.
Advertiser Disclosure
BadCredit.org is a free online resource that offers valuable content and comparison services to users. To keep this resource 100% free for users, we receive advertising compensation from the financial products listed on this page. Along with key review factors, this compensation may impact how and where products appear on the page (including, for example, the order in which they appear). BadCredit.org does not include listings for all financial products.
Our Editorial Review Policy
Our site is committed to publishing independent, accurate content guided by strict editorial guidelines. Before articles and reviews are published on our site, they undergo a thorough review process performed by a team of independent editors and subject-matter experts to ensure the content's accuracy, timeliness, and impartiality. Our editorial team is separate and independent of our site's advertisers, and the opinions they express on our site are their own. To read more about our team members and their editorial backgrounds, please visit our site's About page.