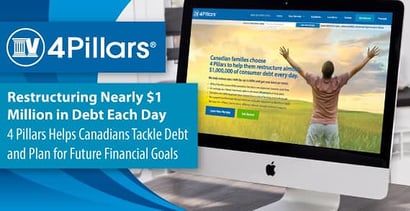 In a Nutshell: As in the US, debt is a significant issue for our neighbors north of the border, thanks partly to high housing prices and easy access to credit cards. Even for Canadians who escape debt, nearly a quarter will fall into debt a second time. Stepping in to help reverse this cycle — and get people out of debt for good — 4 Pillars, a British Columbia-based company with branches all over the country. Its foundational concept is based a holistic approach to debt management, combining debt repair, credit rebuilding, financial literacy, and sound financial goals. With a 97% success rate, 4 Pillars has helped thousands of Canadians transform their financial mistakes into learning opportunities, giving them a fresh start.
One of the most stressful parts about falling into debt is receiving incessant, harassing calls from creditors. As one woman, Erica, said, "The calls were unreal. My phone would light up every hour on the hour, to the point that I disabled my voicemail."
She knew this wasn't a permanent solution, though. Erica contacted 4 Pillars, a British Columbia-based debt and financial literacy consulting company with 65 offices throughout Canada.
"4 Pillars gives you a chance to catch up and have a break from the stress and anxiety that eats us alive when we worry about money," Erica said. "There is no pressure to make a decision right away. There is no judgment when you pour out your debts and financial details. There is nothing but a chance for you to have a clean slate."
Other testimonials, as found in 4 Pillars reviews on Trustpilot, echo Erica's reviews. Another woman, Gloria, wrote, "4 Pillars has given me the support, understanding, and knowledge about different ways to be free of my debt. I have hope and feel that I can have a future with better opportunities in my life and with my family. I highly recommend 4 Pillars to anybody who is in financial difficulty."
4 Pillars was founded more than 15 years ago, with the idea of helping people move past their debt issues and start rebuilding their financial futures.
"We understood that debt is only one piece of an important financial profile for individuals," said Troy Tisserand, Managing Partner at 4 Pillars. "There were a lot of solutions to help people work with debt, but no one would help them move beyond that."


As a result, people resolved their debt, but they were left with bad credit. Without proper guidance, they often fell right back into the same habits that led to their initial debt problems, Troy continued. Labeled "high-risk," they couldn't get financial help at mainstream banks, so they turned to payday lenders for short-term solutions.
As one example, Troy said, "In Canada, it's cold in the winter, so people need reliable cars. They can get a car loan, but interest rates are so high that they're actually going backward. They may pay twice the value of the car because interest rates are so high."
Debt is a widespread problem in Canada. The debt-to-income ratio hit 167.8% in Q2 of 2017, and people just aren't saving as much as they once did. The reasons for this include easier access to credit cards (which are used as a safety net) and increases in divorce, job loss, and housing prices. Second insolvencies are also common, afflicting around 24% of people within 10 years of their first insolvency.
From Free Consultations to Clients For Life®
While debt problems are prevalent in Canada, 4 Pillars has the experience to help remedy these situations. In addition to debt solutions, its consultants focus on "proper credit rebuilding, financial literacy, and the hand-holding that it takes to help them re-engineer what the next three to five years look like," Troy said. "4 Pillars was designed around taking a holistic approach."
The consultation process begins with a phone interview that typically lasts between 20 and 30 minutes. The priority on this conversation is to make sure 4 Pillars is the right fit for the client, Troy said.
"We're all about helping the consumer," he said. "If we can't help them, or we think they are better served by a second mortgage, or a loan consolidation, we tell them that right away."
4 Pillars keeps an open-door policy, however, meaning if clients, following that advice, are unsuccessful, they can always circle back to 4 Pillars.
If first-time clients need more information than is typically part of the initial interview, 4 Pillars invites them into their office for a free one-hour consultation.
"We spend an hour educating them on all the options: paying debts back in full; borrowing from friends or family; doing informal repayment plans," Troy said. "For us, it's really about them being educated."
Some clients decide to sign up for 4 Pillars' full services, which include debt restructuring strategies and credit rebuilding, plus educational services and lifelong help. "It's a one-time fee they pay us for everything we provide to them," Troy said.
One thing Troy was careful to note was that 4 Pillars does not file for bankruptcy (or consumer proposals) on clients' behalf, since only Licensed Insolvency Trustees (LIT) can do that, per Canada's Bankruptcy Insolvency Act. The role of the LIT is similar to a referee; the LIT's statutory duties owed to both creditors and the administration of the consumer proposal process prevent them from acting as a financial advocate for a consumer struggling with overwhelming debt.
Instead, 4 Pillars acts as a consultant/intermediary working solely on behalf of the debtor to navigate the complex and confusing debt industry and advocates for them to help find and implement the very best solution based on their long-term financial goals and dreams. The extended education and financial rehabilitation programs help ensure clients successfully complete the chosen solution and never enter the insolvency system again. As independent consultants, they are not affiliated with another company, and debt consultants can provide impartial advice without any conflict of interest.
"What we want our clients to do, is to use us as a sounding board," he said. "We're not life insurance agents, financial planners, trustees, or accountants. We're an independent source. We're really their debt managers."
For example, suppose a client has a credit rating of 580 and wants to buy a new car, but the interest rate was 28%. A 4 Pillars debt manager would help them do the math to figure out how much money the client would really end up paying for the car — and then, perhaps, advise the client to wait until their credit rating improved so they can get a better interest rate on the car.
Of course, while clients-for-life can come back to 4 Pillars for advice at any time, the team hopes they won't ever return needing debt help.
"We're happy to see you, but we actually don't want to see you again as a 'client'. We see repeat business as a failure," he said, adding that second insolvencies for 4 Pillars clients only happen for less than 3% of clients, compared to 24% in the general public.
Education is Key to Preventing Second Insolvencies
You might be asking why there is such a drastically different rate of debt recurrences between those who have turned to 4 Pillars and those who haven't.
"A big part of our success rate has been that we look at our clients' long-term financial goals," Troy said. "What we work on is rebuilding credit and complete financial rehabilitation. We tell our clients they have to budget. We incorporate all those financial literacies and opportunities in a way that consumers have to learn through doing this.
"No consumer wants to be insolvent a second time. Once they've gone through this experience, they fundamentally understand how we're different in the marketplace, and that's why we get good reviews from them. They see that commitment to who they are, and to their futures."
First, 4 Pillars teaches clients to understand the financial mistakes that led to their debt. Then, its counselors teach them how the credit system works, how to budget, and how to set smart goals for their financial futures.
Watch on
"From start to finish, we're going to educate you and ensure you're never going to have to use our services again," Troy said. "The financial profile of our consumers is very different after they've been through 4 Pillars. … We know that an educated consumer will always choose 4 Pillars over any other services. With that in mind, we've created this holistic approach."
4 Pillars Aims to Mold Canada's Debt Industry for the Better
With a 97% success rate, one of the most rewarding parts of the business is helping people through their darkest financial moments, Troy said.
"It's a humbling experience to be able to help people at a time when they don't really know where to turn for help. They're embarrassed about debt and uncertain about their future. We are able to give them this light of hope that allows them to rethink where their future is going to go."
In addition to helping clients find long term financial freedom on a case-by-case basis and helping stop those annoying phone calls, 4 Pillars also has several community-wide initiatives that promote financial literacy. One specific example is its work with domestic violence victims, in an Edmonton-based program called EmpowerU.
"These women are ready for change," Troy said. "When I go and sit down with them for two hours and say, 'everyone can have amazing credit,' it actually transforms how they think about their futures, how they think about their families, and how they think about the next three to five years. They go from a position of feeling like a victim to feeling empowered to take back their financial futures."
From transforming the finances of individuals to impacting larger-scale communities, 4 Pillars is now set on influencing the whole country.
"We have lots of different types of financial services in Canada, so it can be confusing for consumers to know where to go," Troy said. "This is an opportunity for us to help mold the future of the debt industry in Canada."
Advertiser Disclosure
BadCredit.org is a free online resource that offers valuable content and comparison services to users. To keep this resource 100% free for users, we receive advertising compensation from the financial products listed on this page. Along with key review factors, this compensation may impact how and where products appear on the page (including, for example, the order in which they appear). BadCredit.org does not include listings for all financial products.
Our Editorial Review Policy
Our site is committed to publishing independent, accurate content guided by strict editorial guidelines. Before articles and reviews are published on our site, they undergo a thorough review process performed by a team of independent editors and subject-matter experts to ensure the content's accuracy, timeliness, and impartiality. Our editorial team is separate and independent of our site's advertisers, and the opinions they express on our site are their own. To read more about our team members and their editorial backgrounds, please visit our site's About page.