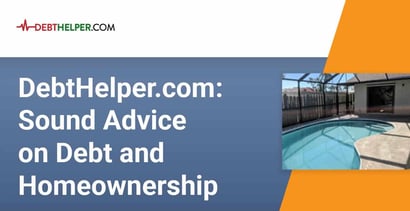 Experts share their tips and advice on BadCredit.org, with the goal of helping subprime consumers. Our articles follow strict
editorial guidelines
.
In a Nutshell: DebtHelper.com is a nonprofit organization that helps clients improve their credit and qualify for home loans. The company offers resources, including home counseling, homebuyer education courses, and debt management, throughout Palm Beach County, Florida. Its ideas are disconnected from any financial institutions or lenders. That way, clients receive the straightforward, transparent advice they need to make smarter financial decisions. 
Many DebtHelper.com clients share the same goal: homeownership. But for reasons ranging from poor credit to significant debt, they may believe that dream is unattainable. 
That's why the nonprofit wants to help them change that mindset. DebtHelper.com offers clients hope and resources to make them more mortgage-ready over a shorter period. 
"The time frame for that can vary between different people. Some people are a lot more mortgage-ready than others. So they may only be in the program for a few months, whereas some people may take a year or two to get approved for mortgage and down payment assistance," said Alexander Borge, a Housing Counselor at DebtHelper.com.

The organization, located in Palm Beach County, Florida, is a third-party with no ties to any lenders or banking institutions, so it provides unbiased advice to clients. That makes the process more transparent and helpful.
"We're our own entity, and we have nothing to do with whether a client gets the loan or not. We just educate and give certificates," Borge told us. "Also, we're not tied to any lenders when it comes to the first time homebuyer program. We're not a lender ourselves. Our focus, when it comes to most of our services, is education." 
One program Borge and his team offer is the First Time Homebuyer Program. Clients complete the program, signifying that they understand the process of buying and paying off a home. When they complete the training, they receive a certification that makes them more appealing to lenders. 
Borge also offers clients reverse mortgage counseling. Unlike in a traditional loan, this type of mortgage lets would-be homeowners borrow money by using their home to secure the loan. 
Education for Residents With the Greatest Needs 
DebtHelper.com offers a variety of programs, including financial education courses in several locations. Borge teaches a class about budgeting and credit at an affordable rental complex. 
"People who live there pay a lower rate, so I go there and talk to them about budgeting and credit. Eventually, that's going to turn into people that are looking to get out of that place to purchase their home. That means there are going to be more first-time homebuyer clients as well," he said. 
DebtHelper.com also works with the most underserved members of the community. The county's Parks to Work Program takes on a certain number of unhoused people for a six-month program that houses them, feeds them, and helps them get jobs. The process can even help them get into their own apartment. 
Watch on
Borge and his team provide them with education so they can build up their credit and reach their financial goals. He has also offered similar classes at local schools, colleges, and even at the local jail. 
"They have to want to do the work, but I will go anywhere people are looking for some good information," he said. 
The organization began as a debt consolidation organization and worked with clients to pay down their credit cards, lower their interest rates, and lessen their monthly payments. As the times changed, however, the nonprofit's focus has also shifted. The nonprofit helps clients build their credit or enter into down payment assistance programs and offers bankruptcy and student loan counseling.
Setting Goals Can Boost Your Credit Score
Borge provides free budget and credit analysis through a grant provided by Palm Beach County. Individuals can qualify for the program if they are in a certain low-income bracket and household size, and have a physical address in Palm Beach County.
The service works by pulling a client's credit report and then helping them make changes based on their goals. For example, if someone is spending too much to pay off a credit card each month, Borge suggests budgeting changes. 

The grant from Palm Beach County allows DebtHelper.com to offer up to $200 toward one debt on the client's credit report. 
Working with Borge and his team can be especially useful for clients who have had problems paying down overdrafted accounts. The bank might close an overdrafted account if the account holder can't pay it off. 
Later, the individual may realize they can't open up an account anywhere else because of ChexSystems, a nationwide consumer reporting agency often prohibits those who have overdrawn accounts from opening new ones. 
"Because of ChexSystems, you're not allowed to open up a separate account, so you have to do a second chance bank account, which only banks offer. We have a partnership with PNC Bank that allows people to go through them to open up that account," Borge told us.
DebtHelper.com Encourages Clients to Modify Choices
DebtHelper.com aims to help Palm Beach County residents and Floridians reach their financial and homeownership goals. Borge said that simply having a goal, including buying a home, helps many of his clients improve their financial paths. 
He said he thinks clients are less likely to see consistent credit score increases if they don't have a specific goal in mind. 
"One of the best ways we've seen to improve credit is to have a goal. Homeownership goals can often keep them on the right path. So, they're not they're not going for a number; they're going for an actual thing that they're going to achieve later," Borge said.
Once would-be homebuyers have a plan in place, they are more motivated to make the small changes that can help them save money and improve their credit. If they eat out for lunch every day, for example, they may start seeing how much that small expense adds up over the course of a year. 
"If you have zero savings, you can take food to work instead of buying lunch, and you can save over $2,000 a year just by doing that. Those little victories count," Borge said. 
He also recommends that anyone who doesn't think they can buy a home should connect with a housing counselor. Clients can talk to Borge about their financial goals, how to set up a timeframe, and define steps they can achieve. The calls may take place over the phone, in an in-person session, or a Zoom call.
Whatever a client's goal, Borge helps develop a comprehensive plan that meets their specific needs. 
"It's going to be a custom plan for every single different person that comes through my doors; there's no one size fits all," he told us.