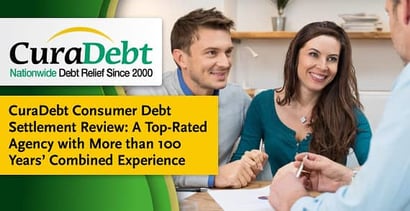 In a Nutshell: CuraDebt is a full-service debt relief agency, helping individuals and small businesses with debt settlement, consolidation, and creditor negotiations for more than 17 years. From offices located in Hollywood, Florida, CuraDebt delivers debt relief services to consumers and businesses nationwide. These services are provided by a team of in-house experts with more than 100 years of combined experience in the debt relief industry. CuraDebt also has a team of tax experts to help with federal and state tax debt negotiation and settlement issues. For consumers who find themselves with unmanageable debt and feel they have no way out, the debt settlement experts at CuraDebt can offer welcome relief.
Almost a decade after one of the biggest economic downturns in nearly a century, consumer debt in the US is once again at historic levels. The Great Recession resulted in a major pullback in lending by banks, which caused the average debt level of US households to fall. But with an improving economy, low unemployment, and companies once again hiring workers, debt is back on the rise.
As of June 2017, the US Federal Reserve reported that Americans have a combined $1.021 trillion in outstanding revolving debt. That stunning figure surpasses the previous high-water mark of $1.02 trillion, set in April of 2008 — just before the bubble burst.
A primary culprit is average wages that haven't kept pace with the rising level of debt we're taking on. In fact, when adjusted for inflation, average hourly wages for working-class Americans have been stagnant for nearly a half century. The impact of all this on American households is pretty plain to see: we're drowning in debt. If this dire fact hits home for you, then you may be looking for a way out of the debt trap. This is where a debt relief agency like CuraDebt can help.

We decided to take a closer look at this top-rated debt settlement company, and see for ourselves just what has earned them such high marks among the consumers they've helped.
We recently spoke with Mario, a Client Services Happiness Agent at CuraDebt.
"CuraDebt is a company established in 2000 to assist consumers in becoming debt-free and gaining peace of mind," he said. "CuraDebt counselors are all certified by the International Association of Professional Debt Arbitrators (IAPDA). They devise specific programs based upon a client's goals and objectives in becoming debt-free."
CuraDebt Helps Consumers Deal with Unmanageable Debt
No matter how or why you find yourself overwhelmed by debt, it's important to understand your legal rights and the protections to which you're entitled. CuraDebt's debt relief and negotiation specialists are experts at identifying what options are available to their clients.
In some instances, it may be in a consumer's best interests to consolidate their various revolving credit balances into a single line of credit with a lower interest rate. In other cases, debt negotiation for a lower balance may be called for. That's why it's important to know your options — and why the CuraDebt team takes the time to explain them to you.
Here's an overview of the various services that CuraDebt provides, what each of the terms means, and the kinds of debt they can help with:
Debt relief is the overall term for helping businesses and individuals resolve their debt issues. There are debt relief programs designed to help free up money and pay off debts in less time than it would take making minimum payments. There are also tax debt relief programs that use the tax laws applied to your financial situation to pay back the least amount of tax legally required.
CuraDebt has an experienced team of tax debt experts, many of whom have previously worked at the IRS or with state tax entities. This knowledgeable team has a combined total of more than 83 years working for federal and state tax authorities.
Watch on
Debt settlement is another term to know, and is also sometimes referred to as debt negotiation or debt forgiveness. These programs are designed to reduce the amount of overall debt that is owed, thereby reducing the payment amount and the length of time to repay. CuraDebt has an in-house, performance-based debt settlement program. This means those who qualify will only pay fees as each account is resolved and the resolution has been accepted by the consumer.
Debt consolidation is another way CuraDebt can help to lower the total amount of money a business or individual will be required to pay back. Essentially, two types of debt consolidation exist: one that helps bring interest rates down on individual balances, and one that combines all debt into a single loan amount with an overall lower rate.
How Debt Settlement Works and What to Expect
For those who decide to take the debt settlement route, there are some things to consider. One is that individual consumers shouldn't expect an immediate turnaround in their credit score. As the debt settlement process plays out, they may actually take a hit to their score. But through time and responsible payments, credit scores should rise as balances are reduced.
Another thing to keep in mind is that every circumstance is different, and there are no guarantees. We asked Mario about any limitations or restrictions that people should know about with CuraDebt's programs.
"CuraDebt's programs are best for consumers who have $7,500 in debt and above, but there are no maximum debt limits," he said. "CuraDebt does business in each state where we're licensed, which includes most states. In order to best help the consumer, CuraDebt factors all costs into the estimated budget we quote, and there are no additional fees."
One thing that stood out to us about the CuraDebt program was the free consultation you can have with one of their debt relief experts. According to the company, they can tell you in just minutes how much you can expect to reduce your debt. In our discussion, Mario put it this way: "The free consultation involves our counselors uncovering the individual debt situation of the consumer, and designing a program that will address their financial needs. Each solution is individualized to the consumer's personal goals and objectives."
Knowing When to Ask for Debt Relief Help
One of the biggest factors in getting out from under a pile of unmanageable debt is knowing when to ask for help. If you're reading this article, you may be in a situation where asking the advice of experts is the best course of action. Consumers who get stuck in the trap of making minimum monthly payments are unlikely to recover on their own, which is why organizations like CuraDebt exist.
Watch on
Even if you believe your debt to be under control, the downward spiral of borrowing more to pay down existing debt is not a viable solution. The cumulative impact of each negative credit hit means interest rates are likely to keep increasing, and you'll be paying even more in the future. In these circumstances, seeking debt relief is often the best solution.
In our research and review of CuraDebt, we found this company to be forthcoming, and interested in helping consumers save money. This, combined with the many positive reviews on various third-party sites, leads us to believe this is a company consumers can rely on. Asking for help with consumer or business debt is never easy. Fortunately, CuraDebt helps to make the process smooth.
Advertiser Disclosure
BadCredit.org is a free online resource that offers valuable content and comparison services to users. To keep this resource 100% free for users, we receive advertising compensation from the financial products listed on this page. Along with key review factors, this compensation may impact how and where products appear on the page (including, for example, the order in which they appear). BadCredit.org does not include listings for all financial products.
Our Editorial Review Policy
Our site is committed to publishing independent, accurate content guided by strict editorial guidelines. Before articles and reviews are published on our site, they undergo a thorough review process performed by a team of independent editors and subject-matter experts to ensure the content's accuracy, timeliness, and impartiality. Our editorial team is separate and independent of our site's advertisers, and the opinions they express on our site are their own. To read more about our team members and their editorial backgrounds, please visit our site's About page.