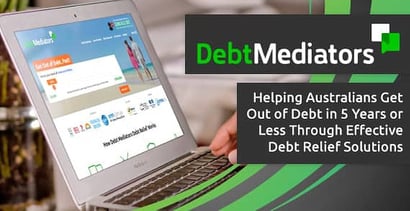 In a Nutshell: In 2016, Australia's total personal debt was around AUD$2 trillion, with the average Aussie household owing a staggering AUD$250,000 (or $190,000 in US dollars). The source of this financial hardship can be traced back to the usual suspects — mortgages, personal loans, student loans, and credit card debt. Anyone who has ever experienced the feeling of owing money they can't afford to pay back knows how this colossal burden affects everyday life. Fortunately, for those experiencing financial hardship, Debt Mediators has been around nearly 20 years to help Aussies erase debt and adopt better financial habits. Through a combination of one-on-one counseling, expert knowledge, and dogged negotiating tactics, Debt Mediators makes it easier to get your finances in order and get back to living your life.
I remember being nearly 20 when it suddenly hit me that I had yet to do anything in the way of establishing meaningful credit. I paid rent (mostly) on time and kept up with my bills, but I had never had a credit card and had no clue what my credit score was. All I knew at the time was that a credit score was supposed to be really important. Being inexperienced and naïve, I accepted the first credit card offer that arrived in my mailbox.
After being approved, I was initially responsible with my new credit card. I'd pay down the balance at the end of each month and resist using it just because I was short on cash between paychecks. But before long, my balance got out of hand, and I was having trouble even making the minimum payment. The next thing I knew, I was late with payments or missing them altogether and accruing late fees. At that point, a significant chunk of my paycheck was going to my credit card bill, and I still wasn't making a dent in the balance. I eventually decided to cut up the card, but I badly needed advice on erasing my debt.
I shared my situation with a friend, who recommended a locally owned debt management business. The organization got me set up with a manageable monthly payment plan and helped me establish a monthly budget — all based on my income. In a matter of six or seven months, my debt was gone, and based on the tips and habits I picked up from the debt management folks, I was able to save and plan like a pro going forward into adulthood.
My 20-something situation was all too similar to what many Australians are still going through, but not nearly as serious. Australian household debt has risen steadily over the past 30 years and ranks among the world's highest as more Aussies are wishing to own homes, as well as taking on car loans and credit card debt. But since 1999, those struggling with debt in Australia have had a reliable place to turn.
Debt Mediators


has been providing Australians with proven debt relief services for close to 20 years, and, to date, the company has cleared more than $130,393,188 in personal debt.
Through a combination of free, personalized consultations, tenacious investigations, and long-term advice, Debt Mediators' experts are committed to helping their clients get their debt under control and their lives back in order in five years or less.
Free Consultations and Direct, One-on-One Client Support
The Debt Mediators process begins with a free consultation session with one of its debt relief specialists. This initial conversation helps Debt Mediators' experts construct a tailored solution that meets your unique financial situation. The plan will typically consist of several components and phases, very much like what my experience entailed. But more on that later.
When first exploring the Debt Mediators website, I was greeted by a chat window that helps expedite answers to financial questions. I posed a random question about home loans and was chatting with a real person within seconds. She not only directed me to more information on the subject, but began immediately asking questions about my financial situation and offering suggestions and tips.
This is essentially how the process begins for anyone. Once you've agreed on a strategy that meets your goals, a Debt Mediators expert will contact your creditors and present them with a negotiation plan that aims to lower your payments and protect your assets. This negotiation can result in freezing interest fees and charges so they don't continue to accrue, consolidating your debt into one regularly occurring, affordable payment, ceasing legal action, and stopping debt collector phone calls.
One of the options for Australians you may not be familiar with is the "debt agreement," or Part IX. Debt agreements should be carefully considered, as they are typically only available to low-income earners who cannot pay their entire debt but want to avoid filing for bankruptcy. If certain criteria set by the Australian Financial Security Authority (ASFA) are met, a proposal will be sent to each of your creditors, who will either accept or reject it. If rejected, fret not: plenty of other strategies exist to eliminate debt.
Watch on
The Debt Mediators experts ensure they've done their due diligence to get to the bottom of your financial difficulties and create a permanent solution. This typically involves gathering proof of debt, complete credit history, and assessing any asset value and anything else integral to establishing an agreeable, and sustainable, personalized debt management plan.
Once this stage is complete, Debt Mediators prepares your documentation to be submitted to AFSA, providing a number of debt solution options. Most agreements are approved, and close to 100% are approved upon the second submission. At this point, your debt relief program begins, and creditors are now prohibited by law from contacting you.
Personalized Debt Solutions Provide Faster Relief
Though sources of personal debt are essentially the same, everyone's financial situation varies. And as such, the solutions and tools each person needs to get back on track will also be different. A debt repayment strategy is certainly something I couldn't have effectively come up with on my own. I needed the help of debt management professionals. And this is one of the areas where Debt Mediators comes to the rescue.
Debt Mediators' counselors excel at developing effective repayment strategies for those who need them most. One of the key things these professionals do that is certainly beyond the skill set of most people is to negotiate more flexible debt payment terms with your creditors. They fight on your behalf to extend the loan term, postpone repayment, and lower interest rates on the debt.
Many people fall into debt because of situations beyond their control; an illness or accident can occur out of nowhere, preventing you from working and earning a living. An option Debt Mediators' counselors can help you navigate is called a financial hardship agreement. As a person unable to earn income, it's your right to request that creditors adjust loan contracts to account for your personal situation. There can be a lot of nuance to this particular agreement, so be sure to discuss the specifics of your situation carefully with Debt Mediators' experts to ensure they guide you accordingly.
Finally, the importance of being able to budgeting according to your income and expenses cannot be understated. Of all the things I took away from my experience with debt counselors, it was the ability to make a budget and stick to it. Debt Mediators has created a free budget calculator to help you easily identify exactly where your money is going and how best to plan accordingly. But make no mistake, Debt Mediators provides the budget calculator as a supplemental tool to help you have greater visibility into your own finances, not as a substitute for one-on-one assistance. Its counselors are more than ready to help you craft a budget that best suits your needs.
Expert Advice Offers Valuable Money Management Insights
Even if you choose to use the Debt Mediators website purely as a resource for information and never actually contact a counselor, your financial situation can still improve. The site is rich with helpful information, but one of the most helpful offerings is the Money Management Insights blog. Topics in nine categories provide insight on bankruptcy, budgeting, credit cards, property, and other key areas.
Helping Aussies resolve their debt problems for nearly 20 years has clearly resulted in a wealth of knowledge. The blogs are written with authority and expert awareness of the topic, yet are easy to understand when broaching complicated or unfamiliar topics.
One of the more interesting blog topics I came across was a post called, "Money Problems Our Grandparents Never Had." I had never viewed my financial issues through this particular lens before and found the insights here especially interesting. Our modern society faces expenses our grandparents never even dreamed of. For example, grandma never had to pay for things like mobile phones, internet, and Higher Education Contribution Scheme (HECS) assistance. This article provides some much-needed perspective, especially if you're feeling particularly bad about your situation.
Family-Owned & Operated for Nearly 20 Years
Whether you're single or married, or are several hundred dollars or many thousands of dollars in debt, one thing remains true: personal debt can be a crippling source of stress and can significantly affect the quality of your life. Getting control of your finances is within your reach, especially when an organization like Debt Mediators is in your corner.
Debt Mediators is a family-owned business recognized by Family Business Australia and has more than its fair share of personal client success stories. Here's what one satisfied customer had to say:
"I am writing to express my sincere appreciation for your involvement and assistance in finding a way to resolve the financial millstone which was strangling me. My life can now get back to some form of normality in the knowledge that in some three years' time, my debts will have been expunged. … Thank you so much for what you have been able to achieve for me." – John
For Australians experiencing financial hardship, Debt Mediators exists solely to help get your debt back under control. I can speak from personal experience when I say that the freedom you feel when the heavy burden of debt is lifted and you can get back to living your life is truly wonderful.
Advertiser Disclosure
BadCredit.org is a free online resource that offers valuable content and comparison services to users. To keep this resource 100% free for users, we receive advertising compensation from the financial products listed on this page. Along with key review factors, this compensation may impact how and where products appear on the page (including, for example, the order in which they appear). BadCredit.org does not include listings for all financial products.
Our Editorial Review Policy
Our site is committed to publishing independent, accurate content guided by strict editorial guidelines. Before articles and reviews are published on our site, they undergo a thorough review process performed by a team of independent editors and subject-matter experts to ensure the content's accuracy, timeliness, and impartiality. Our editorial team is separate and independent of our site's advertisers, and the opinions they express on our site are their own. To read more about our team members and their editorial backgrounds, please visit our site's About page.