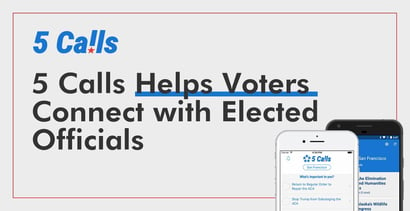 In a Nutshell: 5 Calls provides resources that help voters connect with elected officials to voice their concerns over upcoming legislative issues. Citizens can influence political matters and decisions directly, including those affecting financial policy and credit reform, by calling their representative. 5 Calls gives visitors educational resources and scripts they can read over the phone to concisely convey their thoughts. And many callers go off-script, which is often more powerful, to illustrate how a particular issue impacts their everyday life.
On July 21, 2010, President Barack Obama signed the Dodd-Frank Wall Street Reform and Consumer Protection Act into law. The legislation overhauled existing financial regulations and brought significant change to the financial industry in the wake of the Great Recession.
Dodd-Frank was devised and enacted based on the needs of everyday people who were suffering financial stress due to lost wages, especially in the form of loans and credit card debt. Due to the massive scale of the recession, consumer needs were a prominent and visible issue, spurring legislators to take action.
But the critical component in that situation was the acute awareness of the problems caused by the financial crisis. Legislators typically don't enact widespread reform unless they know about and understand the problems affecting their constituents. And not all difficulties are as prominent as those caused by a recession. That's why 5 Calls was founded in 2017 to help citizens connect with legislators and make their voices heard.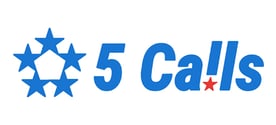 "My partner and I worked the field in the 2016 election," said Nick O'Neill, who co-founded 5 Calls along with his partner, Rebecca Kaufman. "I'm in the tech industry in San Francisco, and he was previously a biologist. We just felt like we had to go out and do something in 2016. And then, following that, we felt like there was probably something we could do combining our backgrounds and tech knowledge with something that could help out with politics."
During their 2016 campaign work, O'Neill and his project partner connected with others who were experienced in politics and advocacy. Together, they started 5 Calls as a resource to help people easily get involved and impact financial policy and credit reform.
5 Calls allows individual citizens to directly engage the political system and advocate for their own concerns. It facilitates that by providing timely, up-to-date educational and practical tools that empower people to take action.
"We always try to have information out as soon as possible when we feel like it's picking up steam," O'Neill said. "If you see an issue in the news, you can go to 5 Calls, and we already have it up."
Telephone Calls Provide a Low-Effort, High-Impact Way to Voice Concerns
At the outset, O'Neill and his co-founder faced an important question: What type of approach properly balances effectiveness and ease? The effort should be small enough to engage people, but big enough to have an impact.
Signing petitions is on the low end of that effort-impact spectrum. It is low-effort, but also low-impact. At the upper end, you can walk into your representative's office and speak with a staffer — or, sometimes, the representative. That is a high-impact approach for people with concrete goals, but most people don't have the opportunity to meet with their representatives face to face.
The balance 5 Calls struck was contacting the offices of representatives by phone. That action is something anyone can do, but it's more direct and forceful than putting a signature on a petition with thousands of other signatures.
"You can talk to someone on the phone. Your opinion is tallied right away and then given to your representatives essentially every day so they can track where their constituents stand on certain issues," O'Neill said.
Watch on
The first step is to know who your representatives are, which 5 Calls can help with, and then contact them directly. Those officials depend on votes for reelection, so they may be much more receptive to the thoughts and concerns of their constituents. Moving up the hierarchy is often not as effective.
"You shouldn't call Mitch McConnell just because you're mad at him," O'Neill said. "He doesn't really care what you think."
Since 2017, 5 Calls has facilitated nearly 3 million calls to Congress. One of its most notable successes was mobilizing support for the Affordable Care Act, a significant piece of legislation that directly affected many people's financial situations and their reliance on credit to pay for health care.
"That was entirely driven by constituent outreach on that topic," O'Neill said.
Scripts Guide Conversations on Meaningful Issues
"People are always really concerned about what this process is going to be like," O'Neill said. "I've never called my representative before. How does this work? What should I say?"
The 5 Calls team analyzed what they learned in 2016 and developed resources to help people get started. It begins with tracking upcoming legislation, compiling easy-to-read descriptions of what the bills mean, and explaining why they deserve support or opposition.
5 Calls also maintains a database that helps people identify and connect with their representative's office. Once they've done that, 5 Calls also supplies scripts for those who aren't sure what they should say during the call. All they need to do is read the script over the phone to the staffer.
"These are all scripts with a handful of sentences, so it's really easy for people," O'Neill said. "They're not going to be on the phone for more than two minutes total. It's self-explanatory to people in terms of how to get involved if they've never been involved before, and how to support the variety of legislation we have write-ups for on the site."
The scripts are also just suggestions and starting points. There's no need for callers to stick to a script, or even use it if they know what they want to say.
"People, once they're comfortable with it, will give their own angle for why they don't like it or why they do like something, or give their personal story," O'Neill said. "We encourage people — at the end of the script, if this issue affects you personally — please provide some detail around that. The scripts are mostly to help people get involved immediately without having to think about how the call is going to go."
Personal Stories and Concerns Provide Strong Support for Policy Arguments
Issues that affect people personally, including debt and credit reform, are strong motivators for people to take action. When speaking with a representative's office, making a concrete case will have far more impact than just saying you're for or against something in an abstract sense.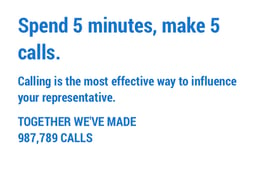 "If you have a personal reason for why an issue affects you, that's the extra step you can take and explain that issue to a staffer," O'Neill said. "And it's possible that will lead to a more in-depth discussion that may involve your representative. We've seen issues accomplished for folks who call, and they have a specific reason why the issue affects them. It's not just that they want to support it or don't support it because they believe this way or another. If you can make it concrete for your representative about how this affects your daily life, the representative can use that to justify their position."
We often think of arguments — especially in the political arena — as heated back-and-forth exchanges. But arguments, political or otherwise, are structured and logical conversations that rely on reasoning and evidence. A personal testimonial is one of the best pieces of evidence people can provide to their representatives to motivate them.
"It's not just about responding to outrage," O'Neill said. "It's about how your representative can prove to other people that they're representing the people of their district when it comes time for them to be re-elected."
5 Calls: Empowering Citizens Beyond the Voting Booth
In 2021, more than a decade after Dodd-Frank, the United States may be suffering from another recession fueled by the COVID-19 pandemic. Many people are calling for more financial relief as the wave of infections continues. Connecting with representatives is an excellent opportunity to influence the allocation of funds and credit reform that can help people facing difficult financial circumstances.
As the election cycle winds down and the legislative session gears up, it's a prime time to contact representatives and ensure your concerns are noted.
But 5 Calls offers other ways people can advocate and advance change beyond making phone calls. The site welcomes contributions from people who want to help by producing written educational content. As with so many online communities of like-minded people, everyone is welcome to participate.
"People we didn't even know before learned about the site over the years and said, 'Can I help out in some way? I work in the healthcare industry, and I really care about healthcare stuff. I'd love to write about healthcare work,'" O'Neill said. "We have a Slack channel where we all coordinate. Everyone has a full-time job, so when people have time, they pick up a new piece of writing or legislation that comes up, and they write about it, and it goes out on the site."
When people can't contribute directly, but feel strongly about an issue, 5 Calls takes reader suggestions on topics to publicize and support. The team researches submissions and decides if an issue is prominent enough or needs more widespread attention.
"We do some research and determine whether or not it's likely to get a vote," O'Neill said. "Many issues come up that have no chance of getting a vote, and we tend not to cover those because it's distracting for people to say they support or don't support something that doesn't have a chance. And then we do our own research on what's upcoming for a vote, and write about issues we believe are important."
Not every issue is going to receive official consideration or go up for a vote. But when an issue garners political attention, legislators must know the concerns of their constituents so they can adequately represent them in Congress. Through 5 Calls, voters can learn more about issues affecting them, connect with their elected officials, and exercise direct influence over decisions that will impact their personal and financial lives.
Advertiser Disclosure
BadCredit.org is a free online resource that offers valuable content and comparison services to users. To keep this resource 100% free for users, we receive advertising compensation from the financial products listed on this page. Along with key review factors, this compensation may impact how and where products appear on the page (including, for example, the order in which they appear). BadCredit.org does not include listings for all financial products.
Our Editorial Review Policy
Our site is committed to publishing independent, accurate content guided by strict editorial guidelines. Before articles and reviews are published on our site, they undergo a thorough review process performed by a team of independent editors and subject-matter experts to ensure the content's accuracy, timeliness, and impartiality. Our editorial team is separate and independent of our site's advertisers, and the opinions they express on our site are their own. To read more about our team members and their editorial backgrounds, please visit our site's About page.