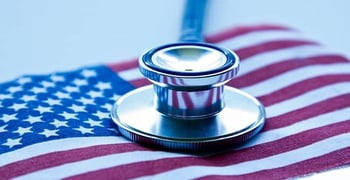 BadCredit.org publishes personal finance studies on the latest trends in the subprime marketplace. Our articles follow strict
editorial guidelines
.
When President Obama laid out the plans for his Affordable Care Act, also known as Obamacare, he used Massachusetts' health care model as a guide.
Now research shows the reforms put in place in Massachusetts have led to declines in bankruptcy, collection balances and overall debt within the state.
Data gathered from the U.S. Federal Reserve and a University of Notre Dame study shows individual debt levels have decreased in Massachusetts since that state implemented its health care reforms.
The data also shows in addition to reducing past-due debt levels, individual credit scores have improved as well.
"Reforms have led to declines in

bankruptcy and collection balances."
According to researchers Bhashkar Mazumder, from the Fed, and Sarah Miller, from Notre Dame, "The effects of reform on credit score, personal bankruptcy and delinquency are most pronounced for those whose credit scores were lower before the reform, but those with higher credit scores (and therefore, better access to credit) experienced a larger relative decline in total debt."
The study seems to show health care legislation benefits more than just those formerly uninsured individuals, but it also creates a beneficial environment for the credit markets.
Again from the study's authors, "These results show that the health care reform legislation has a strong effect not just on health and the use of health services, but across many measures of household well-being."
We can all hope the benefits from the national health care plan we know as Obamacare have similar benefits for the rest of the country.
Source: acainternational.org. Photo source: pkbenefits.com