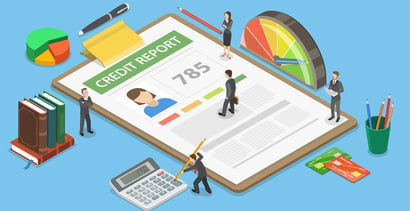 Although many of the people who wish to learn how to build credit without a credit card are seeking to avoid credit cards entirely (often due to a bad experience — either their own or that of a loved one) it's really a good idea for all consumers to learn how to build credit both without and with credit cards.
That's because your consumer credit profile has become an important financial tool, so it's vital to learn what can (and what can't) impact that credit profile.
And, while credit cards can often be an affordable way to build credit, credit cards are hardly the only product that can be used to build credit (or to do it damage). We've also found 11 other ways to build credit without a conventional credit card. In the article below, we'll take a look at these alternative methods such as building credit with an installment loan, building credit through alternative data, becoming an authorized user on someone else's account, or considering some cards that are off the beaten path.
1-5: Build Credit with an Installment Loan
Your credit reports are made up of information about your credit history, so the most obvious alternatives to credit cards for building credit are the other most common type of credit product: installment loans. Consumers can find installment loans for nearly any kind of use, from special credit-builder loans all the way to six-figure mortgage loans.
If you have poor credit or still lack a credit history, the loan types and amounts for which you'll qualify will likely be fairly limited. Most loans will also come with some sort of cost, be it an origination or administration fee, a finance fee, or interest charges.
1. Personal Loans
Personal loans are the most diverse types of installment loans, as they can generally be used to finance just about anything. Depending on your qualifications, you can find personal loans between $500 and $35,000, with loan terms as long as seven years.
If you're looking for a personal loan, be sure to compare your options to find the most beneficial terms. Online lending networks can be a good tool to shop for loans, as they can connect you with multiple lenders at once without the need to fill out multiple applications.
Loans from $500 to $10,000
Receive a loan decision in minutes
Get funds directly to your bank account
Use the loan for any purpose
| Loan Amount | Interest Rate | Loan Term | Loan Example |
| --- | --- | --- | --- |
| $500 to $10,000 | 5.99% - 35.99% | 3 to 72 Months | See representative example |
Loans from

$500

to

$10,000

Get connected with a lender
Simple form & quick funding
Get your money as soon as next the business day, if approved
| Loan Amount | Interest Rate | Loan Term | Loan Example |
| --- | --- | --- | --- |
| $500 to $10,000 | 5.99% - 35.99% | 3 to 60 Months | See representative example |
Loans from

$1,000

to

$35,000

Large lender network
Fast loan decision
Use the loan for any purpose
Funding as soon as one business day, if approved
| Loan Amount | Interest Rate | Loan Term | Loan Example |
| --- | --- | --- | --- |
| $500 to $35,000 | 5.99% - 35.99% | 3 to 72 Months | See representative example |
Consumers with poor or limited credit may not want to use personal loans solely to build credit, as loans for these credit ranges tend to have APRs above 15%. Most personal loans will also come with origination or administration fees that can add to the overall cost.
That being said, if you intend to get a personal loan for another important financing need — they can be useful for large purchases that you need to pay over time — then responsible repayment of your loan can help your credit in the long run.
Keep in mind that a new personal loan may not immediately boost your credit. Applying for a loan will result in a hard credit inquiry, which can depress your score, and taking on new debt can also cause your score to decline.
However, making on-time payments will help add to your positive payment history, which can have big impacts since payment history is worth 35% of your FICO credit score. Plus, an installment loan can help add to your credit diversity, which is worth up to 10% of your score.
2. Credit-Builder Loans
Building credit is important — but getting the credit to build that credit is hard because creditors don't like to risk offering credit lines to inexperienced consumers. Credit-builder loans are low-risk products that are specifically designed to, you guessed it, build credit.
Typical credit-builder loans are actually more like loan and savings account hybrids. Or, you can think about it as essentially prepaying a loan while building credit with on-time payments.
Basically, you take out a personal "loan" — except you don't actually receive the funds right away. Instead, you make set monthly payments until you've reached the agreed-upon loan amount. Once you've made all of your payments, your agreement ends and you can access the funds (minus any applicable fees).
Self Lender is one of the first third-party companies created to offer credit-builder loans conveniently online. The platform offers loan terms of 12 to 24 months, with monthly payments ranging from $25 up to $150. The fees you are charged will vary based on your term length and payment size.


Monthly payments from $25 to $150
Finance fee of $46 up to $112
Administration fee of $9 up to $15
Loan terms of 12 to 24 months
Although fee amounts are variable, all loans will come with both an administration fee — ranging from $9 up to $15 — and a finance fee. The finance charges start in the $46 range and have effective APRs starting around 12%.
Fig Loans is an online lender that specializes in consumers with poor credit. Its main product is a variation on a short-term loan, but the company also offers credit-builder loans. You must be an existing customer to take advantage of Fig's credit-builder loans.


Loan amounts from $500 to $1,000
Non-refundable account opening fee
Loan term of 12 months
May not be available in all states
Users can select a loan amount from $500 up to $1,000, and all loans have a term length of 12 months. Fig doesn't publicize the amount of its fees for the credit-builder loan, but it does disclose that there is a non-refundable account opening fee. Fig Loans may not operate in every state.
Another good place to look for affordable credit-builder loans is your local credit union. Many credit unions will offer products for new credit users and credit rebuilders alike, often with lower rates and fees than you would get from a regular bank.


Loan amounts from $500
Finance fees vary by credit union
Administration fees vary by credit union
Loan terms of 12 to 24 months
The loan terms, amounts, and costs will all vary based on the individual credit union. Additionally, you'll typically need to become a member of a credit union to take advantage of any of its products. You are usually automatically eligible for credit union membership if you live, work, worship, or go to school in the credit union's service area.
3. Auto Loans
Auto loans are another type of installment loan that can be used to build credit, but one that you should only really use if you intend to get an auto loan anyway. However, most auto loans are secured loans, meaning the vehicle itself acts as collateral to secure the loan for the lender, so they can be obtained even with limited or poor credit.
Because they are secured loans, auto loans tend to have lower interest rates than rates charged by unsecured loans like personal loans — even for borrowers who need to build credit. Of course, you'll still want to shop lenders to find terms and fees that best suit your needs and budget.
Auto loans are typically offered by car dealers, banks, credit unions, and some third-party financial companies, giving you lots of options. Online lending or dealer networks can be a convenient way to get an idea of your range of potential rates and fees.
Network of dealer partners has closed $1 billion in bad credit auto loans
Specializes in bad credit, no credit, bankruptcy and repossession
In business since 1999
Easy, 30-second pre-qualification form
Bad credit applicants must have $1500/month income to qualify
| Interest Rate | In Business Since | Application Length | Reputation Score |
| --- | --- | --- | --- |
| 3.99% - 29.99% | 1999 | 3 minutes | 9.5/10 |
Auto loan amounts of up to $150,000
Prequalify in minutes without impacting your credit score
Refinancing loans save an average of $191 per month
125% financing available for cash-out refis
PenFed Credit Union membership required but can be applied for at the same time as your loan
| Interest Rate | In Business Since | Application Length | Reputation Score |
| --- | --- | --- | --- |
| 5.19% and up | 1935 | 5 minutes | 9.5/10 |
RefiJet helps people lower their monthly auto payment by an average of $150 a month*
Pre-qualifying for a refinance auto loan does not impact your credit score
Nationwide network of lenders
We present you with options from lenders that fit your situation
| Interest Rate | In Business Since | Application Length | Reputation Score |
| --- | --- | --- | --- |
| Varies | 2016 | 5 minutes | 9.0/10 |
If you're having trouble getting approved or want to try for a lower rate, making a down payment or providing a trade-in vehicle may help. Some lenders will also allow you to apply with a cosigner who has good credit, which can significantly improve your terms.
Whatever your terms, be sure you make all of your monthly payments on time, as this will be the primary way an auto loan helps build your credit. It may also help improve your credit mix and age of accounts.
After six months or so of on-time payments, you should see noticeable improvement in your credit scores (or, in the case of consumers with no credit, you should become eligible for a FICO credit score). In the case that you're stuck with a high APR, you can refinance your auto loan once your credit score has improved.
4. Secured CD Loans
Secured loans are typically installment loans that have some sort of collateral that acts as security against default. As a result of that extra security, lenders can charge lower rates and fees for secured loans than they do for unsecured loans.
Auto loans and home loans are two of the most common types of secured loans, but you can also find secured CD loans. These types of personal loans use the money in a Certificate of Deposit (CD) or savings account as collateral, which makes them obtainable for consumers with poor or limited credit.
Secured CD loans are generally personal loans, so they can be used to finance just about anything. You'll make regular installments, as you would with any other installment loan, repaying your loan through monthly payments. Several major banks offer secured CD loans, as do some credit unions.
Wells Fargo secured personal loans can use either a Wells Fargo CD account or a Wells Fargo Savings Account as collateral. Eligible borrowers with qualifying collateral can get loans of up to $250,000 with terms between 12 and 120 months depending on the loan amount.


Secure with a Wells Fargo CD or Savings Account
Loan amounts from $3,000 up to $250,000
Loans funded as soon as 1 business day
Origination fee of $75
Secured loans through Wells Fargo come with a $75 origination fee. The bank also offers reusable secured credit lines that can be obtained with the same form of collateral (i.e., a CD or savings account). The origination fee for the secured line of credit is just $25.
TD Bank offers a number of loan products, including secured personal loans. You can use a TD Bank Savings, Money Market Savings, or CD account as collateral for the loan, and you can get loans of up to $50,000 with enough collateral.


Secure with a TD Bank Savings, Money Market, or CD Account
Loan amounts from $5,000 up to $50,000
Loans funded as soon as 1 business day
Origination fee of $50
Rates, fees, and loan amounts may vary based on your location, but APRs around 7% to 8% are typical. Loans are charged a nonrefundable $50 origination fee (PDF link).
As with many credit and banking products, secured personal loans can often be found at your local community credit union. What's more, credit union loans usually come with better rates and fees than those typically offered at big banks.


Secure with a CD or Savings Account
Loan amounts from $500 up to $250,000
Loans funded as soon as 1 business day
Origination fee will vary
The downside to using a credit union is that you'll usually need to become a member of the credit union to get a loan. This will generally require opening a checking or savings account; most credit unions have special member savings accounts that can be opened with a minimal deposit.
5. Mortgage Loans
While you can technically build credit with a mortgage loan, there are a number of caveats for this option. If you have bad credit — i.e., a credit score below 580 — your chances of getting a new mortgage loan are pretty low.
This is true even for government-insured mortgage loans without minimum score requirements, as lenders can set their own minimums. Moreover, applying with a cosigner who has great credit still won't improve your approval chances very much. That's because most mortgage lenders tend to look at the lowest score on a home loan application, not the highest.
On the other hand, if you have no credit history yet, then you may be able to qualify for a home loan, particularly if you have a cosigner with good credit. When a home loan application has multiple applicants and one of them has no credit score, lenders can use the other applicants to determine the representative credit score for the loan.
In either case, your best option for getting a mortgage loan will likely involve obtaining a loan insured by the FHA, VA, or USDA. Most major mortgage lenders will offer FHA loans, but VA and USDA loans may be harder to find. Be sure to compare providers to find the best rates.
America's largest mortgage lender
The entire process is completed online
Options for new mortgages and refinancing existing mortgages
Award-winning customer service and cutting-edge digital platforms
More than 90% of clients would recommend us
| Interest Rate | In Business Since | Application Length | Reputation Score |
| --- | --- | --- | --- |
| Varies | 1985 | 5 minutes | 9.5/10 |
Best for cash-out refinance
Utilize your home equity with America's #1 lender
eClosing allows customers to close electronically, greatly speeding the process
A+ rating with the BBB
Receive cash for home improvements, college tuition, or paying off debt
24/7 access to your loan through the Rocket Mortgage app
| Interest Rate | In Business Since | Application Length | Reputation Score |
| --- | --- | --- | --- |
| Varies | 1985 | 5 minutes | 9.5/10 |
Get today's mortgage rates from the top mortgage lenders and banks
Easily compare and choose mortgage lenders with no obligations or fees
Review current mortgage rates side by side
Pick mortgage lenders that meet your specific needs
Compare rates from pre-qualified and approved mortgage lenders — 100% online, 100% free
| Interest Rate | In Business Since | Application Length | Reputation Score |
| --- | --- | --- | --- |
| Varies | 1979 | 4 minutes | 8.5/10 |
Once you're on the mortgage, the loan's payment history should be reported to the credit bureaus for each person on the mortgage. Keep in mind that a new mortgage loan may actually hurt your credit at first; this is due to the hard credit inquiry you undoubtedly experienced when applying for the loan, as well as the fact that mortgages represent a lot of new debt.
However, making your monthly mortgage payments on time will start to add to your positive payment history. Having a mortgage loan on your credit reports can also help improve your credit mix, which looks at the diversity of your credit profile. Lenders like to know you can handle multiple types of credit.
6-7: Build Credit Through Alternative Data
Historically, your credit reports have been limited to containing information strictly about traditional credit products like credit cards and loans. But, while credit card use is certainly growing, credit products are simply not a part of everyday life for many folks.
What's more, the use of traditional credit products isn't the only way to gauge consumer credit risk. Enter: alternative credit data.
Essentially, alternative credit data utilizes non-traditional data to add to a lender or scoring model's ability to gauge creditworthiness. This can include everything from monthly rent payments to cellphone bills to your banking history — all things that can help give insight into your financial habits.
Although the use of alternative data by lenders, credit bureaus, and scoring agencies is growing, it's still in its infancy. Not all lenders and scoring models will include alternative data when evaluating your creditworthiness, even if that data is included in your consumer credit reports.
However, several of the newest credit scoring models have started to incorporate forms of alternative data, including the recent FICO® Score 9 and VantageScore 3.0 models. Some fintech-based lenders, such as online-only banks, also reportedly include some types of alternative data in their underwriting models.
6. Have Your Rental Payments Reported
Although some credit scores are designed to incorporate payment history from housing rentals, the truth of the matter is that very little of that information is actually reported to the credit bureaus, making it unavailable to the credit scoring agencies. In fact, according to FICO, only around 0.3% of the nearly 80 million renters had payment history data in their credit reports.
The major hurdle with rental payment reporting is that it's usually dependent upon your landlord or property management company being proactive in some fashion. Either they need to be reporting directly to the credit bureaus, or they need to be using a third party that will report those payments. Currently, you can't report your own payments.
Because it can provide up to two years of instant payment history, past rent payment reporting can be particularly beneficial for consumers with limited credit history as a way to pad a thin file. However, if you already have good credit, reports suggest rental payments will likely have minimal positive impact overall.
In general, rental payments that are reported to the credit bureaus will be reported as rental tradelines. Some of the third-party rental payment and reporting companies may report it as an open credit line, depending on the nature of the platform. Below are a few of the services involved in rent reporting.


Experian was the first credit reporting agency to start dealing with rental data, and the Experian RentBureau has been collecting rent data since 2010. It gets its data both directly from property management companies as well as from third-party rental reporting services.
Data reported to Experian RentBureau will show up on your Experian credit report. Because the credit bureaus are independent agencies, however, Experian does not need to share its data, so the RentBureau data will only show up on your other credit reports if the reporting party also furnishes it to the other bureaus.


RentTrack is a third-party rent payment company that was designed as a way for property managers to accept and track online rental payments. Renters can pay rent online by ACH bank transfer or by credit card (for a fee), and property managers get funds within one business day.
In addition to accepting online rent payments, RentTrack gives renters the ability to opt into rental history reporting. If renters opt-in, payment history will be reported to all three major credit bureaus (Experian, Equifax, and TransUnion) each month. Payment history is reported as a rental tradeline and updated monthly.

PayYourRent is a multi-service company for property managers and landlords that allows them to accept online rent payments, as well as manage work orders, receive online applications, screen tenants, and even connect utilities. Renters can make payments through the website or by downloading the PayYourRent mobile application.
Renters also have the option to have rental payments reported to their Equifax, Experian, and TransUnion credit reports as a rental tradeline by opting into reporting. There is no cost to renters to have their ongoing rental payments reported so long as their property manager uses the service.
7. Opt-In with Bank & Utility History
For many years, the only time your utility payments wound up on your credit reports was when you were late — and the reported late payments definitely did not help your score. However, the same way rental history can help give creditors insight into your financial habits, so, too, can your payment history with your utility and cellphone companies.
But, as with rental history, little data on utility or mobile phone payments gets reported to the credit bureaus. According to FICO, while 92% of Americans have a cellphone, only 2.5% of credit bureau files contain data on those payments. Similarly, 61% of people make utility payments each month, but only 2.4% of reports include payment data.
Several companies — including major credit bureaus, Experian, as well as third-party companies — are working on ways to get utility payment history added to more credit profiles. Some of these platforms do so by accepting the payments themselves, while others rely on bank account information to verify payments.


SimpleBills is a third-party company that allows users to pay their utility bills online through the website or mobile app. Consumers can get all of their utility bills in one place and make a single payment for everything. Plus, roommates can ensure they only receive their portion of shared utility bills.
Additionally, SimpleBills can report your utility payments to the credit bureau. Currently, payments are only reported to Equifax, one of the three major credit reporting bureaus. Utility payments show up as a utility tradeline, which may help boost your credit score. Users need to opt-in to have payments reported, and SimpleBills charges a $2.99 monthly fee for the service.


Experian advertises its Experian Boost product as a way to augment your existing credit profile by incorporating utility and cellphone payment history into your Experian credit report. The agency says that, "75% of consumers with FICO® Scores below 680 saw an improvement in their credit scores with Experian Boost."
Using Experian Boost is voluntary, and it requires consumers to opt-in to use the service. To get payment information, Experian has consumers provide bank account information for the accounts they use to pay their bills, then choose which history they want added to their report. The service is free to use and also comes with a free credit score.
And that's not all that bank accounts are being used for these days. Credit scoring agency FICO has started exploring the ways that consumers' banking histories can help predict their potential risk as borrowers.
UltraFICO Score


FICO is the leading credit scoring agency in the U.S., with FICO credit scores being used in millions of lending decisions every year. Over the years, FICO has released many iterations of its credit scoring models, including the recent UltraFICO Score, an opt-in credit score that incorporates dynamic bank account history into its algorithm.
The UltraFICO scoring model looks at factors like the age of your bank accounts, how often you make transactions, whether you typically have cash on hand, and how often you've overdrafted your accounts. Healthy behaviors, like maintaining consistently positive account balances, lead to a better score.
8-9: Build Credit Without a Personal Card
For some consumers, the problem may not be with all credit cards, but simply with personal credit cards. However, you may be able to take advantage of the credit-building powers of credit cards without needing to deal with personal credit cards of your own.
If you can't seem to stay on budget swiping in your daily life, then credit cards can be an issue, but perhaps your business finances are kept in much better shape. Or, if any kind of credit card is trouble, consider becoming an authorized user on a friend's account (just don't ask for a card).
8. Open a Business Credit Card
No matter how large — or small — your business, it can likely qualify for a business credit card. Even better, most business credit cards will earn lucrative purchase rewards and offer valuable benefits that can help add a little extra to your business's bottom line.
Although most business credit cards (excluding corporate cards) will require a personal credit check during the application process, not all business card issuers will report your regular payment behavior to the credit bureaus for your personal credit profile so do your research ahead of time if this is a concern.
Capital One® Spark® Classic for Business
The Capital One® Spark® Classic for Business is an unsecured business credit card intended for business owners with fair or limited personal credit.


Earn unlimited 1% cash back on every purchase made with your card
Enjoy free employee cards
Pay $0 annual fee
Cardholders can earn an unlimited 1% cash back on every purchase, as well as enjoy free employee cards that also earn cash back. Capital One also offers $0 fraud liability so you're not on the hook for unauthorized purchases.
The Wells Fargo Business Secured Credit Card requires a minimum deposit of $500 to open and maintain, with the option to put down as much as $25,000 for a larger credit limit.


Earn 1.5% cash back on every purchase made with your card, redeemable as a statement credit or check
Access credit lines from $500 to $25,000
Pay $25 annual fee
Although the card does charge a small annual fee, it also earns unlimited 1.5% cash back that can be redeemed as a statement credit. At that rate, spending just $1,700 a year on the card will earn enough cash back to make up for the annual fee.
The BBVA Secured Visa® Business Credit Card requires a minimum deposit of $500 and offers a credit line equal to 90% of the deposit amount.


Earn 3X points per $1 at office supply stores and 2X points per $1 at gas stations and restaurants
Earn 1X point per $1 on all other purchases
Pay $0 annual fee the first year, then $40
Users can earn points on every purchase, with bonus points for purchases at office supply stores, restaurants, and gas stations. This card is only available in Alabama, Florida, Texas, Arizona, Colorado, California, and New Mexico.
9. Become an Authorized User
Another way to build credit without having your own personal credit card is to ride the metaphorical credit tails of a friend or family member by becoming an authorized user on his or her credit card account.
Most major credit card issuers will allow authorized users, though some issuers will have minimum age requirements. Some credit cards — especially high-value rewards cards — may charge an extra fee for authorized users, though the user typically receives access to the card's benefits in this case.
Basically, an authorized user is just what the name implies: someone other than the primary cardholder who is authorized to make purchases on the account. Authorized users are eligible for their own physical credit card — in their own name — that is tied to the main account.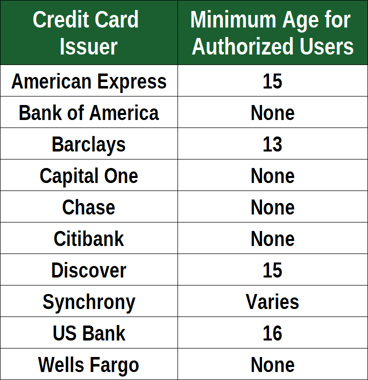 Additionally, being an authorized user on a credit card account typically means the activity on that account will be reported to the credit bureaus for both you and the primary cardholder.
So long as the account is paid on time every month and keeps a low balance, this can help you build credit and may boost your credit scores in some cases.
The flip side to authorized users is that, while they have the right to make purchases on the account, they don't actually have any legal or financial responsibilities for that debt. This means that an authorized user can't be compelled to pay an overdue balance on a credit card the way a cosigner would be.
If you (or the primary cardholder) are worried about your ability to use the card responsibly, you can simply forgo asking for a card in your name. You typically don't need to make any purchases as an authorized user for the account to be reported to the credit bureau
10-11: Build Credit with an Unconventional Card
For some consumers, the reason to search out credit-building methods that don't use credit cards has little to do with an actual aversion to credit cards — and everything to do with the assumption that they won't qualify for a credit card.
And, often, that assumption is well-founded, based on the previous rejections they've already experienced. But not all credit cards are the same; many, many options exist, including some nontraditional credit cards that are easier to get when you have poor or limited credit.
10. Secured Credit Card
Secured credit cards are among the easiest credit products to get thanks to the cash deposit that acts as collateral, all but eliminating the risk for the card issuer. This allows consumers with less-than-great credit to get lower rates and fees with secured cards than they would likely get from an unsecured product.
The cash deposit that is required for a secured credit card will also set the card's limit, which essentially gives you control over your credit line. And, perhaps the best part about secured cards, that deposit is entirely refundable when you close your account with a $0 balance.
Secured Sable ONE Credit Card
This offer is currently not available.
| Application Length | Interest Rate | Reports Monthly | Reputation Score |
| --- | --- | --- | --- |
| N/A | N/A | N/A | N/A |
The Secured Sable ONE Credit Card is a great choice for anyone who's open to a secured credit card. In fact, it competes well with most big-bank card offers for fair or better credit. It has no minimum deposit requirement, and it even rewards you with a small cash bonus when you achieve a 700 credit score.
The Discover it® Secured Card is a great secured card, offering a low minimum deposit requirement, no annual fee, and competitive purchase rewards.


Earn 2% cash back at restaurants & gas stations on up to $1,000 in combined purchases each quarter
Minimum $200 deposit required
Pay $0 annual fee
Qualified applicants can put down a deposit of up to $2,000 for a credit line of the same size. Discover will periodically review your account and automatically upgrade you to an unsecured account and refund your deposit when you become eligible.
11. Store Credit Card
Store credit cards are standard offerings for nearly every major brand these days. Most store cards are closed-loop credit lines that can only be used to make branded purchases, and many come with useful extras such as purchase rewards or special financing.
While the limitations of store cards can be restrictive, they — and the low credit limits typically offered — are what makes these cards fairly easy to get if you have bad credit. The spending restrictions may also help consumers who would otherwise overspend on a credit card.
The Amazon.com Store Card is best for consumers who already have an Amazon Prime account, as it provides the most value to Prime cardholders with 5% back on Amazon.com card purchases.


Cardholders who are also Amazon Prime members earn 5% cash back on Amazon.com purchases
Receive special financing on purchases over $149
Pay $0 annual card fee; Prime fee may apply
While the special financing offers are available to all cardholders, they do utilize deferred interest, so be cautious that you only use special financing for purchases you can pay off entirely within the promotional period to avoid being charged interest on the whole purchase.
The Target REDcard is more of a discount card than a rewards card, offering an instant 5% off your purchase at checkout rather than providing purchase rewards.


Get 5% off your order at checkout for eligible in-store or online Target purchases
Receive exclusive deals & discounts
Pay $0 annual fee
Prescriptions and over-the-counter pharmacy items are excluded from the 5% cardholder discounts. Gift cards, select restaurant merchants, and Target Optical™ eye exams are also ineligible for the cardholder discount.
What Is — & Is Not — On Your Credit Reports
The key to knowing what you can do to build your credit profile is to know exactly what types of information show up on your credit reports — and how much of that information gets used to calculate your credit scores.
To start, your credit reports primarily consist of information about your credit history, such as your hard inquiries, your debt balances, and your payment history. This information is reported to the credit bureaus by your creditors and is generally updated once a month.
The types of accounts that get reported to the credit bureaus include:
Personal credit cards
Business credit cards
Personal loans
Auto loans
Store credit lines
Mortgage loans
Student loans
Additionally, your reports will also include a range of personal information, including your name, address — and, perhaps, previous addresses — Social Security number, and, in some cases, information about your current or past employment.
Although some of your personal information will be used to identify your report and accounts, that data doesn't impact your credit scores. Only information related to your credit accounts will be incorporated into most credit scoring models.
Furthermore, some types of personal data will not show up on your credit reports at all, nor will they impact your credit scores. Examples include:
Your income
Your debit or prepaid card accounts
Your non-credit banking information (unless you opt-in; see below)
Your rent or utility payments (unless you opt-in; see below)
Your marital status
Your educational background
Your race
Your religion
In some cases, the name of your spouse may show up on your credit reports if it is reported to the bureaus by one of your lenders. This happens most frequently when you are both on the same credit account, such as being co-applicants on a mortgage loan.
Noncredit Account Opt-Ins: There has been a big push of late to include more alternative risk data that may help lenders determine the creditworthiness of consumers who don't have very much credit history. These programs, which typically require you to opt-in, may report bank, rent, and utility payment information to the credit bureaus as tradelines.
For example, Experian Boost allows users to opt-in to allow Experian access to their bank accounts to extrapolate utility payment information. Then, that utility data is reported as a utility tradeline on your Experian credit reports and can be used by some of the newer credit scoring models like the FICO® Score 9 and VantageScore 3.0.
Unless you opt-in for one of these programs, however, your personal banking information — including your bank account balances and overdraft history — will not be reported to or show up on your consumer credit reports, nor will it be included in any of your credit scores.
Can You Build Credit Without Taking on Debt?
At the most basic level, all forms of credit represent some type of debt. That's the case whether you get a credit card, obtain a loan, or open a credit line. And, at the end of the day, your credit reports and scores are specifically designed to tell lenders how well (or not) you handle debt.
So, generally, the answer to whether you can build credit without taking on debt is, "No." If you're building credit, it's going to involve some form of debt.
The one exception to this blanket rule is possibly authorized users; if you become an authorized user on someone else's credit card, that debt doesn't — legally — belong to you. However, the balance will likely still show up on your credit reports, so that debt still impacts your credit profile.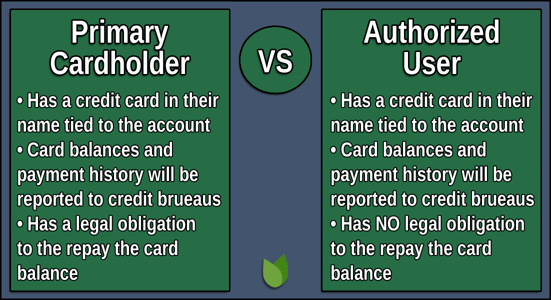 Even credit-builder loans are, technically, debt — you're just prepaying your loan, rather than making payments after you get the funds. These loans are still reported to the credit bureaus as debt that needs to be paid.
As mentioned in a few sections above, alternative data is gaining popularity as a way to measure consumer creditworthiness, but it has yet to see widespread adoption and only a few types of credit scores incorporate this data. At some point in the future, it may be possible to build a moderately robust credit profile using noncredit sources — but that time isn't now.
Of course, while you can't really build credit without debt being involved in some way, that doesn't necessarily mean you need to take on thousands of dollars' worth of debt that you'll be paying off for years. Indeed, depending on the method you choose, you may be able to build credit without even needing to pay any interest or fees at all.
For the majority of consumers, credit cards will be the most affordable way to build credit while accumulating the least amount of debt. In fact, the ideal way to use credit cards involves staying out of debt as much as possible by paying off your entire credit card balance every billing cycle.
Not only does paying your card balance in full each month minimize the amount of debt you have at any given time, but it will also generally mean you aren't charged interest for your purchases. That's because most credit cards offer a grace period on interest fees that gives you at least 21 days to pay in full before you're charged interest.


And, no, despite what popular myth may imply, carrying a balance on your credit card won't improve your credit score. While you do need to use the card periodically to have the payment history reported to the bureaus, that use doesn't need to be excessive, and you can pay it off even before your statement ends if that's your desire.
The best way to use credit cards to build credit is to pick a card with no annual fee and set it to automatically pay a small regular bill, such as a monthly streaming service. You can then set your bank account to automatically pay off the card each month, making the entire process completely hands-free — and fee-free.
What's the Fastest Way to Build Your Credit Score?
The best — and fastest — ways to improve your credit scores will depend on your initial scores and your specific credit profile. If, for example, you start out with no credit score, then you'll need to open a credit account (or use one of the alternative methods outlined above).
Your consumer credit reports will become established as soon as your first credit account is reported to said bureaus. You should be eligible for a VantageScore credit score within 30 days, but it will take at least six months' worth of credit history before you are eligible for most FICO credit scores.
Once your credit has been established, building credit can be simple — once you know how. The three things you generally need to do to build up your credit score are:
Pay everything on time: Your payment history is worth more than a third of your FICO credit score, so make at least your minimum required credit card, loan, and other debt payments on time, every month. You should also endeavor to pay noncredit accounts — like rent and utilities — on time; your on-time payments for these accounts may not always be reported, but you can guarantee that any delinquent payments will be.
Keep low balances: Most credit scoring models look at your credit card utilization rates — your balance divided by your credit limit — as a measure of your credit risk. Cards with high utilization, especially those cards close to being maxed-out, are seen as a bad sign and can cause your credit score to drop.
Wait: Oftentimes, the best way to boost your credit score is to just give it time. It takes time, for instance, to build up a long positive payment history — and the length of your credit history can be worth up to 15% of your FICO credit score. You should also wait a little time between opening accounts, as taking on a lot of debt all at once can be a risk factor that decreases your scores.
In most cases, a poor credit score is likely due to an issue with one of these three factors. For example, you could have a low credit score because of a delinquent debt payment, a maxed-out credit card, or simply because your credit history is too limited.
A low credit score due to high debt balances is the quickest to fix. That's because you typically boost your credit scores just by paying down your outstanding debts, especially when it comes to credit cards with high utilization. You can see a credit score increase as soon as your issuers report the reduced balances.
If your low credit score is due to delinquent or defaulted accounts or a thin or limited credit history, then there may not be a "fast" solution — time is really your best friend here. Most negative items will fall off your credit reports (and, thus, stop impacting your credit scores) after seven to 10 years, with hard inquiries only lasting around two years.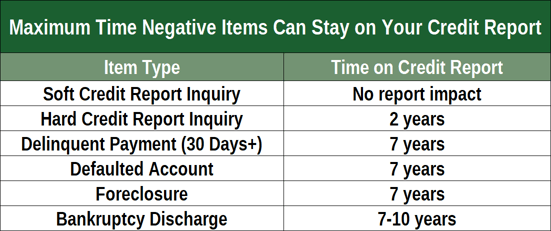 You may not need to wait out the entire life of a negative credit report item, however. Credit scoring models are designed to weigh recent credit activity more heavily than older activity, which means negative items will impact your credit scores less and less over time.
Like It or Not, Consumer Credit Can Be an Important Financial Tool
In the past 40 years, consumer credit scores have grown from being something few consumers knew about into important financial tools advertised around every corner. Everyone from your bank to your credit card issuer to third-party companies are not only touting the importance of your credit score, but they're also offering you copious ways to check those scores.
And, while those advertisements aren't always educational in nature, they do have one thing right: your credit is important. Yes, whether we like it or not, the vast majority of American adults will need to deal with credit and debt at some point in their lives, be it to buy a car, purchase a home, or simply as part of applying for an apartment or utility account.
Of course, this doesn't mean you're forced into a life of debt just to build your credit. As we've described, you can build credit without taking on heaps of debt — or excessive fees. And the credit bureaus and scoring agencies are at work on alternative methods to help those who eschew credit entirely.
Advertiser Disclosure
BadCredit.org is a free online resource that offers valuable content and comparison services to users. To keep this resource 100% free for users, we receive advertising compensation from the financial products listed on this page. Along with key review factors, this compensation may impact how and where products appear on the page (including, for example, the order in which they appear). BadCredit.org does not include listings for all financial products.
Our Editorial Review Policy
Our site is committed to publishing independent, accurate content guided by strict editorial guidelines. Before articles and reviews are published on our site, they undergo a thorough review process performed by a team of independent editors and subject-matter experts to ensure the content's accuracy, timeliness, and impartiality. Our editorial team is separate and independent of our site's advertisers, and the opinions they express on our site are their own. To read more about our team members and their editorial backgrounds, please visit our site's About page.