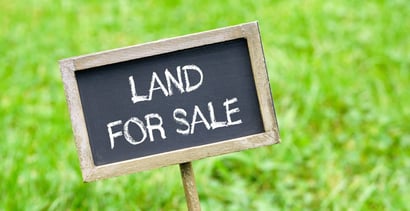 Land! It's the stuff of dreams. A family buys a half-acre lot to build a house. A business purchases an undeveloped tract of land in preparation for building construction. A rancher needs more grassland to accommodate a rapidly expanding herd. All must have a plan to pay for the land, and depending on the location, the price can be dirt cheap or expensive enough to make your eyes water.
For an individual or family, getting a loan for undeveloped — or raw — land may be more challenging than securing a mortgage. The buyer must arrange a careful land survey, check for compliance with zoning restrictions, and plan access to public roads and utilities. 
Many prospective landowners focus on build-ready lots where the seller has already performed the preliminary steps. But sooner or later, land buyers must determine the price they are willing to pay. That price frequently requires a land loan.
Having bad credit doesn't make it any easier to finance a land purchase. But as we detail below, you can overcome the funding challenge in several ways. Some approaches require out-of-the-box thinking, but all provide subprime borrowers a route to land ownership. 
Subprime Personal Loans For Buying Land
You can use a personal loan to purchase land, but you'll probably need to borrow a considerable sum unless the land is dirt cheap. Here we describe two lender-matching networks that can arrange personal loans of up to $35,000. 
We also discuss land loans from credit unions, which usually try to accommodate their customers' needs regardless of credit score. And because these are personal loans, you need not use the land as collateral, reducing your exposure to repossession risk if you miss payments.
24/7 Lending Group is always ready to match subprime borrowers with the willing lenders in its network. It may prequalify you for a personal loan in minutes and recommend one or more direct lenders without checking your credit or impacting your credit score. 
You may be able to borrow up to $35,000, but the odds are your bad credit will reduce the amount you can borrow. Whatever the loan size, you may be able to arrange funding to buy land as soon as the next business day.
PersonalLoans.com works with an extensive network of direct lenders specializing in subprime loans. A poor credit score won't necessarily prevent you from getting a loan but will influence the amount you can borrow. 
As is generally true of loan networks, PersonalLoans.com provides hassle-free access to willing lenders, charges nothing for its service, and imposes no obligation to borrow.
3. Local Credit Unions
Local credit unions are likelier than banks to offer subprime personal loans. The reason is that credit union customers are also its owners and therefore try to accommodate borrowers of every credit stripe, from excellent to dismal.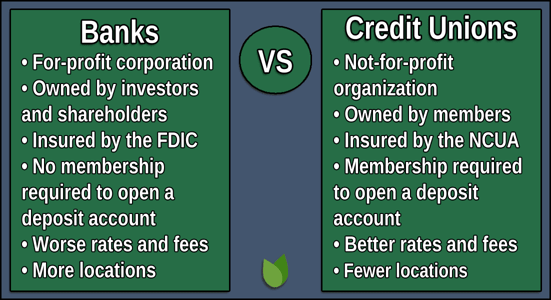 Most credit unions restrict who can join, usually based on where applicants live, work, or pray. But some, such as the PenFed Credit Union, openly enroll anyone who can put $5 into a savings account.
You can use this tool from the National Credit Union Association to find a credit union near you.
Subprime Home Equity Loans For Buying Land
The following lenders provide home equity loans that you can use for any purpose, including land or lot purchases. You must own a home to get one of these second mortgages, making them a viable funding source for those looking to build a vacation home. 
You may be able to borrow up to 100% of your home equity, which is the property's current value minus the mortgage balance. If you opt for a home equity line of credit, you can time your borrowings and repayments as needed while paying interest on only the current loan balance. 
But remember, failure to repay a home equity loan can result in foreclosure on your home.
With more than $11 trillion in tappable equity, US homeowners are sitting on a mountain of readily available funding. The following lenders are eager to help you put some of that equity to good use, including land purchases.
Rocket Mortgage provides home equity loans to homeowners with a median FICO score of 680 or better. The available loan sizes are 75%, 85%, or 90% of home equity, depending on whether your credit score is 620 – 699, 700 – 759, or 760+, respectively.
This lender's minimum equity loan amount is $45,000 ($61,000 in Iowa), and the maximum is $350,000. It offers 10- and 20-year fixed terms on these loans. To qualify for a Rocket Mortgage home equity loan, your debt-to-income (DTI) ratio cannot exceed 45%.
Quicken Loans is a part of Rocket Mortgage. All we've described about the latter applies to Quicken Loans. Once you receive a home equity loan approval, you'll collect the proceeds in a single lump-sum payment. You repay the loan with a fixed interest rate over a set period.
The lender cautions you to be sure you can afford the monthly payments, as you must assume additional debt and foreclosure risk. Funding can take two to four weeks, so plan accordingly.
eMortgage works with a vast lender network that you can access by submitting a loan request form online. You must provide information about yourself, your home's value, the current mortgage balance, and the amount you want to borrow. 
You may get up to five offers in minutes from direct lenders vying for your business. By lining up a home equity loan or line of credit first, you can make land purchase offers that owners will take seriously. 
Other Funding Sources For Land Purchases
If you have land fever, take a few minutes to read about each of the following sources of fast (or not-so-fast) relief. You can borrow from your retirement nest egg, the US government, local financial institutions, or the seller. 
The financed land is collateral for most of these loans, so be mindful of repossession risk — only take a loan you know you can repay.
The U.S. Department of Agriculture makes two types of Rural Housing Site Loans for nonprofit organizations to purchase and develop land for housing low- and moderate-income families. The government defines low income as between 50% and 80% of the area median income (AMI). The upper limit for moderate income is 115% of the AMI.
The two USDA loan programs are:
Section 523 loans allow nonprofits to acquire and develop land only for housing constructed by the Self-Help method. Refer to RD Instruction 1944-I for more information about the Self-Help program. Applicants must be private or public nonprofit organizations that will provide sites solely for self-help housing.
Section 524 loans let nonprofits acquire and develop sites without restricting the construction method. Applicants must be private or public nonprofit organizations. Borrowers may sell building sites to low- or moderate-income families using USDA's Housing and Community Facilities Program's (HCFP) loan programs or any other mortgage financing program that serves eligible families.
In addition, borrowing organizations may include:
Nonprofits with the legal authority to operate a revolving loan fund
Nonprofits with the technical, financial, and managerial resources to satisfy the relevant federal and state rules
Federally recognized Native American tribes
These two-year loans charge either a 3% interest rate (Section 523) or a below-market rate established and published monthly, fixed at closing (Section 524).
8. 401K Loans
Borrowing from yourself is the cheapest and safest alternative when you want to finance a land purchase. You can borrow money from your 401k if you have one and the plan allows it — not all do. The maximum loan amount is $50,000 or half the account balance, whichever is less. But you can borrow up to $10,000 even if that's more than 50% of your balance. 
You must repay your loan, with interest, within five years, but you can take up to 15 years to repay a loan to buy or build your first home, including purchasing the land. The interest you pay, minus fees, goes back into your account. Your net out-of-pocket cost may be as low as 1% to 2%, depending on the fees the 401k plan administrator imposes.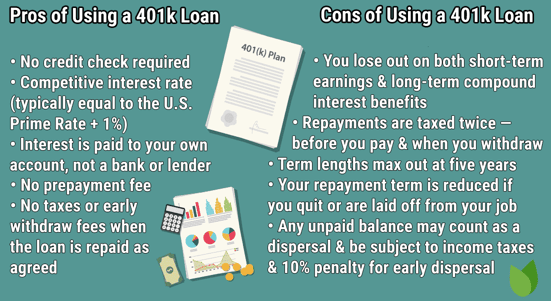 If you fail to repay the loan by the due date, the IRS will treat the unpaid balance as a taxable withdrawal, which may be subject to a 10% penalty if you are below age 59½. 
An implicit cost of these loans is that you lose the tax-deferred growth of the money you borrow until you repay it. That can take a sizable chunk out of your retirement savings if you have a 15-year loan term. But property appreciation may counterbalance some of the loss. 
9. SBA 504 Loans
The Small Business Administration 504 Loan Program provides for-profit businesses with long-term, fixed-rate financing for major fixed assets, including land, that promote business growth and job creation. The maximum loan amount is $5.5 million per project. 
To be eligible for an SBA 504 loan, a business must:
Operate as a for-profit company in the United States or its possessions
Have a tangible net worth of less than $15 million
Have an average net income of less than $5 million after federal income taxes for the two years preceding your application
Fall within SBA size guidelines
Have qualified financial expertise, a business plan, and good character
Have the ability to repay the loan
These loans have 10-, 20-, and 25-year maturity terms. The SBA pegs the interest rate to an increment above the current market rate for 10-year US Treasury issues.
10. Farm Credit Service of America
Farm Credit Service of America is a nationwide network of independent, privately-owned lending institutions in all 50 states and Puerto Rico. Farmers, ranchers, agribusinesses, rural utilities, and others in rural America own this set of cooperatives.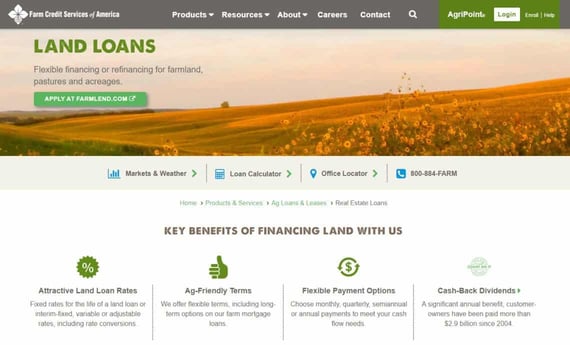 The organization finances and refinances all types of land and land improvements for agricultural purposes. It also offers financing for recreational land, rural home lots, and acreages through its Rural 1 Program.
Interest may be fixed-rate for the life of a land loan or interim-fixed, variable, or adjustable rate, including rate conversions. Land loan terms are flexible, as are the payment options (monthly, quarterly, semiannual, or annual). The typical down payment on these loans is 35%.
11. Credit Unions and Community Banks
Your local credit union or community bank may offer land loans for development, agriculture, or recreation. Each financial institution is different, so you will have to check the specifics of each loan.
The items to check include:
The minimum and maximum loan amount
The down payment or maximum loan-to-value requirement
The loan's minimum and maximum lot and land acreages
The loan interest rate and type
The loan term
Loan options such as combining a lot loan with a construction loan
You can check your local credit union or community bank for more details.
12. Seller Financing
Seller financing can be an excellent alternative for obtaining advantageous terms, particularly if the seller is enthusiastic about unloading the land and demand is low. Since this is a land contract between two individuals, all terms are up for grabs, from the interest rate to the down payment.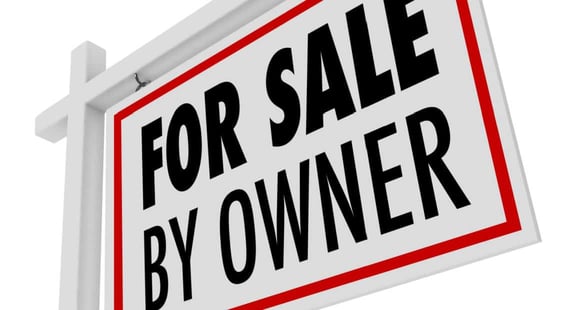 You should run the agreement past an attorney to verify you understand the terms. It's unpleasant to encounter loopholes and other surprises after you sign the contract.
What Is a Land Loan?
A land or lot loan finances the purchase of a land parcel for residential or commercial use. It is similar to a mortgage in that the loan agreement specifies the amount, interest rate, monthly payment, and loan term, as well as details about the property (e.g., size, location, etc.). 
But without a home to act as collateral, land loans usually require significant down payments. Lenders may require borrowers to have higher credit ratings because of a land loan's relatively greater risk compared to a mortgage.
You can get three types of land loans:
Raw Land Loans: These are loans for uncleared vacant land, often purchased as a speculative investment. This land lacks roads, sewers, and electricity. Generally, lenders demand the most detailed development plans before approving a raw land loan. They may also charge a higher interest rate for a vacant land loan and require a down payment of 20% to 35% or more.
Partially Improved Land Loans: The land is no longer raw because of some development activity, such as basic utilities and amenities. This type of loan is only marginally easier to obtain — the lender may require a 25% down payment.
Ready-to-Build Land Loans: These loans pertain to land with improvements such as roads, water, electricity, and other features. Normally, it is ready for immediate construction. This one is the easiest to get of the three land loans, with the lowest loan rates and down payment (i.e., 15%) requirements.
Although improved land is the least costly to finance, it may be the most expensive to purchase. 
How Do Land Loans Work?
Land loans require a down payment and monthly payments for a set period. The loan's interest rate, principal amount, term, and size determine how much you must pay each month. As with a mortgage, land loans are amortizing – your fixed monthly payment starts as mostly interest, and your payments significantly reduce the principal only later.
Before agreeing to a loan contract, land buyers must nail down a few key facts. These include: 
Boundaries: A survey must establish the land's perimeter and commit the measurements to a map available online and on paper. 
Zoning: It is quite disheartening to run into zoning issues after you've purchased a parcel of land. Always check with your local planning department for any use restrictions. It's also a good idea to check for upcoming development plans in the surrounding area that may impact the land's value.
Access: It's essential to nail down the utilities and amenities included in an improved lot. These include cable hookups, the water supply, sewer/septic tank piping, electricity, and perhaps a gas pipe. In addition, you want to know the status of connecting roads and the possible need for an easement should you need to construct an additional roadway. 
Working with a real estate agent familiar with land purchase transactions is a good idea.
What Are the FDIC Loan-to-Value Limits For Land Loans?
The Federal Deposit Insurance Corporation is responsible for the safety of bank deposits. One of its missions is to prevent banks from failing and rescuing them if they do. 
The FDIC limits how much money banks can lend to any borrower. These limits depend on several factors, including the type of loan, the borrower's creditworthiness, the role of collateral, the loan-to-value ratio (LTV), and the lender's financial health.
The FDIC's maximum LTV values are:
Speculative vacant land: 65%
Land partially improved: 75%
Ready-to-build land: 85%
Land loan borrowers must make down payments large enough to bring the LTV values to 100%. For example, you must put down at least 15% (i.e., 100% – 85%) for a ready-to-build lot. Note that banks may adopt stricter standards (i.e., lower LTVs) that require higher down payments.
What Is the Lowest Credit Score For a Land Loan? 
Generally, land loan providers require a credit score of 620 or higher. But you can finance a land purchase with a personal or home equity loan that accepts lower scores.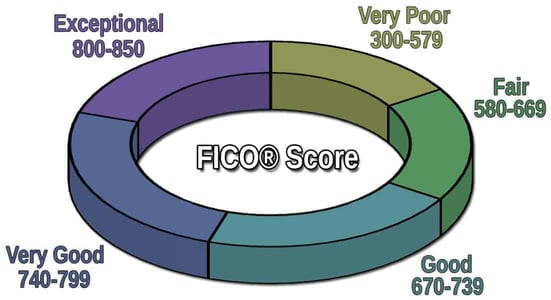 Some actions you can take to overcome a low credit score include making a larger down payment, pledging additional collateral, and enlisting a cosigner.
What Are the Advantages and Disadvantages of Land Loans?
Not surprisingly, land loans have their own set of pros and cons.
Advantages include:
You may save money by buying a lot and constructing a house (or purchasing a manufactured house) instead of buying a new home.
You may qualify for a government-backed loan featuring a low interest rate and minimal down payment requirement.
SBA loans can help businesses that need land for commercial purposes.
Possible disadvantages include the following:
You may have trouble finding a local land lender.
You will need a survey and a zoning review.
You may face a shorter-than-ideal loan term, corresponding to higher monthly payments.
If you finance land through a home equity loan, you could lose your house if you default on the land loan.
Carefully weigh the pros and cons before pursuing a land loan. You may also want to consult a financial advisor or credit consultant before proceeding.
You Can Borrow Money to Buy Land, Even With Bad Credit
Shopping around for the best deal available to a consumer with your credit score is a good idea. Remember that land prices can fluctuate sharply in response to external factors, such as changes in loan rates, zoning rules, and consumer demand.
There's no simple way to remove all risk when you purchase land, but educating yourself on the topic is a strong start.
24/7 Lending Group & Other Resources
We hope you've found our guide "12 Best Land Loans For Bad Credit (Sep. 2023)" to be helpful in meeting your financial needs. To learn more about 24/7 Lending Group, our top recommendation in this guide, be sure to visit the 24/7 Lending Group website for full details about the offer.
Our experts rate 24/7 Lending Group as one of the best options in personal loans for those with bad credit, giving it a 4.7/5.0 rating overall. Among its features:
Personal loans from $500 to $35,000
All credit types are considered and welcome
Simple, no credit impact form
Helping consumers since 2001
4.7 out of 5 Trustpilot rating with 2,000+ reviews!
For more resources similar to this "12 Best Land Loans For Bad Credit (Sep. 2023)" guide, see our other popular picks for those with bad credit:
Whether you choose 24/7 Lending Group or any other option in our personal loans category, be sure to read and understand the terms before signing up. You'll find that taking the time to fully understand personal loans is one of the smartest financial decisions you can make.
Advertiser Disclosure
BadCredit.org is a free online resource that offers valuable content and comparison services to users. To keep this resource 100% free for users, we receive advertising compensation from the financial products listed on this page. Along with key review factors, this compensation may impact how and where products appear on the page (including, for example, the order in which they appear). BadCredit.org does not include listings for all financial products.
Our Editorial Review Policy
Our site is committed to publishing independent, accurate content guided by strict editorial guidelines. Before articles and reviews are published on our site, they undergo a thorough review process performed by a team of independent editors and subject-matter experts to ensure the content's accuracy, timeliness, and impartiality. Our editorial team is separate and independent of our site's advertisers, and the opinions they express on our site are their own. To read more about our team members and their editorial backgrounds, please visit our site's About page.