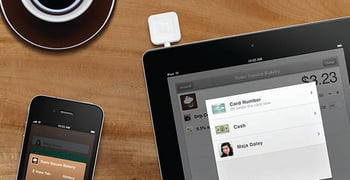 Experts share their tips and advice on BadCredit.org, with the goal of helping subprime consumers. Our articles follow strict
editorial guidelines
.
If you made a purchase using a credit or even a debit card lately, chances are you have seen the latest gadget in the point-of-sale payment business.
Mobile card readers are little devices that attach to a smartphone or tablet and act as a secure payment device.
They scan your credit or debit card and send the information out for it to be processed. This is the same process as if you were swiping your card at a checkout register.
Aside from being portable and convenient…
These mobile card readers offer another advantage we appreciate. The idea behind the growing popularity of these devices is you can use them anywhere.
There is not likely to be a receipt printer everywhere, is there? So the designers of the card readers have built in the ability for you to get your receipt emailed to you at the point you make your purchase.
An emailed receipt has the obvious advantage of not getting lost, crumpled, wet, torn or otherwise made unreadable.
"With a copy of your receipt,

it can easily be retrieved."
These devices are popping up everywhere.
From farmers markets and boutique shops, to church bake sales, mobile card readers can be found all over the place.
There's no need to worry about the security of your card information. The security encryption is as good as that of an ATM machine.
With a record of your purchases on your phone and a copy of the receipt emailed to you, think of how simple any dispute resolution would be.
But there are things to watch out for when we are talking about the potential increase in card reader transactions.
For one thing, payments are so much easier to make that it can become almost routine to pull out the card and swipe it before you really consider the purchase.
Soon these mobile card readers are likely to be found anywhere there is something to buy.
Don't be surprised to see them at garage sales, flea markets, little league games or roadside fruit stands.
Photo source: gigaom.com