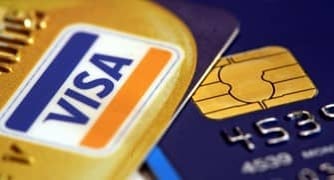 Experts share their tips and advice on BadCredit.org, with the goal of helping subprime consumers. Our articles follow strict
editorial guidelines
.
Your credit cards will change dramatically by October 2015 — and for the good.
Because of the recent run of credit card data hacking, U.S. firms are planning to bring the chip-and-PIN cards that are common in Europe and other parts of the world to our shores.
What is chip-and-PIN technology?
This technology eliminates the magnetic strip and replaces it with a high-tech chip, and requires the customer to use a PIN number. The credit cards most Americans currently have in their wallets have a magnetic stripe on the back. They are swiped when processed, and then the cardholder signs the receipt to authenticate the purchase.

Chip-and-PIN credit cards operate more like debit cards, requiring a PIN number to be entered with each transaction. They also are known as EMV cards, named for Europay, MasterCard and Visa, the companies that created this technology together.
The microprocessor chip encrypts the data differently for every transaction, keeping your information safer.
Only a few U.S. issuers have chip-and-PIN credit cards available, and those that do are mostly high-end rewards cards. However, that may change as acceptance of this technology becomes more prevalent.
According to CNBC, October 2015 is the deadline when retailers and banks must be compliant with this technology. "After that date, the liability of counterfeit card transaction will fall on either the card's issuing bank or the retailer, depending on who does not meet the set standards," CNBC says.
Growing awareness of chip-and-PINs:
Other areas of the world, especially Europe, have been quick to adopt this technology.
This is frustrating for American travelers with magnetic cards. While chip-and-PIN card terminals staffed by a human can still process magnetic cards, the person has to manually swipe it.
Unfortunately, if you have a magnetic card and have to use an automated machine such as a subway or train ticket dispenser abroad, your card may not work. This frustration has contributed to high-end, travel-focused cards adopting this technology.
Additionally, in light of major fraud incidents (particularly the Target breach that took place over the winter holidays), there is increased interest in adopting technology that reduces fraud.
In fact, after the breach, Target announced they are accelerating their timeline for implementing chip-and-PIN technology (both in their credit cards and in card-processing technology).
However, CNBC reports this is easier for Target than other retailers to make the switch because they have their own credit card portfolio, and due to rapidly changing technology, other retailers will likely be slower to adopt.
The impact on mobile credit card processing:
The introduction of EMV cards in the United States is impacting the field of mobile credit card processing.
Industry leader Square does not yet have the capability to accept EMV cards, which doesn't make much of a difference now, but that will need to change in the future. Square currently gives its hardware away for free since it makes money on a transaction fee, and experts think this is why they haven't adopted EMV yet.
According to Jordan McKee, an analyst at Yankee Group quoted in PaymentsSource.com, "EMV readers are considerably more expensive to manufacture and providing them at no cost is not a sustainable practice. I think the likely approach we'll see from Square is…offering both a free mag stripe-only reader and a [combined] mag stripe and EMV reader that is sold for a fee."
PaymentsSources.com said Square may not see the costs of EMV as worth it yet since its focus is small businesses that aren't on board with chip-and-PIN cards yet.
Other companies are jumping in to fill the gap. For example, a company called Anywhere Commerce offers a portable point-of-sale device called the Walker that plugs into your mobile phone's microphone jack or USB port, and it can read magnetic or EMV cards.
A search online pulls up several other mobile-reading EMV devices that can work in the United States, but prices are hard to find and availability is more limited.
As the deadline for EMV conversion nears and more consumers have EMV cards in their wallets, mobile credit card processing will have to catch up so vendors can accept all cards.
The benefits of chip-and-PIN technology
The technology in EMV cards that requires a PIN number adds an extra layer of security.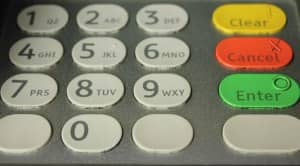 In this age of rampant credit card fraud, adding this extra step makes it harder for criminals to use your credit card (or credit card numbers) without your permission. If your card is stolen, it can't be used without the PIN number.
Additionally, it makes it nearly impossible to clone these cards, a method many credit card fraudsters use to make unauthorized purchases.
Another benefit of migrating to EMV cards is the reduction of paper receipts, which make transactions faster and saves merchants money. Additionally, the U.K. has seen a major reduction in losses from credit card fraud since adopting this technology.
The downsides of chip-and-PIN technology
Changing the way credit cards work means the technology that processes the cards must be upgraded. While technology that processes chip-and-PIN cards can still process magnetic swipe cards, most current technology can't read the new cards.
In a CNBC article, Mallory Duncan, senior vice president and general counsel of The National Retail Federation, said industry wide, "It will cost retailers between $25 billion and $30 billion to switch over to chip-and-PIN technology, mainly because of the cost associated with upgrading sales terminals."
Another expert told CNBC it will cost $300 to $600 per terminal for the upgrade, so for retailers with hundreds of thousands of stores, it's a huge expense. Experts hope it will be worth it for both consumers and retailers in the long run.
Photo Credits: budgettravelabout.com, cnbc.com, np.org.