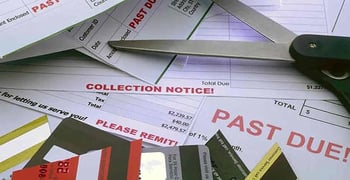 Experts share their tips and advice on BadCredit.org, with the goal of helping subprime consumers. Our articles follow strict
editorial guidelines
.
If you have a debt or unpaid obligation that has gone to collections, you are probably pretty worried about it.
You might be dreading the early morning phone calls, the threats and the abusive language. You may even be expecting a debt collector to show up at your work or home, demanding payment for what you owe.
Well, you will be happy to know all of those things are illegal and those debt collectors can be reported to the Federal Trade Commission.
In addition, knowing what they can request from you is also very important in keeping them honest.
Here are seven things you should know when dealing with debt collectors:
1. Know your rights.
Review the restrictions the FTC has placed on debt collectors and what they are not allowed to do.
These include: harassing or verbally abusing you, calling before 8 a.m. or after 9 p.m., calling you at work if you have asked them not to, making threats or misrepresenting any part of your debt.
2. Keep records of all conversations.
These notes and records could help you to prove that a debt collector is harassing you or otherwise violating your rights.
Record the date and time of all phone calls and ask the collector his or her name, call-back number, supervisor's name and the amount they say you owe. They are required by law to provide you with this information.
3. Know what information you are required to give.
And know what you are not required to give.
A debt collector is not allowed to ask you for your banking or financial account information. You are also not obligated to provide your income, savings or any other information about your assets.
Finally, they are not allowed to ask you for any information on debts you may owe other than what they are collecting for.
"Knowing your legal

rights is a powerful tool."
4. Request a copy of the debt obligation in writing.
The debt collector is required to provide you with a copy of the debt, along with documentation stating they are legally entitled to attempt collection of the debt.
They must provide this within 30 days of you requesting it. Again, keep records of your request.
5. If you have a lawyer representing you…
The collection agency is not allowed to call you. They must deal exclusively with your lawyer. If they do call you, the only information you should give them is your lawyer's name and phone number.
6. Request any proposed agreements or deals in writing.
If a collection agency agrees to delete a collection account from your credit record, get that agreement in writing. There is no legal obligation for them to remove a bad mark and many agencies will refuse to do it after the bill is paid.
7. Start low.
If you decide to negotiate for payment of less than your total obligation, start low.
Most debt that has gone to collection has already been written off by the original creditor and was sold to the collection agency for pennies on the dollar. Begin at 10 to 15 percent of what they say you owe.
Knowing your legal rights and obligations is a powerful tool in protecting yourself from abusive practices by collection agencies.
Do not be afraid to exercise your rights and stand up for yourself when dealing with them. Also, be sure to read the FTC's publication on the Fair Debt Collection Practices Act.