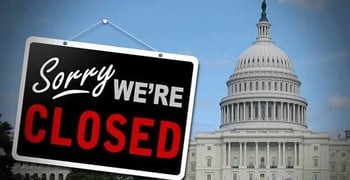 Experts share their tips and advice on BadCredit.org, with the goal of helping subprime consumers. Our articles follow strict
editorial guidelines
.
With the government shutdown in our rear-view mirror for the time being, I think we are all breathing a little easier.
But does this mean we are out of the woods? Not by a long shot.
Congress has agreed to end the shutdown and extend the debt ceiling – temporarily. There is still a lot of work to be done before a true agreement is reached and the threat of a shutdown is behind us.
With funding for federal agencies extended until Jan. 15, 2014 and the debt ceiling suspended until Feb. 7, 2014, what does this mean for your credit?
As usual, that depends on whether our elected officials eventually come to some sort of agreement.
Here is a list of seven ways a renewed government shutdown could affect your credit:
1. Interest rates may rise.
If the credit rating agencies like Standard & Poor's, Moody's and others decide to downgrade America's debt rating, this could impact all types of interest rates.
The amount each of us is charged for our revolving credit accounts could go up dramatically. This could cause some of us to miss payments and could impact credit scores because of it.
2. Unemployment benefits will be impacted.
States borrow from the federal government to provide unemployment benefits to workers who have been out of work for more than 26 weeks.
If the government shuts down again, these benefits could be delayed. If the debt ceiling is not raised, the benefits may actually dry up. This could impact anyone receiving unemployment benefits and would impact any new claims for benefits.
3. There will be processing delays.
Government services like Social Security, Medicare and Medicaid may be impacted due to delays in processing payments and applications.
"This may lead to less

money for Americans."
4. Federal loans could be impacted.
Loans for things like small businesses, education, nonprofit organizations and others would be impacted.
This may cause companies and organizations to lay off workers and could result in a spiral of increasing debt and the inability to make payments for millions of Americans who are out of work.
5. Jobs  could be impacted.
In addition to the hundreds of thousands of federal workers who would be furloughed, an even greater number of workers are indirectly reliant on these jobs to make a living.
Employees in departments such as NASA, the USDA Risk Management Agency, the U.S. Commission of Fine Arts, the U.S. Interagency Council on Homelessness, the Smithsonian and many others are unable to work because their departments are closed.
People in closed government departments will be temporarily without work and take an income cut.
6. Housing may be impacted.
By most measures, the FHA and other government housing programs account for 30 percent of all real estate transactions in this country. With the FHA not processing applications, the U.S. housing market would essentially come to a halt.
At the very least, it would send us into a period of delayed buying. This would impact anyone buying or selling a home, potentially costing billions of dollars in lost transactions.
7. The economy will be impacted.
The impact to our overall economy could be seen in the shutdown that we just experienced.
The cost to our economy during the 16-day period in the fall of 2013 was an estimated $24 billion. When our economy suffers a loss, it sends ripples throughout businesses large and small.
It costs jobs, some of which might not come back. It also causes uncertainty, which is never good for business.
Each of these aspects can have a potential impact on individual jobs, savings, debt and personal finances. Let's hope the officials who we have put in place to make these decisions can finally reach an agreement and avoid more damage.
Photo source: aerieyearbook.com.