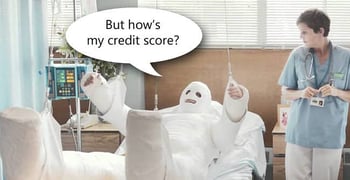 BadCredit.org publishes personal finance studies on the latest trends in the subprime marketplace. Our articles follow strict
editorial guidelines
.
[Edit 8/7/2014: FICO plans to transition to a new credit scoring model where people with only medical debt will receive a 25-point boost in their credit scores.]
According to a research report released by the Consumer Financial Protection Bureau (CFPB) recently, medical debt may be over-penalizing some consumer credit scores.
The study shows current credit scoring methods may not accurately reflect the creditworthiness of someone with medical debt that has gone to collection.
This statistic is particularly disturbing since a separate study by the Federal Reserve Board shows more than half of all collection debt on credit reports is related to medical bills.
That study further states in some cases the consumer may not have even been aware of a debt that was sent to a collection agency.
The CFPB study looked at credit records over a period of two years to determine a consumer's likelihood of repaying debt. The study found medical debt is not accurately accounted for by current credit scoring models.
According to the study:
Credit scores for consumers who currently owe medical debt may be underestimated by 10 points.

Consumers who have paid off medical debt may have their scores underestimated by up to 22 points.
The CFPB is recommending credit scoring models be designed to treat medical and non-medical debt differently because many of the debts are the result of insurer or billing errors.
Also much of the debt that is sent to the rating agencies is reported by third-party collection agencies and is not always accurate.
The best way to protect yourself and your credit score is to check your credit report frequently. If you have recent medical bills or are in a dispute with your insurer, this is even more important.
---
Photo credit: i1.ytimg.com