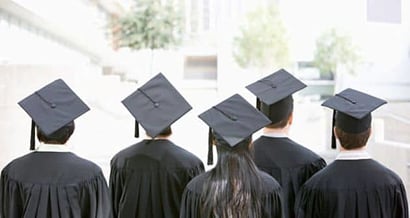 Student loans are the hot topic of the financial world lately, and for good reason. The number of students borrowing and the amount they're borrowing have both gone up exponentially. Regular readers of BadCredit know crashes usually follow lending booms, making student loans an area of concern.
But just how much sway do student loans hold? Most student loans are provided through the federal government at well below the standard interest rate, and schools get paid even if a student defaults.
We looked at a few studies on the topic, and here's what we've found:
6. Some of the Impact of Student Loans Is Overblown
In a 2015 TransUnion study, researchers looked at three points in time during the 2000s to determine student loans' impact. The fourth quarter of these three years was examined because that was when students who graduated in the spring would typically enter the repayment phase of their loans, as that's when the six-month grace period on most loans would end. 2005 was examined as a control, 2009 was looked at due to the timing of the Great Recession, and 2012 was included as the year with the most recent data. All three years had a student loan group and a non-student-loan control group.
The study looked at credit participation and delinquency rates of both groups and found that, overall, not much was different. In fact, student loans didn't hinder younger consumers' ability to access and repay other consumer credit categories like auto loans and mortgages compared to peers without student loans.
"The presence of student loans does have an impact on a consumer's credit profile," the study determined. "However, this impact is a longstanding one that existed before the recent recession. We did not observe a negative change for student loan borrowers over time relative to the control group."
At the same time, the study concluded that millennials who have started to repay their loans have a higher demand for other sources of credit while being more likely to repay those alternative credit sources. Student loans are, at the very least, an impactful teaching tool for young adults.
5. Most People are Worried About Repaying Student Loan Debt
By "most," we mean the 57 percent of everyone who responded to the Financial Industry Regulatory Authority's 2012 National Financial Capability Study. The Urban Institute delved into the responses and detailed them in a June 2013 report.
According to the study, the most likely person to have student loan debt is an African-American of either gender who is 20 to 29 years old, never married (but possibly cohabitating) with some college education. The person most likely to be worried about repaying that debt is a Hispanic and/or African-American woman who works part-time and earns $50,000 or less, has one or more children and hasn't completed a college education.
That's just the most likely of both categories, though. Across the board, people are concerned about repaying student loans. The only categories that reported less than 50 percent concern were people with a postgraduate degree, those who made $50,000 or more, those older than 60 and those with a full-time job. It makes sense: Most people in secure (or potentially secure) financial situations weren't too worried about repayments.
4. Some Students Attend and Graduate in Poor Conditions
Whether subsidized or unsubsidized, Stafford loans are pretty much the best student loans to get. Interest rates are low, payment can usually be deferred until after graduation and in the case of subsidized Stafford loans, the government pays the interest on the loan while the student is in school. All of which makes it even more shocking that, according to a 2014 College Board study, 67 percent of students did not use any sort of federal loan.
At public universities, the average Bachelor's degree graduated with 24 percent more debt in 2013 than the average in 2008, while the average debt over that same span increased by 8 percent at private nonprofit universities. Compared to 2004, the number of adults with education debt rose 86 percent in 2013, with the average debt per borrower 34 percent higher.
Not to be outdone, the for-profit sector of higher education was horrendous in its own right. Out of all student loan borrowers, 44 percent of those who defaulted attended or graduated from a for-profit institution. For reference, nearly 1.5 million students enrolled at a for-profit college in 2012, whereas 20.6 million enrolled in any sort of college or university in 2012, meaning 7 percent of students resulted in nearly half of all student loan defaults.
3. People With Student Loan Debt Lag Behind Peers Without It
That seems like an obvious statement, so we'll explain why it's actually significant.
First off, a 2014 Pew Research Center report found 37 percent of households led by an adult younger than 40 have a roof of student debt over their heads in addition to the roof they sleep under. For college-educated households, the gap between those with and without student loan debt is massive. The median net worth of young households with no student debt is $64,700, a whopping seven times greater than the median worth of a household with student debt ($8,700).
If that stat doesn't do it for you, this one might: For college-educated households with student debt, their median indebtedness totals about $60,000 more than a college-educated household without it ($137,010 compared to $73,250). Additionally, student debtors are more likely to have other debts, such as from vehicles or cards. It's not just that those with student loan debt lag behind, it's how severe that lag actually is.
2. Student Loans Defy Other Loan Patterns
The Federal Reserve Bank of New York noted in a 2015 report that while auto, credit card, and HELOC loans followed an ebbing and flowing pattern since 2004, student loans and the total amount borrowed only continued to increase, resulting in nearly $1.2 trillion in debt at the end of the fourth quarter of 2014.
"During and after the Great Recession," the report stated, "households reduced their other debts, but student loan balances continued to increase."
Furthermore, the NY Fed found that "the number of borrowers more than 40 increased at twice the pace of the number of borrowers under 40." Growth in balances held by borrowers 60 or older was especially fast, with 2014 debts ending up nearly nine times as much as 2004 debts.
Lastly, for low-income area borrowers, student loans appear to be a source of unending payments. For them, the aggregate balance five years after leaving school is 97 percent of what it was when they left school.
1. Despite Student Loans, Higher Education is Worth the Cost
At the end of the day, though, graduating with a degree is preferable to having no degree at all. The Pew Research report noted that although college-educated households with debt lag in median net worth, those households are nearly on par with households with no education and no debt. The NY Fed reported that median 2014 annual earnings for bachelor's degree holders were $23,000 higher than high school graduates, with nearly half the unemployment rate.
A 2014 study by the Brown Center on Education Policy at Brookings found that "the reality of student loans may not be as dire as many commentators fear." For those concerned about rising debt levels, "increases in the average lifetime incomes of college-educated Americans have more than kept pace with increases in debt loads."
In short, if you're concerned about your own student loans, you're not alone. If you're worried about the rising amount of student loans in general, many others are like-minded. But your concern might be the result of a sensationalist media more interested in your attention than presenting the whole picture.
"The percentage of borrowers with high payment-to-income ratios has not increased over the last 20 years," the Brown Center report stated. "If anything, it has declined. It went on to say that "broad-based policies aimed at all student borrowers, either past or current, are likely to be unnecessary and wasteful given the lack of evidence of widespread financial hardship."
Photo sources: theguardian.com, collective-evolution.com, crouseprinting.com, thenation.com, deferredmovie.com, nerdwallet.com, lifehacker.com.
Advertiser Disclosure
BadCredit.org is a free online resource that offers valuable content and comparison services to users. To keep this resource 100% free for users, we receive advertising compensation from the financial products listed on this page. Along with key review factors, this compensation may impact how and where products appear on the page (including, for example, the order in which they appear). BadCredit.org does not include listings for all financial products.
Our Editorial Review Policy
Our site is committed to publishing independent, accurate content guided by strict editorial guidelines. Before articles and reviews are published on our site, they undergo a thorough review process performed by a team of independent editors and subject-matter experts to ensure the content's accuracy, timeliness, and impartiality. Our editorial team is separate and independent of our site's advertisers, and the opinions they express on our site are their own. To read more about our team members and their editorial backgrounds, please visit our site's About page.