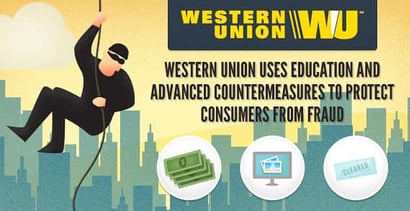 In a Nutshell: Every day, all over the world, scammers target vulnerable people and try to trick them out of their hard-earned money. Luckily, money transfer giant Western Union is wise to their schemes and has implemented a comprehensive consumer protection campaign. Through fraud education, sophisticated detection and countermeasures, and customer services, like courtesy callbacks and fraud reporting hotlines, Western Union is going beyond catching scams in progress; it's teaching people to protect themselves by recognizing the signs of fraudulent activity.
Imagine this scenario: One morning, your grandson calls and tells you he's been in a car accident. He's short on time, so he gives you his attorney's phone number and asks you to wire him a sizeable sum of money. Naturally, you want to help, so you go to Western Union and arrange the transfer, trusting it's going to assist your grandson in his time of need.
But it's not. The person you spoke to is a scammer posing as your grandson. By the time you realize this, your money is already on the way. And as you're reaching for the phone to contact the police, you get a courtesy callback from Western Union. The representative says your transaction has been flagged as a potential scam. The transfer has been halted, and your money will be refunded.
The example above is based on an actual case of attempted fraud. Many others like it happen every day — not just someone getting fooled by a scam — but the scam getting noticed and stopped before any harm is done. And it's thanks to Western Union's fraud protection program.


"We have before-transaction education, custom rules, and algorithms identifying potentially fraudulent transactions, and on the backend, we have our intelligence," said Lee Buchmann, Director of Anti-Fraud Operations at Western Union. "All of those things feed together to create our comprehensive anti-fraud program."
Even Smart Consumers are Susceptible to Fraud
In the simplest terms, scammers exploit human nature. They frequently play on their mark's emotions, and that's why even intelligent, vigilant people fall victim to fraud. Take, for example, some common types of scams targeting the population: the lotto scam, the grandparent scam, and the relationship scam.
In a lotto scam, you're told you're entitled to a large sum of money; all you need to do is pay certain fees or taxes, and then you can claim your windfall.
"This scam can last a while because they keep coming back and saying they need more money," Buchmann said. Of course, no money is ever paid back out.
The grandparent scam, illustrated at the beginning of this story, is an emergency scam. You're contacted by someone claiming to be a friend, family member, law enforcement official, or hospital representative. They say someone you care about (typically a grandchild) is in jail, hurt, has lost their passport, or is in some other dire situation. They also tell you to keep the situation confidential.
"People have a tendency to run out and send that money right away because they're worried," Buchmann said.
The relationship scam commonly occurs over social media, in chat rooms, or via some other digital channel. You meet someone, develop a personal relationship, and then they start asking for money.
"Really, it's a fake relationship that was created just to get the money," Buchmann said.
One of the most common scams involves purchases made online. Someone is selling something you want; you're asked to transfer money in advance, and then the seller will ship the item.
Watch on
"The person sends money, and then they don't receive the item or get their services," Buchmann said.
Each of these scams exploits human desire: for financial security, to help people we care about, for interpersonal connection, and for material gain. These fraudulent situations are works of social engineering: fake but realistic scenarios targeting vulnerable individuals. In the digital age, it's much easier for criminals to gather personal information and custom-tailor their scams. Scammers will frequently ask their victim to transfer money through Western Union and other financial service providers.
"In many cases, these are not our regular consumers of Western Union," Buchmann said. "Oftentimes, these fraudsters coach the victim on how to get through the transaction, what to say, and what not to say."
Their hope is that the scam won't be detected until the money's in their hands. Luckily, Western Union is well aware of the problem, and it's committed to protecting customers, as well as educating the population at large. In this way, the company is working to stop scams before they even start.
Western Union Educates Consumers to Help Protect Them from Scams
Western Union provides a wealth of fraud education, much of which is hosted on the company's website. There, consumers can read informational articles, download brochures, and view fraud awareness videos.
"I highly recommend our videos," Buchmann said. "They take the consumer through the most common scams that occur through our system."
Western Union also offers a fraud awareness quiz, allowing consumers to test their ability to recognize scams. The quiz provides feedback to each answer, helping users assess their vulnerability and learn practices to protect themselves. The site also provides alerts about currently circulating scams, so readers can stay up to date and vigilant. Western Union also raises awareness through banner ads and social media.
"We do as much as we can to proactively reach out to consumers and try to bring them into our website for information," Buchmann said. "We're trying to proactively get word out there to be aware of these scams."
But many people may remain unaware of these resources. That's why Western Union provides fraud education as part of every transaction.
"If we have missed the opportunity to reach someone before they've been contacted for a scam, and they've fallen victim, we provide point-of sale materials to warn them and tips on how they can protect themselves," Buchmann said.
Fraud warnings are provided as a part of every money transfer transaction in the US, and Western Union's agents and store employees are trained in detection and prevention, while the online money transfer system likewise cautions users.
"We provide robust education to those employees about consumer fraud," Buchmann said. "I think they play a very key role in helping to identify potential victims at the point of sale. We also provide fraud warnings in our online transaction flow so that a consumer is reminded, as they are transacting, about the common scams."
Of course, not every scheme is caught in time. But Western Union's anti-fraud measures don't stop once the money's on the way. The company uses sophisticated algorithms to identify suspicious transfers, and potentially fraudulent transactions are placed on hold. In some cases, these algorithms queue transactions to Western Union's courtesy call back team.
"We will have an operator contact the sender of the transaction and take them through a fraud interview," Buchmann said. "If we believe that the sender is a potential victim of fraud, we will refund that transaction directly to that sender and will not allow the transaction to progress through our system."
According to material provided by Western Union, this practice refunded $300 million in 2016.
The Fraud Hotline Offers Recourse for Victims and Collects Valuable Information
Catching scammers in the act is a valuable line of defense, but investigators need to know what they're looking for. To keep ahead of scammers, Western Union operates more than 95 fraud hotlines around the globe and is in the process of adding more. The US Fraud Hotline number is 800-448-1492 and can also be found on the Western Union site, where users can also submit fraud complaints via an online form.
People who suspect they've fallen victim to a scam can call and submit a fraud report to a trained operator. If the customer's transaction hasn't yet been paid out, it's halted and the money is refunded. The information collected is added to Western Union's fraud complaint database.
"Those complaints become a very key part of our program, from an intelligence standpoint," Buchmann said. "We have an understanding of what types of scams are flowing through our system. It helps us build those algorithms. It helps with education. It becomes our intelligence unit for a lot of what we do."
Meanwhile, Western Union's fraud monitoring team is on the backend investigating trends and common scenarios.
These three levels of anti-fraud countermeasures — consumer education, system monitoring, and backend investigation — all work together to prevent scams. They ensure that Western Union can maintain a comprehensive anti-fraud program while increasing awareness and reducing consumer vulnerability.
Western Union and Consumers are Joining Forces for a Fraud-Free Future
According to material supplied by Western Union, 0.1% of transactions from 2006 to 2016 were reported as fraudulent. This may seem like a small number, but the company reports that in 2016 alone it conducted 268 million customer-to-customer transactions (that's 31 transactions per second!) and was responsible for the flow of $80 billion between customers. On such a scale, a tenth of a percent becomes a more substantial number.
But it's not as substantial as it would be without Western Union's preventative measures and the vigilance of informed consumers. Anyone can help in the fight against fraud by remembering three simple tips.
"Don't send money to someone you haven't met in person," Buchmann said. "Our services are meant to be used to send money to people you have met in person, such as friends and family.
"The second is to verify emergency situations with someone who would have knowledge of the situation before sending money."
And if you're confronted with a recognizable scam? "Don't engage," Buchmann said. Hang up the phone. Mark the email as spam. The best way to prevent fraud is to avoid getting involved.
Is it possible for Western Union and its customers to completely stamp out fraud? Probably not. But by following safety guidelines and remembering the information provided through Western Union's fraud awareness program, consumers can help reduce 0.1% even closer to zero.
Advertiser Disclosure
BadCredit.org is a free online resource that offers valuable content and comparison services to users. To keep this resource 100% free for users, we receive advertising compensation from the financial products listed on this page. Along with key review factors, this compensation may impact how and where products appear on the page (including, for example, the order in which they appear). BadCredit.org does not include listings for all financial products.
Our Editorial Review Policy
Our site is committed to publishing independent, accurate content guided by strict editorial guidelines. Before articles and reviews are published on our site, they undergo a thorough review process performed by a team of independent editors and subject-matter experts to ensure the content's accuracy, timeliness, and impartiality. Our editorial team is separate and independent of our site's advertisers, and the opinions they express on our site are their own. To read more about our team members and their editorial backgrounds, please visit our site's About page.