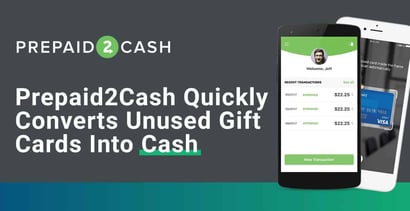 Experts share their tips and advice on BadCredit.org, with the goal of helping subprime consumers. Our articles follow strict
editorial guidelines
.
In a Nutshell: The average American household has about $125 in unused gift cards, which amounts to approximately $3 billion in lost value annually. Prepaid2Cash is an app that helps consumers convert unwanted prepaid and gift cards into cash. Users direct their smartphone cameras to scan cards from issuers and store brands, and the app generates cash offers and quickly deposits funds into bank accounts. Prepaid2Cash is a trusted and convenient way to unlock the value of gift cards.
Millions of Americans turn to gift cards when celebrations, milestones, and holidays come around. Grandparents give them to recent graduates, birthday celebrants often receive them, and mothers and fathers may get them on their special days.
Businesses often use them to reward customer loyalty, incentivize spending, or recognize employees' achievements. Gift cards are also commonly used to thank teachers and other essential workers for their service.
As the digital financial marketplace has matured over the past few decades, preloaded gift cards have emerged as popular gift choices. It's common for brands to offer them in grocery stores, drugstores, and big-box retailers, as well as online.
The downside to gift cards is that recipients don't always remember to use them. Sometimes they prefer not to shop at the store the gift card is from. Consumers may also leave a fractional value behind after making a purchase or forget about them entirely.
Some cards have hidden fees or restrictions on how consumers can use them.
Estimates show that consumers rack up about $3 billion in lost gift card value annually, which amounts to roughly $125 per household. Prepaid2Cash is an app that allows consumers to quickly and securely convert into cash the funds stored on prepaid and gift cards.

Prepaid2Cash works with Visa, MasterCard, American Express, and Discover branded prepaid debit cards, as well as gift cards from many popular retail brands. It's easy for cardholders to register and receive cash for unused cards.
"The average American gets at least two gift cards per year. A lot of cards end up in drawers and just sit there unused," said Roger Brown, Director of Marketing at Prepaid2Cash. "When having cash is more valuable than figuring out how to use a gift card or losing the card's balance to fees, we're the solution."
Connect Seamlessly to a Gift Card Marketplace
Hundreds of thousands of consumers have downloaded Prepaid2Cash and have it ready on their phones for those times when managing and spending the value on cards is impractical.
A user dashboard acts as a hub for transaction activity. From the dashboard, users can view their transaction history, edit their profiles, and access help. Support is also available on the Prepaid2Cash website.
The site also offers a step-by-step knowledge base to answer frequently asked questions. That said, Prepaid2Cash is simple because it employs technology most users already understand — the cameras on their phones.
To start a transaction, click the New Transaction button on the bottom of the user dashboard and select Prepaid Card. That activates the app's card scanner, which works exactly like a check deposit feature in a banking app to take a picture of the gift card.

In most cases, when there's good lighting, the scanner completes its work in seconds. In rare instances when conditions aren't right, manual entry of card details is also available. Select Continue Transaction to input the data.
What users do when they input cards on Prepaid2Cash is offer to sell those cards on the open market. The app checks available cash offers and returns the best one based on supply and demand.
Users may enter debit card or checking account details anytime in the app or input credentials manually with each transaction. With prepaid cards, Prepaid2Cash can be ready to deposit funds in as little as 15 minutes.
"We are extremely transparent about the fees we take and what gets shared with our purchasing partners," Brown said.
Ideal for Rewards Buffs and Supershoppers
Having Prepaid2Cash available is worth it even if users tap on it only once or twice a year. But some users tap more often than that.
Because prepaid cards and gift cards are available everywhere, many consumers naturally want to learn how to use them to their best advantage. For some, seeking out the most lucrative offers is a hobby. When consumers have Prepaid2Cash working for them, it's a hobby that can pay off in cash.
Store brands often offer gift cards as rewards. Rewards buffs and supershoppers dedicated to working the system for savings will find that Prepaid2Cash is great for streamlining the process so no card value goes unused.

The Prepaid2Cash team knows who those users are and works diligently to serve their needs.
"We have a dedicated technical team and white-glove customer service for frequent users," Brown said. "That includes an onboarding package to work with our users in that super-shopper category."
Cards with card-company branding are always in high demand on Prepaid2Cash because consumers can redeem them anywhere. On the other hand, consumers can only redeem store gift cards at that specific store.
While demand for some store cards tends to hold steady (Walmart is a prime example), demand for other store cards may fluctuate. After a holiday such as Christmas, for example, store cards from some store brands flood the market, and the value of offers on Prepaid2Cash decreases.
Thinking strategically about when to sell those types of cards is essential. But when users keep Prepaid2Cash at the ready on their devices, there's never an inconvenient time to redeem a card for the value it commands on the open market.
A Trusted Tool for Unlocking Gift Card Value
The worst thing that can happen to a gift card is neglect. Prepaid2Cash ensures all gift cards receive the attention they deserve.
Because the Prepaid2Cash team understands that the market underlying gift card sales may not be familiar to some users, it places an extremely high emphasis on providing excellent customer service and extraordinary security.
The team never forgets that users must input their personal bank information to transact within the app. Prepaid2Cash partners with leading payments and banking institutions to ensure all transactions meet the information security requirements of the Payment Card Industry Data Security Standard Self-Assessment Questionnaire D (PCI DSS SAQ D). That includes using two-factor authentication to verify account details at registration — the highest industry standard.
Privacy is also a top priority. Prepaid2Cash never shares personal information with advertisers. Users are free to transact through the app without worrying about receiving marketing messages from companies they aren't interested in.
"Building consumer trust is a priority for us," Brown said. "For that trust factor to be there, our customer service has to be attentive and dedicated, the experience has to be seamless, and security has to be at the top of our priorities."
The Prepaid2Cash blog educates consumers about the gift card industry and how they can participate in it to their advantage. On the blog, Prepaid2Cash informs readers about store cards currently in demand (or not), recommends creative ways to use gift cards, and analyzes industry trends.
It's an excellent resource for learning more about prepaid gift cards and the cash potential stored within them.
"For every new user we bring in, we want to give them a great experience," Brown said. "That's what keeps our loyal users coming back."