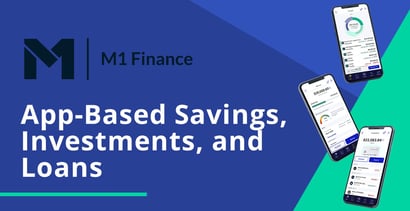 In a Nutshell: Investing is a proven wealth-building strategy, but many people find it difficult to get started.  M1 Finance simplifies investing and money management through an intuitive, automated suite of tools. Its Smart Transfer feature allows users to establish a personalized hierarchy of financial goals, and once they reach a goal, the tool automatically directs money to the next one. M1 Finance also allows investors to borrow against their portfolios at relatively low rates, enabling fast access to ready cash.
As a child, Brian Barnes was enamored by the stock market. He found it fascinating that people could make educated bets on business performance and reap the rewards for making smart predictions. When he grew up and gained more financial experience, he discovered a crucial problem with playing the market.
"He realized that many of the tools in financial services were lacking," said Bob Armour, Chief Marketing Officer at M1 Finance, a free financial suite that Barnes built as a more intuitive solution. "They're just clunky and don't work very well, and he wanted to create something that he would want to use to build wealth in a durable, sustainable way. That's fueled the product, and it has also fueled our mission to enable people to improve their financial well-being."

The M1 Finance app has no minimum credit requirements, just a standard know-your-customer (KYC) process and a $100 initial deposit. The low barrier to entry allows a much broader range of investors to access the market and purchase stocks outside their normal reach.
M1 Finance also provides a variety of other beneficial financial products, all of which feature a high level of automation and self-direction.
"Our approach has been to make our tools simple to access and provide use cases on how to interact with them based on what you want to do," Armour said. "We're not in the business of evaluating where someone is. It's more about 'Here are the tools, here are the ways other people are using these tools' and that inspires people."
Automating the Hierarchy of Financial Needs
M1 Finance's philosophy of financial hierarchy focuses on the ultimate goal of building wealth, but it starts at the bottom of the pyramid and helps clients work their way up. The first step is establishing an emergency fund, then paying off high-interest credit cards, taking advantage of an employer match on 401k, and addressing other pressing concerns before moving on to longer-term plans and goals.
"That is at the base of how we build all of our products," Armour said.
To facilitate that approach, M1 Finance incorporates a feature called Smart Transfer. This tool automates allocation based on personalized hierarchies. The user sets rules, and the system takes care of the rest.
Watch on
"If somebody says, 'I want to fund my savings account up to $500,'" Armour said. "You can set a rule that says, 'We're going to put all your money into that account until it hits $500.' Once it hits $500, the next dollar is going to wherever the customer wants it to go."
Users can also string rules together to fully automate their financial plan.
For example, once the account reaches $500, they can direct the system to send funds to a self-designated account to pay down a credit card. When that balance is zeroed out, funds can automatically directed into a retirement account.
"It's not time-based like many rules are, including saying, 'Do this monthly,' or 'Do this every week.' This is based on amounts until you hit an amount, you hit a goal, and then you start attacking the next goal — but it's all automated," Armour said. "You set it up once, and then it just runs."
Fractional Shares Offer Access to Valuable Investments
Fractional shares are portions of a stock that amount to less than a full share. Trading in fractional shares is a way for people who can't afford a full share to invest in profitable companies when the cost is exceptionally high.
M1 Invest represents an easy way for investors to diversify their portfolios while staying within their budget.
"Many of those high-value stocks are what's driving growth, what's driving wealth, and to open that up to people is, we think, an obligation," Armour said. "We will do a fraction of a stock for $1. So if you set up your own pie and create a pie that has 50 shares, 50 different companies in it, and you want to allocate your money equally across those 50 all the time, it's going to take 50 or 100 and split that up, no matter what the price of the stock is."
M1 Invest users can buy a fraction as small as 1/100,000th of a share, but whatever the size and whatever the stock's value, an investor can buy as little as $1 of that stock.
For example, as of mid-January 2021, Amazon was valued at more than $3,100 per share. Through M1 Invest, investors could buy a minimum fraction for just $1, making Amazon much more accessible.
"When you can eliminate price as a barrier, whether it's a price for trades, commissions, you make it available to everyone to participate," Armour said. "What's been shown is that time in the market is more important than timing the market. In fact, we're 1,000% against timing the market. We have this saying, 'The second-best day to get in the market is today; the best day is yesterday.'"
Investors Can Borrow Against Portfolios at Low Rates
M1 Borrow offers its users a portfolio-based line of credit, also with no credit checks or minimum score. Users can borrow against their portfolio's value, up to 35% at a current interest rate of 3.5% — as long as they have a minimum of $10,000 invested on the platform.
"Let's say you have student loans at 6% or 7% interest. That's a significant reduction," Armour said. "It's a massive reduction, an instant return if you will, for people at 17%, 18%, 19% on their credit cards. One of the use cases we highlight for borrowers is that once they build up $10,000 in a taxable fund on M1, they can access up to 35% of that amount (in this case $3,500), if they feel comfortable borrowing that amount.They'd pay an annual interest rate of 3.5%."
This option is especially valuable for emergencies. Of course, if investors follow their hierarchy, they should already have an emergency fund. However, access to a low interest self-loan is always a good buffer to fall back on.
According to Armour, consumers may get crushed by surprise bills that come along and hammer their finances. For example, if their car breaks down, and they need to buy a new one quickly.
"In many cases, people rely on their credit cards. They start carrying this thing, and they're not thinking about it from the standpoint of, 'This is really expensive money.' If you're not in the mindset of percentages versus dollars, you may never get out of that," Armour said. "I think that part of our job is helping people take steps to get out of that."
M1 Finance: Financial Wellness through Automation
M1 Finance aims to help users gain access to investments and tools to automate money management to put them on a positive financial path. It also offers a feature called M1 Spend, a digital checking account that includes a debit card. Members of the Plus program also receive 1% cash back on their transactions using the account.
"That can be 100 times better than a big bank," Armour said. "Many big banks will pay at .01%, usually. When people use the debit card, they get 1% back on their purchases."
Spend is interconnected with M1 Finance's other products, including its investment account. That connection makes it simple to move money around and allocate funds based on automated rules.
"We look at Spend as an everyday money management solution," Armour said. "Borrow is the midterm money management element. And then Invest is the long-term, build and grow your wealth solution."
Those solutions are oriented around the hierarchy of needs — immediate, midterm, and long term. M1 Finance allows users to define those needs and leverage its features to simplify achieving those goals.
"Different people start at different places. And the path to financial wellness is simple to describe, but it's hard to execute because real life happens and you get off track," Armour said. "We believe financial well-being is connected to physical well-being and mental well-being, so if we can improve that triad for someone in our part of the world, that feels good."
Advertiser Disclosure
BadCredit.org is a free online resource that offers valuable content and comparison services to users. To keep this resource 100% free for users, we receive advertising compensation from the financial products listed on this page. Along with key review factors, this compensation may impact how and where products appear on the page (including, for example, the order in which they appear). BadCredit.org does not include listings for all financial products.
Our Editorial Review Policy
Our site is committed to publishing independent, accurate content guided by strict editorial guidelines. Before articles and reviews are published on our site, they undergo a thorough review process performed by a team of independent editors and subject-matter experts to ensure the content's accuracy, timeliness, and impartiality. Our editorial team is separate and independent of our site's advertisers, and the opinions they express on our site are their own. To read more about our team members and their editorial backgrounds, please visit our site's About page.