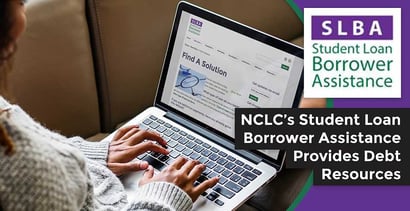 In a Nutshell: Student loan debt is a growing problem for many Americans. At $1.5 trillion, it is the largest category of unsecured debt in the U.S. The website for the National Consumer Law Center's® Student Loan Borrower Assistance Project offers a wealth of valuable resources, including important information about loan holders' rights and responsibilities, for those with student loan debt. As a nonprofit legal organization, the National Consumer Law Center's mission is to advocate for low-income consumers. It accomplishes its mission, in part, by advocating for student loan holders and training attorneys nationwide on the legal side of the student loan industry.
When I signed for my first undergraduate student loan way back in the late 1990s, the prospect of paying it back was just an abstract idea of a bill that I would pay sometime in the distant future. Like paying a mortgage or picking out an engagement ring, those were adult responsibilities. And, although I was legally considered an adult at the age of 18, I hardly felt like one.
Thankfully, my undergraduate loans weren't very high and when I began repaying them after graduation the impact on my monthly budget was minimal. A website like Student Loan Borrower Assistance — still a few years away from existing — would have come in handy so I could have been a bit more informed about what I was actually getting into.
I remember occasionally reading stories about how student loan debt was a growing problem. It didn't seem like such a big deal to me.
Then I went to graduate school.
After two-and-a-half years of paying out-of-state tuition, I felt I should have come out of graduate school with several doctorates and an honorary knighthood — rather than just one measly master's degree — for the amount of student loan debt I had accrued.
I was able to defer the loans for a short time while I settled into a professional career, then I got on track with an income-driven loan repayment plan. It wasn't always easy to find sound advice about how I should approach repayment — I pieced together information from a variety of sources to feel like I was making an informed choice.
The Student Loan Borrower Assistance Project website serves as a valuable resource for student loan holders. The website helps educate them about their rights and responsibilities and provides a wealth of information about loan holder options and how to choose the right path for the individual. The website and project are made possible by the National Consumer Law Center®, a nonprofit firm that advocates for low-income consumers.
At $1.5 Trillion, Student Loan Debt is the Largest Category of Unsecured Debt
"There's been pretty remarkable growth in the last decade of student loan debt," said Persis Yu, National Law Center Attorney and Director of the Student Loan Borrower Assistance Project. "It crossed the $1 trillion mark about six years ago and is currently at $1.5 trillion — larger than any other type of unsecured debt."
Persis said the explosion of student loan debt is reflective of a wide variety of factors and can't be narrowed down to just one or two causes.
And not all of those factors that contribute to student loan debt are even quantifiable. She said part of the increase is due to the fact that we, as a society, have made choices that led to loans being the primary method to finance education.
Additionally, American culture has evolved in a way that makes a degree seem more necessary than perhaps it did in the past, Persis said.
"I think a lot of it is due to this push for credentialing we have in our society. Everyone must get a degree," she said. "I'm not in a position to critique if that's a good or bad thing, but it's certainly a higher risk push for some people."
For many consumers, the choice comes down to whether they want to get an education, not whether they want to take on debt because the debt almost always accompanies an education these days, she said.
"It's hard to even characterize it as a choice for a lot of people," Persis said.
It's no secret that college graduates in the millennial generation often struggle with student debt, but Persis said those who struggle the most with student debt are people who took on debt but never actually earned a degree.
"Stakes are really higher for those who don't complete their education," she said. "They are in the most precarious position. These are folks who have the burden of debt but don't have the benefit of the degree."
The Student Loan Borrower Assistance Website Hosts a Wealth of Resources
A little over a decade ago, the National Consumer Law Center realized there wasn't a lot of good information or resources online for student loan borrowers, so it initiated the Student Loan Borrower Assistance Project and website to help fill that niche, Persis said.
"Even today there aren't a lot of counseling agencies that can provide competent advice on student loans, and, certainly when the Student Loan Borrower Assistance Project started, there were even less," she said. But she pointed out that the Department of Education's website has made vast improvements in recent years regarding student loan resources for consumers.
The website is a resource the NCLC offers borrowers to try to cut through the noise because debt collectors and loan servicers have a lot of financial incentive behind the options they choose to present to consumers, Persis said.
"The site was really designed to be an impartial guide that borrowers — especially distressed borrowers — can visit to try to understand their options a bit better," she said.
The Student Loan Borrower Assistance website is indeed a rich resource that addresses a plethora of student loan-related issues. Users can explore options and scenarios for federal or private loans, and browse a number of categories, including repayment, bankruptcy, cancellation, and collections.
The SLBA website also offers a step-by-step guide to resolve student loan problems, as well as an extensive frequently asked questions, informative blog posts, and a student loan news section.
Persis said if she can offer one piece of advice for someone struggling with student loan debt, it would be to be wary of "debt relief scams." She said the most blatant ones offer promises of student loan forgiveness, but they all essentially work in the same way. For a fee, the company offers to consolidate your loans and get you on a repayment plan, but it doesn't offer any counseling or further guidance.
Persis said the companies are basically inputting information that consumers could type up on a computer and submit for themselves.
"A lot of people get tripped up because it's hard to know who is the legitimate source and who is not," she said. "These debt relief options are available for free, and if they are not free, then the company should be giving legitimate counseling services."
The National Consumer Law Center Trains Attorneys and Advocates for Low-Income Consumers
The National Consumer Law Center was founded in 1969 as an extension of the federal Office of Economic Opportunity, whose goals were "improving the access of poor people to the legal system and enabling advocates to seek justice wherever justice for the poor is needed."
That founding philosophy carries through to today with the NCLC's mission to advocate for low-income consumers.
Persis said that translates to a number of actions in the student loan debt space. The Student Loan Borrower Assistance Project is the consumer-facing guide to how to navigate debt issues, but the NCLC also trains attorneys across the nation.
"We train attorneys on consumer law, so we have a treatise on student loan law that's geared toward legal professionals," Persis said. "That's not something that a layperson is going to pick up and figure out how to work through the system."
Additionally, the NCLC has attorneys on the ground who stay up to date on the latest developments in student loan debt and advocate for consumers.
"There are a lot of moving parts right now in the student loan space, and they're moving in a lot of different directions," she said. "It's very complicated. If I say something about the laws today, they could be different tomorrow."
Nevertheless, she said the NCLC has advocates who regularly meet with members of the federal administration. It also files lawsuits and amicus briefs, submits Freedom of Information Requests, and composes reports on the student loan issue.
"Our role is to comment loudly," she said. "We synthesize materials, and we work with Congress and other folks to try to influence the way the laws are written."
Borrowers in Default Can Find Legal Referral Information at SLBA to Avoid Negative Consequences
Fortunately, I was able to manage my student loan debt before it went into default or had any other negative impacts, but Persis said those who are no longer in good standing with their student loans should seek professional help as soon as possible.
"For folks who are in default who have actually crossed over into the point of experiencing a wage garnishment or they're having a tax refund offset, they should seek legal assistance immediately," she said.
The Student Loan Borrower Assistance Project website offers a referral resources section for consumers who find themselves in this or a number of other difficult positions.
"This is really important because the consequences of this type of debt are a lot more devastating than folks even realize," Persis said. "People feel the pain of making payments but the consequences of not paying is much more severe than almost any other kind of debt."
Advertiser Disclosure
BadCredit.org is a free online resource that offers valuable content and comparison services to users. To keep this resource 100% free for users, we receive advertising compensation from the financial products listed on this page. Along with key review factors, this compensation may impact how and where products appear on the page (including, for example, the order in which they appear). BadCredit.org does not include listings for all financial products.
Our Editorial Review Policy
Our site is committed to publishing independent, accurate content guided by strict editorial guidelines. Before articles and reviews are published on our site, they undergo a thorough review process performed by a team of independent editors and subject-matter experts to ensure the content's accuracy, timeliness, and impartiality. Our editorial team is separate and independent of our site's advertisers, and the opinions they express on our site are their own. To read more about our team members and their editorial backgrounds, please visit our site's About page.