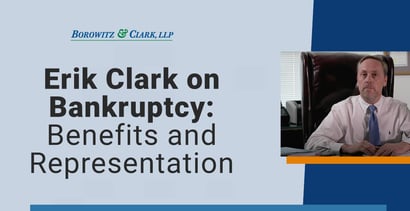 In a Nutshell: Bankruptcy is never something to be taken lightly, but in many cases, it is a way for people to get fresh financial starts. Contrary to popular belief, bankruptcy doesn't have severe, long-term repercussions for most people, and they're able to begin rebuilding their credit in the space of a few years, according to M. Erik Clark of Borowitz & Clark, LLP. It can be a positive choice for people who are carrying large amounts of debt and are only able to make minimum payments, meaning they'll be losing money for years or decades to come. And the two types of consumer bankruptcy offer flexibility and options for maintaining a certain quality of life after filing. In any case, consumers should always seek out a reputable, qualified bankruptcy attorney to help guide them through the process.
M. Erik Clark came from a family of limited means. They lived on a strict budget and often faced difficult decisions regarding how to apportion their money. And he found himself in similar situations after college and when going through law school.
That's why Clark — now a managing partner at Borowitz and Clark, LLP — decided to go into bankruptcy law. He'd seen firsthand the struggles and stress that finances could wreak on personal lives. And for the past 23 years, he's helped others productively address their debt issues and move on to fresh starts and brighter futures.


"What I like to say to people is that I pick people up off the mat when they've been knocked to the ground financially," Clark said. "Many times emotionally, but certainly financially. And our job is to pick them up, dust them off, and get them headed in the right direction."
Filing for bankruptcy is not to be taken lightly. It can significantly ease a consumer's financial burden, but it also carries certain consequences—though those may not be as severe as you've been led to believe.
For some, bankruptcy is a way to recover from a crippling financial setback. For others, it's a way to protect themselves from losing assets and property. But no matter the situation, it's a way for consumers to put themselves on stable ground and begin working toward a stronger financial position.
"I would say for probably half the people that come to my office looking for help, bankruptcy is not a good option for them. And so we give them some advice on where they should be looking or what they could be pursuing to avoid a bankruptcy situation," Clark said. "The other half end up usually falling into the category of bankruptcy being the best option available to them at this point. And so that's what bankruptcy is all about: It's about getting an honest debtor a fresh start."
Dealing with the False Financial Stigma of Bankruptcy
When the average consumer thinks of bankruptcy, their thoughts typically turn to the stigma attached to the term.
Filing for bankruptcy is often perceived to be a result of an inability to manage money, and people assume that it will ruin their financial opportunities for years to come.
According to Clark, that simply isn't the case.
"I think it stems from decades and decades and decades ago. It doesn't really play out in today's world," Clark said. "In some respects, I think that the credit industry talks out of both sides of its mouth because on the one side, they talk about this great stigma … but then at the same time, what the credit industry has realized is that, if they don't lend these people any money, they don't make any money from them."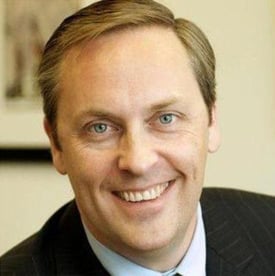 In reality, people who file for bankruptcy — particularly Chapter 7 — are good credit risks. Oftentimes, they were responsible consumers who paid their bills on time until they were blindsided by an emergency. They were left with bankruptcy as their only means to recover and move on.
Once their financial situations stabilize, these consumers will return to their normal routine of paying bills in a timely manner.
If credit card issuers and lenders dwell on a single — albeit significant — financial black mark like bankruptcy, they foreclose on these otherwise responsible consumers as a potential source of income.
"[The stigma is] overrated, but it's baked into society," Clark said. "The combination of the old world, which maybe there was a stigma that was really relevant, and the new sort of drumming-up scare tactics by the credit industry sort of reinforced that. But when you talk to a bankruptcy lawyer, you quickly realize the stigma is not something that you really need to worry too much about."
Financial Education's Role in the Recovery Process
Despite not carrying the repercussions that many people fear, bankruptcy is still not necessarily the right choice for everyone facing significant debt. Most consumers can recover from bankruptcy, but it is still not a path to be taken lightly.
One situation in which bankruptcy is appropriate is when a consumer is carrying a large debt and only able to make minimum payments. These payments only cover interest, not principal, which means they'll be paying in perpetuity without ever reducing any of the core debt. Over the course of decades, they could end up paying tens of thousands of dollars. Bankruptcy is a way for them to save that money and put it toward more productive use in the future.
"If they're only able to make minimum monthly payments, then I say that we need to take a look at a better way to get you out of this," Clark said. "When you put your current situation next to Chapter 7, you say to yourself, what is the least expensive, fastest and most effective way for me and my family to regain control of our finances and get on with our lives? The vast majority of the time it is Chapter 7 bankruptcy because you're already living with the downsides."
This illustrates an important component of any bankruptcy process: not just filing for bankruptcy but also gaining financial literacy to understand how it benefits you and how you can avoid future financial difficulties. Sometimes, this includes basic education like understanding how credit works, balancing a checkbook, and budgeting.
"It's sort of a holistic approach to really trying to get their lives turned around so that they understand what the future is going to be," Clark said. "And so we have to teach them what that's all about as part of the process."
Choosing Between Chapter 7 and Chapter 13
If you're already dealing with bad credit, judgments, repossessions, and garnishments, then you're already living with the fallout from bankruptcy. Rather than hurting you further, it will provide relief from your debt, put more money back into your budget, and eventually allow you to make a fresh start.
Chapter 7 bankruptcy is meant for people who are laboring under serious debt they have no hope of repaying. Over the course of its three- to five-month process, it can remove credit card debt, medical bills, repossession deficiency balances, other unsecured debt, and it can also eliminate certain types of taxes. It allows the consumer to walk away clean and able to start fresh, using money that was going toward interest to start rebuilding their financial position.
"I would guess about 70% of the bankruptcies nationwide are Chapter 7 bankruptcy," Clark said. "Chapter 13 is what you file when Chapter 7 doesn't solve your problems."
Chapter 13 is for consumers who are behind on their secured debts like mortgage payments. Chapter 13 will stop collections and foreclosure processes and allow the consumer to pay arrears at lower monthly payments for five years. After that, their debt is wiped clean. This approach puts power in the consumer's hands and protects them from future harm.
"One of the most powerful things in the bankruptcy process is something called the automatic stay," Clark said. "The automatic stay is a legal protection that, with very, very few and very limited exceptions, stops all collection activity the second your bankruptcy case is filed."
Professional Attorneys Prioritize Client Well-Being
Clark has spent decades practicing bankruptcy law. During that time, his policy has always been to put his clients' well-being first—because they're his clients, and because they're the parties most in need of help.
"My personal take on this is, I'm not worried about the financial institutions that are owed money," Clark said. "They're all doing very well, they're all enjoying record profits, and they're not my clients. I don't sit here and say you have to eat rice and beans for the entire rest of the next 40 years so you can make the minimum monthly payments on your credit card so that one of the banks will make their shareholders a few extra dollars."
Anyone considering bankruptcy should settle for nothing less. In such a situation, a borrower's best asset will be a reputable and knowledgeable attorney who specializes in bankruptcy.
Not only will they put the client's needs first, but a reputable attorney will also be intimately familiar with bankruptcy law and process. Clark described one case in which filing for Chapter 13 was preferable to Chapter 7 because it protected the client's home from liquidation and enabled that client to retain $550,000 in equity.
When selecting a bankruptcy lawyer, a good starting place is the National Association of Consumer Bankruptcy Attorneys. You'll be able to search for attorneys in your area, and you'll be able to see their NACBA number, which certifies their level of experience and competence in bankruptcy law.
"If anybody out there is struggling with their finances, trying to find answers out there, get to a bankruptcy lawyer," Clark said. "Go meet with them. Almost all of us offer a free consultation. A vast majority of us now are doing these virtually, so these are done on the phone or through a Zoom meeting. You have nothing to lose by going in and meeting with one, but fight the urge to just find the cheapest resolution here."
Advertiser Disclosure
BadCredit.org is a free online resource that offers valuable content and comparison services to users. To keep this resource 100% free for users, we receive advertising compensation from the financial products listed on this page. Along with key review factors, this compensation may impact how and where products appear on the page (including, for example, the order in which they appear). BadCredit.org does not include listings for all financial products.
Our Editorial Review Policy
Our site is committed to publishing independent, accurate content guided by strict editorial guidelines. Before articles and reviews are published on our site, they undergo a thorough review process performed by a team of independent editors and subject-matter experts to ensure the content's accuracy, timeliness, and impartiality. Our editorial team is separate and independent of our site's advertisers, and the opinions they express on our site are their own. To read more about our team members and their editorial backgrounds, please visit our site's About page.