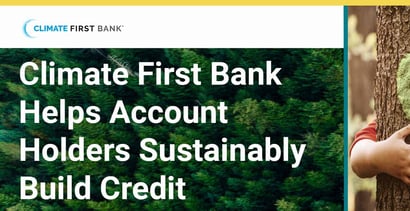 Experts share their tips and advice on BadCredit.org, with the goal of helping subprime consumers. Our articles follow strict
editorial guidelines
.
In a Nutshell: Climate First Bank provides financial products and services that help people build credit while protecting the environment. The bank's accounts reduce the barriers to acquiring wealth — including eliminating minimum balance requirements and monthly service fees. Climate First Bank's specialty accounts provide charitable donations to nonprofit organizations. The bank also leverages its sustainability efforts with programs and products, including its popular solar panel loan program, that can help people save money and reduce their carbon footprint.
Climate First Bank is located in sunny Florida, and it understands the benefits of the state's rich ecosystem. Beaches that line the state's east and west coasts, and the swampy Everglades — home to Florida panthers and alligators — are just two of the precious environmental resources worth protecting.
Climate change is an issue that endangers not only the precious ecosystems around Florida, but also human lives. Fossil fuel consumption combined with the destruction of forests across the globe are taking a toll on the environment.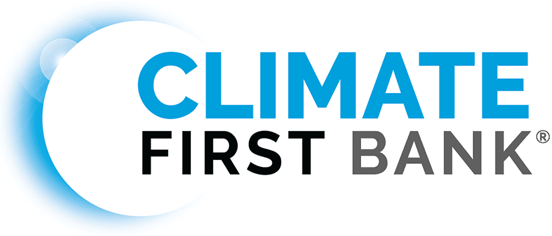 Since 1901, global temperatures have increased by nearly 2 degrees. It may not seem like much, but that increase leads to rising sea levels and glaciers shrinking, which contribute to extreme weather events such as stronger hurricanes, droughts, and deadly heat waves.
That's why Climate First Bank is doing its part to slow down the effects of climate change.
The bank's products encourage account holders to contribute to sustainability through automatic donations from account interest to environmental nonprofits and its popular solar panel loan program.
Climate First Bank incentivizes people to join with its approach to accounts. Most accounts feature no fees, and some can even help people rebuild their credit.
People can take advantage of Climate First Bank's products and services to better their financial situations — and help the environment along the way.
"People in low-to-moderate income areas are more disadvantaged when it comes to environmental sustainability," said Chris Cucci, Climate First Bank Senior Vice President and Chief of Staff. "Knowing that, we realized that we had to focus on social impact to achieve that environmental mission."
Offering No-Fee Accounts That Combat Climate Change
Climate First Bank has been focusing on providing environmentally and socially impactful lending and deposit products to consumers and small businesses since it opened in June 2021.
The bank offers different tiers and types of checking, savings, and retirement accounts. Climate First will recommend which account a customer should go with based on their financial situation.
IRA accounts allow people just beginning their retirement savings journey to start saving. Climate First offers several account options that don't have minimum balance requirements or monthly service charges.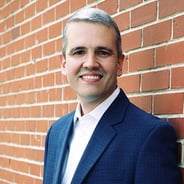 Unlike most banks, Climate First does not have a service charge for special accounts. The specialty accounts earn interest that the bank donates to the environmental nonprofit Project Regeneration and various LGBTQ+ nonprofit organizations..
Project Regeneration comes up with innovative solutions to climate change challenges and connects people to the resources to get them done. Climate First's account allows customers to take part in addressing the climate crisis and making a difference without spending their money. 
The bank also offers a specialty banking account that supports the LGBTQ+ community. Climate First will make a $50 donation to an LGBTQ+ non profit organization when customers sign up for an account with direct deposit totaling $750 in the first 90 days. The customer keeps all of the interest the account earns.
"Whether you're opening an account with us or applying for a loan, we're going to talk to you about your whole financial picture," Cucci said. "We will make recommendations to you that we think would help you achieve your goals."
Pioneering an Accessible Solar Panel Loan Program
Installing solar panels on a home's roof is becoming increasingly popular. By 2030, the number of Americans that use solar power is expected to triple.
Climate First Bank helps its account holders make the transition to solar power with its residential solar loan program. Homeowners who install solar panels not only preserve energy, they can also offset their electric bill with their loan payment.
"You're replacing one expense with another but when done correctly, that solar loan expense is going to be the same or lower than your existing power bill," Cucci said. "Once it's paid off, you're realizing a really good benefit."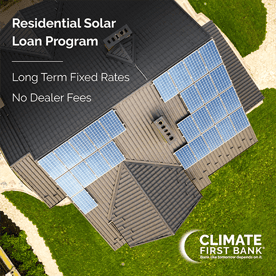 The bank offers 100% financing for solar panels, and customers can choose to get a new roof with their solar loan. The typical loan term is 25 years. Climate First said customers typically see over 70% reduction on their power bill. 
Most banks will leave customers to do work on their own while only providing the loan. Climate First changes that by providing a hybrid digital and physical approach to help every step of the way.
The bank's digital banking team features employees stationed at home who can enter a virtual meeting and do a full consultation of the project. Climate First will then match a reputable and vetted solar installer to the project to work on.
Climate First's goal is for every home in Florida to have a rooftop solar system. As it reaches that goal, the bank wants to eventually expand its solar loan program to the rest of the country.
Interested customers need to have a credit score of at least 680. But the bank is looking into partnerships that would allow people with lower credit scores to access solar.
Creating Products That Help Customers and the Planet
Climate First Bank has plans to make sustainability and climate conservation more accessible. The bank's overarching goal is to support the atmospheric drawdown of carbon dioxide.
The bank had set as its first year goal to have 30% of the loans it signs as mission aligned to saving the planet. It surpassed that goal: 44% of the loans it signed were mission aligned. Climate First predicts that by year five, that number will go up to 70%.
Climate First is also committed to putting all customers on a path to financial freedom. The bank currently offers a secured loan that acts in a similar capacity to a secured credit card.
Before a customer can look into installing solar panels on their roof, they need to own a home. Climate First partners with the Federal Housing Association and Veterans Affairs to help people with credit scores as low as 620 secure a mortgage.
There are two Climate First branches in St. Petersburg and Winter Park, Florida. An additional branch is coming soon to Mount Dora.
Climate First Bank is helping people understand that where they put their money matters. The bank said it is completely transparent on how it uses money and how it helps to become a net-zero carbon footprint business.
"Banks are proud to go out and show what they're doing when it comes to social impact lending with affordable housing programs," Cucci said. "But at the same time, are they also spending your money in areas that you don't agree with as a customer? That's the question you have to ask. And for us, that is important."