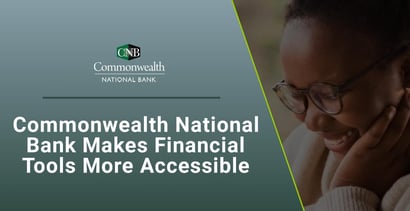 Experts share their tips and advice on BadCredit.org, with the goal of helping subprime consumers. Our articles follow strict
editorial guidelines
.
In a Nutshell: Commonwealth National Bank prides itself on being a bank for the community. The institution is one of only 15 Black-owned banks remaining in the United States, and it uses its platform to provide financial services to underserved communities. Everyone has access to affordable loans and lines of credit through Commonwealth National Bank. Improving its community is a pillar of Commonwealth's mission, and the bank has several initiatives set up in the Southeast to create better lives for the people it serves.
When people visit the bank, they want to feel at ease. They want to know that the bank will help them and their neighbors succeed. Commonwealth National Bank is that resource for many who feel left out of the financial system.
Commonwealth National Bank is headquartered in Mobile, Alabama. Out of the 45 banks doing business in Mobile, it is the only one actually based in the city. In addition to serving Alabama, Commonwealth also has a presence in Florida and Mississippi.
The bank's founders established the institution in 1976 following a period when the banking industry often refused to do business with African Americans in the community.
Commonwealth National Bank raised $750,000 from more than 1,000 families and neighbors to open its doors. The goal was to develop a bank that supported the needs of the community and establish more high-quality jobs in Mobile.
The bank started as both a financial institution and social service company, and it upholds those values today. Commonwealth board members are looking to expand the institution's social service footprint while growing the bank.
"We have expanded our footprint where there are large African American populations that don't have the same banking services that they really deserve," said Commonwealth National Bank CEO and President Sidney King. "One of our goals here is to make wealth common in the African American community."
Offering Tools to Help Build Credit Scores
The ability to easily borrow money allows for a well-managed economy to function more efficiently and stimulate economic growth. Having access to credit opens the door to other financial services. Without a good credit history, borrowers will face higher interest rates or even have their applications for loans and credit cards denied.
It takes one slip-up to make an impact that can last years. Rebuilding a credit score requires great discipline.
Commonwealth National Bank offers a tried-and-true method to improve credit scores for people with poor credit or establish good credit habits for people with no credit history at all. The bank's credit building loan helps borrowers make regular on-time payments to build their credit profile and enhance their credit reports.

Anyone serious about building their credit score can sign up for a loan between $500 to $5,000 that is secured by a Certificate of Deposit (CD). The CD receives funds from either the proceeds of the loan or from the applicant.
The bank works with the applicant to come up with affordable loan terms that ensure no missed payments. Borrowers receive the amount of the CD once the loan is fully paid off.
"What we've seen is people will go in, and they will make those payments over time," King said. "At the end when the loan is paid off, they realize they still have a CD. So you're actually building credit and saving money at the same time."
The bank's website includes links to several useful and free calculators available to anyone. The calculators come with brief user instructions and focus on helping people make important decisions based on their financial situation. 
And there are calculators to find out how much credit you qualify for, the best method for managing a credit card, the highest mortgage you can afford, and saving for retirement.
Bringing Financial Education to Community Initiatives
Commonwealth National Bank is committed to addressing the needs of unbanked and underbanked populations in the African American community. Studies show that because African Americans are more likely to be underbanked or unbanked, they have lower credit scores, which means they pay higher service fees to receive access to financial services.
Commonwealth is working to restart a program that was halted by the pandemic that has members of the bank talking to community groups to provide financial education. The bank puts its focus toward community leaders and groups that never received the opportunity to learn money discipline.
"Without having a banking relationship, you're forced into a cash basis situation with cash and money orders," King said. "If you're stuck in poverty, then you'll teach poverty to your children. Our goal is to break that generational curse."

The program teaches people how to use a bank and shows parents how to pass that information on to their children. The bank hopes its initiatives will help eliminate the financial disparities caused by the racial discrimination of banks that turned away, rejected, or abused African Americans in the past.
Another initiative Commonwealth National invests in is its emerging leaders program. The advisory board, which is made up of young business leaders, is charged with understanding what the needs are in the communities it serves and what the marketplace demands.
The bank said the program is a great way for it to connect with neighbors and the younger generation. Program members who wish to stay a part of the bank have a pathway to become board members of Commonwealth.
Opportunities Allow the Overlooked to Succeed 
One of the bank's proudest moments is when it awards its scholarship to the brightest and overlooked minds in the area. The program, which will return soon after a pause, provides $1,000 to a local valedictorian and $500 to a salutatorian.
As an example of the difference the bank can make in one person's life, Commonwealth referred to a student it awarded the $1,000 scholarship to back in 2004. Although he was valedictorian of his school, he did not receive as many scholarships due to a low ACT score.
But, because he was valedictorian, Commonwealth awarded him a no-strings-attached scholarship. While counselors tried to get the student to enroll at a junior college, he had his heart set on the University of Southern Alabama.
"That $1,000 helped pay for his books that first semester," King said. "Because of his grades, he then started to receive scholarships. He eventually went on to medical school and became a doctor. Those are the stories we like to replicate, where we help the doctor reach his potential."
Commonwealth National Bank is committed to improving the lives of its community. The bank has taken part in the St. Stephen's Road Improvement Association, which helps clean up the road and leave it in better condition to help people there attract more customers.

"We offered a lot of resources and made a difference supporting the needs and the community," King said. "Back when we had the resources to do that, and we really want to get back to that, we were able to give back more to the community and set examples."
Another  program the bank helps fund is the Roger Williams Beautification Program, which gives out monthly gift cards to stores and property owners that keep their property clean.
"Those young folk could look at the role models they typically did not see and give them aspirations to do more and be more," King said. "We want to get back to doing those kinds of things in the community."
The bank has big plans for its future in addition to restarting all of its programs. Commonwealth will soon launch its marketing campaign that will get its name back out in the community to continue growth.
Part of that marketing push is working with the city to help minority contractors receive access to credit and capital they desperately need. The city puts up a partial loss reserve to assume some of the credit risk from the bank. Commonwealth then provides lines of credit to the contractors who can't wait between 30 and 60 days for a payout.
These programs help the community build and save for a better future, and generate more income.
"The goal is to show how they can be competitive and stand toe-to-toe with competitors," King said. "What we try to focus on is getting prepared for those opportunities before they present themselves as opposed to waiting for those opportunities to show up and then trying to get ready."