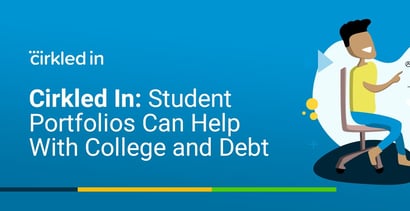 In a Nutshell: Cirkled In is a LinkedIn-inspired portfolio platform built for high school students that is secure, modern, and engaging. The platform allows students to easily upload media about their activities and other academic achievements, allowing admissions officers to get a deeper picture of who they are beyond GPAs and test scores. Cirkled In aims to help students of all income levels showcase their talents and increase their acceptance rate for all opportunities including internships and scholarships. Cirkled In's goal is to maximize students' potential both on academic and financial front.
Test scores and GPAs can often help college admissions staff decide which students they accept, but numbers often don't tell the whole story about academic performance.
Reetu Gupta's daughter encountered that problem during one of her applications. Her GPA and test scores expressed her academic performance, but they conveyed nothing about her as a person.
"GPA doesn't tell how nice she is or how accountable and responsible," Gupta said. "She's one of those kids who does the group project for the whole group. How do you tell that with a GPA? You can't. People can have the same GPA, but entirely different personalities, strengths, and talents."

Another challenge for Gupta was remembering all of her daughter's different school activities, which included many projects, clubs, and other extracurriculars — the details of which revealed how involved she was in her own education.
"Yes, there are boxes in the garage, with mementos of those activities," Gupta said. "But who is going to pull those out when you have so many?"
That's why Gupta co-founded Cirkled In, a platform that helps college applicants showcase their skills and accomplishments to college admissions offices.
Learning to play an instrument, volunteering at a homeless shelter, and developing leadership skills through organized sports are all relevant character traits for a college applicant. Cirkled In offers an effective way to express those in a profile and portfolio-style interface.
"We are putting people on Mars. We are working on driverless cars," said Gupta, who also serves as Cirkled In's CEO. "And there was no LinkedIn-type platform made for students, which is secure and engaging for them. I realized how deprived the education sector has been from that technology."
Cirkled In allows users to show the full scope of their personality and achievements through documents and media— rather than just GPA and test scores. That can help them stand out to admissions staff at top-flight schools. It also increases their chances of receiving merit-based scholarships and need-based grants, showcases their talents and potential to employers, and can serve to reduce student debt.
Social Media-Style Resumé-Building Incentivizes Students
Cirkled In is a modern resumé platform built for students. It serves as a repository for documents, recordings, and other media that attest to a student's achievements and personality in a way that test scores and others can't quantify.
"We have built a standard template of seven different categories that we came up with after interviewing 100 colleges and three dozen employers," Gupta said.
That includes information on clubs, activities, volunteerism, and other activities that round out the school experience. And Cirkled In allows students to show those experiences and activities directly to colleges and future employers in an engaging way instead of simply writing about them in an essay.
But not every student is thinking ahead to college. Going to the movies on Friday night may be more appealing than uploading videos and documents to a digital repository. That's why Cirkled In incorporates engagement strategies that provide users with rewards for making a long-term investment in their academic success.
"We have multiple engagement strategies," Gupta said. "One thing we have always called it is chocolate-covered broccoli. There's gamification and an AI engine built on the back end that pings you if a category is empty. Let's change that."
Another way Cirkled In encourages students to take action is by rewarding them with points for adding content. Students are ranked based on points, and those points contribute to their chances of winning a quarterly scholarship to lessen their potential student debt. In the future, students can also redeem points for products and merchandise.
"You can't tell high school kids to fill in this profile unless there's something in it for them," Gupta said.
Academic Reputation Adds Perspective to Other Media
Attracting and incentivizing students is only half the Cirkled In mission. Having a premier profile and portfolio is pointless if no recruiter ever sees it.
So Cirkled In brings colleges to the students. Part of that process is ensuring colleges are aware of the value Cirkled In brings to the admissions and review process.
"Even before COVID-19, a quarter of U.S. colleges have made SAT scores optional," Gupta said. "Test scores don't tell me anything about a kid. But if you take the biggest component off the table, and you don't replace it with something, what are they going to do?"
The answer is that recruiters often turn to social media — Instagram, Facebook, and others — where students post about their interests and accomplishments. However, those personal accounts are intended for engagement with peers, not with educational institutions.
Watch on
"They are going to go to Instagram, Facebook, and a third of the time, that was negative input," Gupta said. "With Cirkled In, if you are a student, you send yourself into a portfolio and balance their view. You may see a picture of me holding a red solo cup on a beach, but I'm also the varsity president of my hotel club in my school. That means I can balance my life. So it gives that perspective."
Cirkled In also actively draws institutions to the platform instead of relying on it as a passive tool for applications. That helps colleges recruit prime students, and it helps students cut down the workload of searching, applying, and seeking scholarships and other funding sources.
"We are not just waiting for students to apply and use the profile. We are bringing qualities onto the platform," Gupta said. "We have colleges like University of Pittsburgh, California State University, Fresno, and Willamette University. They come in, and they look for students who are going to be a good fit for their campus, and then they recruit them."
Increasing Accessibility to Underserved Demographics
Accessibility and equal opportunity are significant components of Cirkled In's mission. It isn't exclusively for kids aiming at Ivy League schools or other pricey private institutions. The platform serves every college hopeful, striving to get a good education and avoid taking on student debt.
"We are not for elite kids. We are for everybody, including at-risk youth," Gupta said. "At-risk youth, which is defined by the federal government, includes first-generation, low income, and immigrant families. Those students go to college at a 30% lower rate. Half the time, nobody even talks to them about college as an option. And even if somebody does, they don't have resources or support."
Cirkled In works directly with schools to bring students onto the platform  to provide them with the support, knowledge, and encouragement they need. That serves to reinforce counselor work on campus and exposes the students to new opportunities, including Pell Grants, which can offset the cost of college and avoid student loan debt.
"Of this Pell Grant money — $2 billion every year — goes wasted," Gupta said. "I can tap into that because colleges need to meet their quotas. So why not put that $2 billion in the middle and bring these kids and these colleges together and use that money?"
And the financial benefit of this extends beyond the students themselves. Helping them fund their education at reduced personal cost also benefits the U.S. economy at large.
Gupta said the U.S. needs talent to stay in the country if it wants to continue being a leader and innovator. That means making sure students of Gen Z and beyond go to college to fill those jobs of tomorrow.
Cirkled In: Preparing Students for College and Beyond
Cirkled In is a convenient, reliable way to maintain a portfolio of a student's entire academic career. But keeping a comprehensive record can also take some teamwork. That's why Cirkled In allows parents to open and maintain profiles for their children until their children are ready to manage their profiles themselves.
"At that early age, we don't expect kids to do it. We expect parents to maintain them," Gupta said. "So instead of me putting boxes in my garage, this becomes my digital box, my locker. And once kids are mature and tech-savvy, parents can provide access to the kids."
Gupta predicts that work from middle school onward will be most crucial for students later in their academic careers. Students' stories are deeper and more expansive than just four years of high school, just like those students themselves are more than a set of numerical test scores.
Employers currently don't have access to the platform, but that will be another milestone on Cirkled In's road map. When it reaches that point, Cirkled In will add even more financial value for students, regardless of their student debt situation.
"Employers spend $24 billion in recruiting fresh graduates, not including the experienced professionals," Gupta said. "That is where we want to reduce the cost for employers and bring in more job opportunities with good match candidates."
Advertiser Disclosure
BadCredit.org is a free online resource that offers valuable content and comparison services to users. To keep this resource 100% free for users, we receive advertising compensation from the financial products listed on this page. Along with key review factors, this compensation may impact how and where products appear on the page (including, for example, the order in which they appear). BadCredit.org does not include listings for all financial products.
Our Editorial Review Policy
Our site is committed to publishing independent, accurate content guided by strict editorial guidelines. Before articles and reviews are published on our site, they undergo a thorough review process performed by a team of independent editors and subject-matter experts to ensure the content's accuracy, timeliness, and impartiality. Our editorial team is separate and independent of our site's advertisers, and the opinions they express on our site are their own. To read more about our team members and their editorial backgrounds, please visit our site's About page.