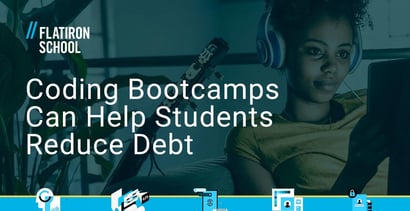 In a Nutshell: Tech-oriented bootcamps are quietly reshaping education and training in the United States. The courses at Flatiron School are a prime example, as they provide more fast-paced, targeted study opportunities than four-year degree programs at traditional colleges and universities. Bootcamps aim to quickly position learners for employment and success in a fraction of the time of conventional higher education. That shift in technical education is causing a similar change in higher learning, pushing institutions to reorient programs for rapid progress and employment in addition to more traditional goals.
Adam Enbar is a first-generation Moroccan-American. He's also a first-generation college student. His parents didn't receive any higher education, but they insisted he should.
So Adam went to college, but not without piling up a mountain of debt in the process. Upon completing his degree, he also found few job prospects.
Eventually, Enbar got into teaching, first at elementary schools and then at correctional facilities. Like his parents, Enbar understood the practical value of an education. But at the same time, he questioned why people had to spend so much money to attain it.

"Education is so prominent and important in my life," said Enbar, CEO and Co-Founder of Flatiron School. "But after going through the educational system, keeping the American dream, and being saddled with tons of debt and no great contacts, I realized we could do something about that."
Enbar's solution was Flatiron School, a tech bootcamp that delivers quality education in software engineering, data science, cybersecurity, product design, and other crucial areas. It also costs a fraction of what it would cost to get a degree from a traditional educational institution.
Flatiron School helps increase representation and diversity within tech fields, ensuring that anyone with interest and enthusiasm has a fair shot at making a career in the industry.
"We started Flatiron with a simple premise: that everybody needs higher education in some form or another, but not everybody needs to go to college," Enbar said.
Bootcamps Provide a Targeted, Efficient Education
Many students devote a significant amount of time to higher studies outside their majors. Colleges weren't intended to be trade schools; they were meant to help students become cultured, competent citizens.
"College is awesome," Enbar said. "For a lot of people, it works really well. But it's not necessarily the right path for everyone."
College also comes with a steep price tag, which can lead to loans and student debt. Highly focused, intensive programs like bootcamps offer trade-based education for people who want to develop a strong knowledge base and skill set in a relatively short time. That allows them to put their knowledge to practical use quicker and at a much lower cost.
Watch on
"Over time, we realized that we should approach it in a way that's hyperfocused," Enbar said. "We're giving the students exactly what they need — no more, no less — they can do it much faster and much more efficiently than anybody thought before."
The prevalence of bootcamps and the success of their students prove that people don't need four years of education to kick-start a strong tech career. And the debt incurred in obtaining a college degree may hinder future financial success.
"We tried to create the most efficient path towards a job," Enbar said. "And then, over time, that route became not just the most efficient path into a great outcome but also the most successful one."
Traditional System May Hinder Success After College
"I think the thing American colleges get wrong is that they try to be everything to everybody," Enbar said. "There's no focus."
In addition to focus, balance is an equally important component. According to Enbar, technical and professional skills and subjects should not be taught in isolation from humanities; doing so can create lopsided, one-dimensional professionals.
"I personally, very strongly believe in and value the liberal arts," Enbar said. "The reason I value them is because I think what makes somebody successful in this field is not just the ability to leverage technology. What makes somebody successful is the ability to combine technology with creativity to solve real human problems."
Liberal arts are often defined in contrast to technical and professional education. The latter two provide the knowledge and specific skills necessary to perform a practical task or serve a specific role in an organization.
However, liberal arts are not an alternative to those skills, as a digest from Crowdstaffing explained. Instead, liberal arts skills complement tech skills and encourage workers to think flexibly, critically, and creatively. That often leads to novel solutions to complex problems.
"We think a lot about how we can foster that kind of creativity so that we can inspire students to use technology once we give them the skills," Enbar said. "The liberal arts are a great, great way to hire creative people. The challenge is that colleges will tell you that they only have to teach liberal arts or only teach vocations — there's no sense of balance. Our mission is to enable the pursuit of a better life for education."
High-Demand Skills for a Lower Cost Leads to Better ROI
High-demand professions typically command higher salaries. The less money someone spends — or the less debt they accrue — on their education, the higher their return on investment.
"We're seeing huge demand from employers for data science workers," Enbar said. "People cannot hire data scientists fast enough. They're getting astronomical salaries. The demand among employers to hire our data science graduates is unreal."
Bootcamps like Flatiron School represent excellent investments that can offer a higher ROI because their costs are low. In addition to the tuition bloat spurred by the availability of student loans, the shorter courses of bootcamp study incur less cost to the organization providing that training.
That means students save more money on their education while positioning themselves to find a higher-paying job after graduation — which also comes faster.
Enbar compared a student who attended Flatiron School with another who attended a traditional four-year institution. While they both came out with a knowledge base, the Flatiron School is more focused, and the four-year institution could involve immediate debt upon graduation.
"At the end of four years of college, all you have is a piece of paper. If you went to Flatiron School, four years later, you've got the skills and three and a half years of work experience. So four years later, who's in a better position?" Enbar said.
Increasing Tech Industry Accessibility and Opportunity
Traditional educational institutions understand the efficiencies of tech bootcamps like the Flatiron School. Many colleges and universities recognize that they must keep up and adapt or get left behind in the modern educational environment.
"I think colleges are starting to realize that this is important, even at the most traditional liberal arts focused schools," Enbar said. "We work with Harvard, Cambridge, Yale, as well as some faith and community colleges to help bring these skills to their populations."
Enbar envisions a future in which the choice between college and bootcamp isn't an either-or decision. Instead, students will have a foot in both worlds, rapidly gaining skills they need to find a suitable career while still completing a traditional course of study. Bootcamps represent an excellent solution for people who already have a college degree and want to seek a new career.
"Rather than go back and do some expensive graduate programs, they come to us for a quicker transition," Enbar said. "We're excited about the work we're doing with universities, and the tide is starting to change."
Part of that changing tide is also expanding access. Just as workers with liberal arts backgrounds can bring novel solutions to the tech industry, people who come from underrepresented demographics can offer innovative perspectives.
"We want to expand the view of who is capable of participating in this industry," Enbar said. "It's no secret, especially in tech, that so many people get left behind because it was dominated by certain demographics.  So it's not just about the fact that this industry should be accessible to different genders, races, and ethnicities. But also, it's an amazing path, regardless of your interests."
Advertiser Disclosure
BadCredit.org is a free online resource that offers valuable content and comparison services to users. To keep this resource 100% free for users, we receive advertising compensation from the financial products listed on this page. Along with key review factors, this compensation may impact how and where products appear on the page (including, for example, the order in which they appear). BadCredit.org does not include listings for all financial products.
Our Editorial Review Policy
Our site is committed to publishing independent, accurate content guided by strict editorial guidelines. Before articles and reviews are published on our site, they undergo a thorough review process performed by a team of independent editors and subject-matter experts to ensure the content's accuracy, timeliness, and impartiality. Our editorial team is separate and independent of our site's advertisers, and the opinions they express on our site are their own. To read more about our team members and their editorial backgrounds, please visit our site's About page.