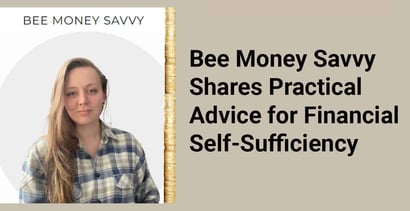 Experts share their tips and advice on BadCredit.org, with the goal of helping subprime consumers. Our articles follow strict
editorial guidelines
.
In a Nutshell: When Emma Jackson's parents took terrible advice from a banker and ended up deeply in debt, they rolled up their sleeves, lived frugally, and spent 15 years paying it off. Their dedication inspired Jackson's lifelong mission to find ways to save. Bee Money Savvy chronicles Jackson's financial and sustainability journey and offers a practical approach to earning more and spending less. Jackson's advice based on experience inspires her readers as her parents did her.
For Emma Jackson, looking for better ways to earn and save money is a family tradition. Jackson's blog, Bee Money Savvy, chronicles her journey as a recent college graduate and a first-time homebuyer searching for new services, products, apps, and websites to stretch her resources. As the name indicates, Jackson also loves bees, which serve as her entry into exploring the connection between frugal living and sustainability.

Jackson's home is in the UK, and Bee Money Savvy is a popular and award-winning UK blog with tips and real-world insights for money savers everywhere.
Jackson's parents took on considerable debt after following poor financial advice, but they refused to let the situation get the better of them. For 15 years, they found creative ways to spend less than they earned until they met their obligation.
The experience left Jackson inspired by what she calls a money-saving mentality. She started visiting the Swagbucks gift card site as early as 15.
"I watched my parents paying off this debt pretty much throughout my childhood, my Mom doing the budgeting, my Dad working overtime," Jackson said. "I grew up thinking I didn't want to go through all those hoops and not have access to money when I needed it."
Jackson searched for a full-time job after graduating from university (paid for with scholarship money), settling for a part-time position. Her frugality paid off when she discovered she could comfortably live off the money from her part-time job.
Shocked at how easy she made it seem, work colleagues constantly peppered her with questions. Jackson realized she had something to say.
"I thought, I'm going to write it all down," Jackson said. "That's how Bee Money Savvy started."
Side Hustles Point the Way to Extra Earnings
As Jackson settled into her part-time position after university, she experimented with supplementing her income through side hustles here and there. As her friends struggled to make ends meet and counted the days until their next paycheck, Jackson found she had money to put aside for evenings out.
Bee Money Savvy's listing of income-earning options encompasses casual work, survey sites, mystery shopping, task-based apps, search engine evaluation, blogging, and content writing. Jackson acts as a storyteller from post to post in describing her connection to a particular financial problem and the solution's effectiveness.

Her goal is to offer opportunities to suit every lifestyle. Posts range from free sign-up offers and referral promotions to money-making apps and work-from-home options. There's a start-to-finish guide on earning income from content creation and blogging. There's even a section on partnering with mystery shopping or market research firms to receive free food and small payments.
Jackson also loves to enter giveaway competitions and play online games, where she's won cash prizes, holidays, and the latest tech. 
"I don't share anything I haven't tried, and I always try to put my own spin on it," Jackson said. "The side hustles and competitions are some of the biggest attractions on the site."
Jackson has made thousands from various side hustles, including survey sites, mystery shopping assignments, and task-based apps. She continually updates her comprehensive list of side hustles and invites readers to contact her if they know of opportunities that should be on the list.
"I've given each one a go, stuck with what's worked for me, and reviewed it," Jackson said. "It's very much me exploring on my own and then sharing that with my readers."
How Frugal Living Stretches Budgets
Spending less is the other side of financial freedom, and Bee Money Savvy is full of detailed yet practical analysis for overcoming budgeting and money-saving challenges.
Money-saving blog posts weigh the pros and cons of no-credit-check loans, offer clothes-buying strategies for maximum return on minimal cost, and present storage hacks to save time and money. Jackson continually updates her list of the best cash-back websites and apps, and there are special sections on Christmas saving and student discounts.
Jackson also goes to great lengths to present a detailed primer on budgeting. She recommends prioritizing debt, planning significant expenses early, and reducing non-essential spending. Disciplined savings combined with income increases through side hustles stand the best chance of producing quick results.

Reading Jackson's budgeting primer is like reliving some of her financial and budgeting challenges. It's easy to see how experiencing her journey imbues Jackson's readers with the inspiration to set and meet their own financial goals.
"My writing is not very promotional but is more like storytelling, which is what I always wanted it to be," Jackson said.
Another small section on the money-saving side of the site outlines how to build up an emergency fund. It's easy to overlook the need for a financial buffer because most people have short-term needs with more priority. Building an emergency fund is an essential indicator of a high level of financial discipline.
That fits with Jackson's philosophy that small behavioral changes often result in reaching goals. She advises readers to make themselves accountable and to reach out for support.
"If you went to a personal trainer, you'd track everything you ate and how much you exercised for the month," Jackson said. "Keeping a personal finance record can make a difference when you're not feeling motivated."
Connecting Savings to Hopes for a Greener Planet
Jackson uses spreadsheets to track her finances, but there are many methods to try. She counsels that taking small financial steps like rungs on a ladder is the best way to achieve lasting results.
"Make a small payment toward your debt, your savings, or investments, depending on where you are in your journey," she said. "What you're spending, how much you're saving — write everything down so you can see it."

The "bee" in Bee Money Savvy points to sustainability content on the site that has grown more extensive as Jackson has realized the extent of the connection between greener living and frugality. Bee-oriented content on the site starts with a look at sustainability swaps — switches people can make in products and habits that result in a net gain for the environment.
Jackson also includes a collaborative post on ethical investing from independent financial adviser Tim Day. Jackson and Day explain the benefits of ethical investing and provide sources for investing opportunities.
She goes on to tackle ethical banking with a comprehensive analysis of environmentally and socially conscious rules and policies banks should follow to ensure they have no negative impact on the environment or society.
Jackson is a fan of reusing and repurposing items when possible. She grows a vegetable garden to cut down on grocery expenses. She buys in bulk and saves packaging materials to use again.
Every little bit helps. Readers who put Jackson's insights into action become part of a tradition that her parents started decades ago. Bee Money Savvy helps extend that tradition across the internet.
"There's an incredible community of people who talk about money online," Jackson said. "Share your starting position and where you want to go and hold yourself accountable."