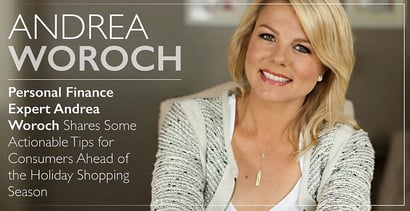 In a Nutshell: After spending time in marketing, branding, and media relations, Andrea Woroch began blogging on personal finance with money saving tips for consumers. Since then, she's become a nationally recognized source for quick and digestible financial advice. She recently shared her expertise with BadCredit.org, offering some easy steps consumers can take to save money and expand their budget. This includes tracking spending, identifying opportunities to save money, and planning ahead. With the holiday season around the corner, Woroch also discussed ways consumers can make sure they are getting fair prices while shopping.
Just over a decade ago, Andrea Woroch was working in consumer marketing, branding, and media relations. It wasn't until the Great Recession began that, ironically, her career would really begin to take off.
Woroch was working with several retail companies that operated in the money-saving space around the time of the recession, and she began to see how her work experience and expertise could come together to fill a void.
"There was such a need for money-saving knowledge at the time from people who didn't have to save before the recession, and they were looking for new ways to conserve," Woroch said. "And the media was looking for someone to speak to the topic."
Woroch began blogging on personal finance issues.
She said personal finance blogging was a growing area at the time, but a strong representative voice in the media had yet to emerge. So she combined her media relations knowledge of how to package complex topics into short, snappy sound bites with her marketing expertise and some insider information she had learned from the retail industry to establish her own brand.
Today, Woroch "is a nationally recognized consumer and money-saving expert, writer, and speaker who is passionate about helping Americans find simple ways to spend less and save more without drastically changing their lifestyle."
Her work has appeared in The New York Times, The Wall Street Journal, USA Today, Money, Reader's Digest, and many other well-known publications. She has also appeared on hundreds of TV shows, including "Today," "Good Morning America," and "FOX and Friends," and has discussed financial tips on many major networks, including CNN, HLN, and MSNBC.
Woroch recently sat down with BadCredit.org to share some of her money-saving expertise with our readers. These tips work all year round but Woroch let us in on a few techniques that can be particularly handy for the upcoming holiday season.
Track Spending, Identify Saving Opportunities, and Plan Ahead for Budget Breaks
Woroch said when someone asks her how to save money, she points out that saving money can mean many different things, from small considerations in everyday activities to big-picture changes in priorities and habits.
"I tell people to begin by first looking at their monthly spending because a lot of people don't even know where their money is going every month," Woroch said. "That's a big red flag that you could be wasting money. There could be some budget leaks."
She said paying attention to monthly bank statements and credit card bills helps consumers assess how they are spending their money. Consumers should break out their expenses into categories, including recurring monthly bills, to look for areas to cut back.
"What monthly bills are you paying?" Woroch asked. "You might be paying bills every month for things you don't even need or aren't really using."
Consumers can look to their cable plans to cut out channels they aren't watching, she said. And just about everybody has a cellphone bill these days. Woroch said consumers should explore their mobile plan options because they may be paying for a large data plan each month that they aren't even using. Perhaps they can cancel the gym membership they aren't using.
"It's really just about making an assessment and being honest with yourself about how you can cut back," she said. "And maybe it's just giving something up for the interim to see if you can live without it. I always find that it's easier to make a change if you know that it doesn't have to be permanent. It doesn't feel like this big sacrifice."
Woroch said groceries and food are among the biggest expenses for many households, outside of things like rent or mortgage.
"This is an area that I think a lot of consumers could get better at saving, and it doesn't mean that you have to cut out all your takeout or going out to dinner," she said. "Just be more strategic about it. Food waste is a big issue."
Spending some time planning ahead is a good way for consumers to avoid both monetary and food waste, Woroch said. If you have dinner planned at a restaurant one night, make sure grocery ingredients at home don't go to waste. And when shopping, try to buy ingredients that can be used in multiple dishes throughout the week.
Time is an issue as well, she said, and consumers with busy schedules can cook a few freezer-friendly meals ahead of time to reheat at work or in the evening.
She said its OK — and unavoidable — to eat out every once in a while. But even if a person tends to buy a sandwich at work every day, he or she could bring in drinks and side dishes from home to save a few bucks.
"It all adds up," Woroch said. "Every few dollars you save here and there. If you're buying a drink at lunch every day, by the end of the week how much is that? And then, think about how much it is by the end of the month, and then, by the end of the year? You just have to think about it collectively."
Shop Smart This Holiday Season by Vetting Deals and Paying Attention to Price Changes
With the holiday season around the corner, Woroch said she likes to share some tactics that retailers use to try to get consumers to spend more money. She said it's an expensive time of year for a lot of consumers and people tend to take on debt during this period.
"It's important to do your research ahead of time about products you might want to buy online and start looking at prices in advance because some of these holiday sales aren't as good as they make it seem," she said. "If the retailer is saying something is 30% off, the item might have already been 25% off before the sale. That's an additional 5%, which is nice, but it's not as big of a deal."
These kinds of big sale numbers and price-changing tactics can entice people to buy things they don't necessarily need.
Woroch said she recommends that consumers go online to a website like Rank Tracer, which tracks prices of products sold on Amazon. These prices are a good benchmark comparison in general, and consumers can see price fluctuations as they occur. She said this helps consumers know when it may be a good time to buy, and whether a sale is as good of a deal as the retailer claims it is.
"Another cool site that I just stumbled upon is Coupon Cause," she said. "It's not your typical promo code site. They actually give back a percentage of any money they make from their sales to various causes and charities. That's kind of neat because you know you're saving money, but you're also doing some good at the same time."
Finally, Woroch suggested that, if you're at a store doing some holiday shopping and forgot to check for coupons beforehand, it never hurts to simply ask an employee about any deals available.
"Sometimes they might just have a coupon behind the counter. I've been really lucky with that," she said. "Again, every little bit that you save here and there can really help you stretch your dollar further."
Income-Boosting Strategies that Can Expand Your Budget
"One last thing I like to mention is that a lot of consumers are asking about how they can save money, but I'm really passionate about making people realize it's not just about saving money," Woroch said. "You can try all the different strategies to save money, but if you're on a limited income with a tight budget, sometimes you have to boost your budget and make more money."
She said, although it doesn't always seem easy to figure out how to make more money, consumers can try a number of tactics that don't take a lot of effort on their part.
If a person has been working hard at his or her job but hasn't been recognized for a while, it may be time to ask for a raise. Or perhaps, it's time to look for a new job.
Of course, this isn't always an option, Woroch said, but there are other ways to expand budgets, including making better investments or possibly boosting income through a rental property.
"Can you get a side hustle?" she asked. "Those are so common now and it doesn't necessarily have to impact your day-to-day life. For instance, you can dog sit through sites like Rover.com and make up to $1,000 a month, and that's just bringing a dog into your home and going about your everyday life. Now you're making some extra money and that can help fast-track financial goals."
Woroch said if consumers haven't done so already, they should also consider opening a high-yield savings account online.
"You can make money from your money that's sitting in savings," she said. "If you're not earning at least 1% in savings, you're leaving money on the table. There are online banks like PurePoint Financial that have market-leading rates, with an APY of 2.15%. If you have money in the bank, you want to think about keeping it somewhere like that."
Follow Woroch's Blog and YouTube Channel for Additional Money Tips
Woroch said she plans to continue to share her money-saving expertise on a national level, but consumers can also reach out to her via her website, visit her blog, or watch her YouTube channel to go straight to the source.
"I'm rolling out more videos on my YouTube channel and hope to have those up soon, and there will be a new website to help promote that," she said. "This is a way consumers can just come directly to me to look for saving tips or learn more about financial areas they're struggling with."
Advertiser Disclosure
BadCredit.org is a free online resource that offers valuable content and comparison services to users. To keep this resource 100% free for users, we receive advertising compensation from the financial products listed on this page. Along with key review factors, this compensation may impact how and where products appear on the page (including, for example, the order in which they appear). BadCredit.org does not include listings for all financial products.
Our Editorial Review Policy
Our site is committed to publishing independent, accurate content guided by strict editorial guidelines. Before articles and reviews are published on our site, they undergo a thorough review process performed by a team of independent editors and subject-matter experts to ensure the content's accuracy, timeliness, and impartiality. Our editorial team is separate and independent of our site's advertisers, and the opinions they express on our site are their own. To read more about our team members and their editorial backgrounds, please visit our site's About page.