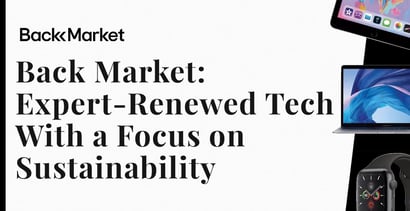 Experts share their tips and advice on BadCredit.org, with the goal of helping subprime consumers. Our articles follow strict
editorial guidelines
.
In a Nutshell: Smartphones, wearables, and other tech devices are of such high quality these days that new products aren't appreciably better than their earlier versions. Back Market connects consumers to recently produced, expertly renewed tech guaranteed to look and perform as expected, with competitive prices on trade-ins and significant savings on purchases. The platform enables consumers to participate in the circular economy while helping reduce the environmental impact of manufacturing new tech.
Personal tech devices, including smartphones, tablets, laptops, and game consoles, are ubiquitous. They may be necessary for work, and they're preferred for communication and entertainment in the everyday lives of billions of people.
Because the tech industry is relatively new, innovation proceeds rapidly. Established ways of acquiring and managing devices fall by the wayside in favor of more streamlined approaches. For example, it's easy for users who use cloud backup services to switch smartphones on the fly, a process that took hours just 10 years ago.
As tech grows more popular, its environmental impact also becomes more of an issue. With more consumers expecting the companies they support to share their values, issues around carbon impact and resource use are increasingly part of the conversation around tech.


Plus, tech is expensive. Today, it's harder to justify buying the latest device when last year's model works just as well.
Back Market offers an alternative to those new tech dilemmas, with solutions for trading and buying recently produced, expertly renewed tech. It offers like-new devices at more affordable prices to consumers in 16 global markets, including the US, the EU, and Japan. And when it's time to trade in a device, Back Market partners compete for the chance to buy and renew tech, ensuring the consumer receives a competitive offer.
Instead of purchasing a device, using it for a while, and then putting it on the shelf to collect dust, Back Market customers can sell back their device and participate in a system of exchange known as the circular economy.
"There's a study from the UK where the average person had four devices under their bed ready for trade-in," said Lauren Benton, Back Market US General Manager. "We're taking on the market for new devices and converting customers away from their old behaviors."
Buy and Sell on a Competitively Priced Platform
Buyers know they're dealing with expert renewers and resellers because Back Market guarantees every sale through a 30-day return policy if you change your mind and a minimum one-year warranty. Standard shipping is free, and the platform accepts cards and digital payments, and works with popular buy now, pay later services.
Purchasing features work like mainstream eCommerce sites. It's easy to set up an account and filter products by category and price. Students receive a 5% discount on every purchase, and military service members, veterans, and families receive a 10% discount.
"We really have your back on this," Benton said. "What we offer is just as good as an out-of-box device, but it's on its second life and priced at 30 to 70% less."
Renewal partners go through a rigorous quality control process to qualify to buy and sell on the platform. A transparent grading system assigns separate values to the appearance and technical condition of each device. Every device is guaranteed to be 100% functional regardless of its grade.
Watch on
The technical grade indicates the devices' expected durability, given the partner's history on the platform. Devices judged to be in Fair technical condition pass all durability standards in Back Market's Quality Charter. Devices with Good and Excellent scores exceed those standards.
The appearance grade judges the device's aesthetic condition, such as whether there are visible scratches on screens or side rails on smartphones, for example. Renewal partners must prove they adhere to stated procedures and standards.
And Back Market monitors performance and customer feedback to ensure compliance. Team members even go so far as to purchase devices anonymously to ensure everything goes as planned.
"These are not devices that are missing a button — they are functioning good as new," Benton said.
Reduce the Carbon Impact of Tech Manufacturing
Closing the loop of the circular economy by trading in old devices is also easy. Back Market is available on the web and via mobile apps, and it takes just a few clicks or taps to receive competitive offers on trade-ins.
"We feel confident that what we're putting in front of you is a good offer — hundreds of sellers on our site are bidding to buy your device," Benton said.
The result is not just a money-making opportunity for customers. Trading enables consumers to do something surprisingly good for the environment because every purchase of an expertly renewed device results in one fewer new device needed in the market.
By purchasing through Back Market, consumers can reconcile the need to use tech with a commitment to sustainability given that about 90% of a device's carbon impact occurs during manufacturing. When devices stay in circulation longer, the environment is a big winner.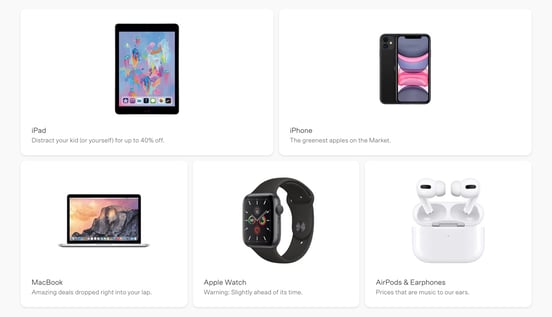 Another way participating in the circular economy helps the environment is by reducing the amount of recyclable precious metals in landfills. Some estimates show that as much as 7% of the world's gold is in the wiring of discarded tech devices. Back Market helps reduce that burden by repurposing gold and essential rare earth minerals used in tech.
Other estimates show that a person would have to drink eight glasses of water every day for more than a century to equal the amount of water used to manufacture one smartphone. That means reducing new device manufacturing can have a considerable impact.
"E-waste is our fastest growing municipal trash source — 2% of the waste and 70% of the toxins in the landfills," Benton said. "That's a problem."
Back Market: A Welcome Alternative to Buying New
Back Market's mission is to build trust and demand for renewed devices. The site has an extensive range of brands and models, all backed by the same Quality Charter and guarantees. And buying renewed devices is more sustainable than buying new.
"The circular economy can only grow if people participate in it," Benton said. "It decreases the total price of devices and unlocks their residual value."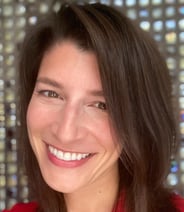 That's only possible when people realize how easy switching can be when they use the latest tools. Major manufacturers provide no impediment to saving money and helping save the environment by purchasing devices through Back Market.
Back Market has procedures to help customers reset devices to delete critical personal data. Its grading system is easy to understand and continually monitored for accuracy. Back Market provides seamless customer support through its resellers and the platform. And it pays cash for trade-ins.
Back Market's Innovation Lab helps renewal partners understand new devices, passing on tips for renewing them efficiently, testing parts and accessories, and assisting sellers in sourcing the best parts. It works with renewal businesses of all sizes and helps generate business opportunities for them.
As tech has become more ingrained in every aspect of society, Back Market has formalized a system for dealing with it in a positive way for everyone. Tech consumers, especially those in younger age demographics, increasingly respond to chances to live according to their values as they realize the impact of their actions on the world around them. Back Market is a prime mover in that space and shares those aspirations.
"They care about what brands do, not just what they say," Benton said. "We try to put actions behind our words in everything we do, and we want our customers to hold us accountable."