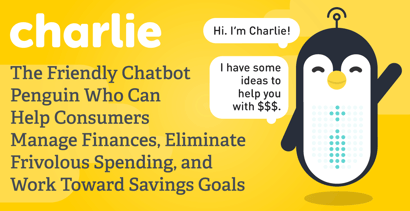 In a Nutshell: For many Americans, simply thinking about dealing with finances can trigger feelings of dread and anxiety. Charlie is a friendly AI-driven chatbot penguin who is on a mission to help alleviate that anxiety and guide users toward financial wellness. The free chatbot can be activated through Facebook Messenger or text message. Charlie helps users identify ways to cut back on spending, lower bills, and reach savings goals. While some may balk at the idea of sharing their bank account information with a virtual penguin, Charlie CEO Ilian Georgiev said the company takes data security very seriously. The company also works to garner as much feedback as possible to help make Charlie better and smarter.
When it comes to financial literacy, Americans aren't exactly the savviest bunch. In fact, only 6% of people who have taken this basic financial literacy quiz earn a passing score.
The financial literacy problem in the U.S. can be traced back to the fact that the topic is frequently glossed over in formal education. Unfortunately, it's often glossed over at home as well, thanks to lingering social taboos and people's general lack of comfort when discussing money.
The result is a population that is simply not well-versed in managing finances. A by-product of this scenario is that many Americans also hate dealing with or even thinking about their money. This neglect can lead to stressful scenarios, including spiraling debt, falling behind on bills, or plummeting credit scores.
Most people are happy to see a big picture overview of their finances without having to get into the weeds, said Ilian Georgiev, Co-Founder and CEO of Charlie, the company that offers an AI-powered chatbot penguin to help users easily manage finances.
"The majority of people can not or do not want to do the math that's involved with actually understanding how much money is coming in or going out of their bank accounts in a given day or a given month," he said.
Prior to his penguin-building days, Georgiev spent years in the mobile gaming industry where he had a hand in developing ads that generated hundreds of millions of dollars in profit for some of the leading companies.
"Basically, the impetus that got me interested in creating Charlie was that I wanted to take all those dark arts we developed in gaming and apply them to actually helping people get on a better financial path," Georgiev said.
Charlie officially waddled into the finance space in early 2018 and since then, the company has helped users pay down $50 million in credit card debt and saves users an average of $80 per week.
Choosing Charlie: A Nonjudgmental AI Penguin Who's Passionate About Numbers
Georgiev said Charlie began life as more of an abstract concept and only took the form of a penguin last year. He said the company quickly realized it needed a friendly, non-threatening persona to attach to its AI technology.
Talking about finances is often an extremely stressful topic that fills some people with anxiety, Georgiev said. The company's point of view is that everybody already knows they are messing up and don't need another authority figure looking down on them and telling them they're doing something wrong.
"There are plenty of those around — that's every bank, every financial institution," he said. "We realized our users just need a little support to make the right decisions. They needed someone who looks up to them and has their back rather than looks down on them."
That's why Charlie never comes across as socially superior to users. Georgiev said he thinks of the penguin's persona as being similar to a friendly Labrador retriever that's really good with numbers.
"He's never going to be upset with you or judge you," he said. "He's fascinated with what people are doing and with helping them out. He's here because he just wants to be your friend."
The development team made it a priority to make Charlie's persona as complete and coherent as possible. So much so that the company wrote a 25-page bio on Charlie that describes who he is, how he talks to users, how he doesn't talk to users, and how he plays into the company's goal of alleviating anxiety surrounding finances.
"Everything in finance is super abstract, and that plays into that anxiety people have," Georgiev said. "Charts, graphs, numbers, APRs — our brains are not built for that. So having something like Charlie gives people something they can relate to."
How Charlie Helps Users Improve Their Financial Situation
Users can sign up to use Charlie through Facebook Messenger or via text messaging. And not only is Charlie friendly, but he also provides his services for free.
Georgiev said once users sign up to use Charlie, he greets newcomers and answers any questions they have for him about security or other concerns. He then asks the users to connect their bank accounts or credit cards and gets to work determining how he can best assist them.
"That's where the magic begins," Georgiev said. Charlie starts analyzing the user's account, crunching numbers, and comparing the transactional data to that of other users. The chatbot identifies any abnormal issues in the user's finances and lets them know about any immediate areas where they can save.
"We take the data and figure out their income and where they're spending money," Georgiev said. "We basically build a budget on the backend and look at when money is coming in and where it's going."
He said users' needs differ, depending on how long they have been using Charlie. New users tend to like to see some big wins, while users who have been using Charlie longer appreciate seeing the big picture.
"The first thing most people want is help doing a better job with the bills they already have," Georgiev said. "So we analyze the data and say, 'Hey, you're getting charged way too much for your Comcast bill compared to people around you; here are some options for a better deal.'"
Georgiev added that Charlie spoon-feeds these helpful tidbits to users over time so he doesn't overwhelm them with information. This also helps the team behind Charlie better understand which bits of information prove to be most valuable for users.
Once users have gotten to know Charlie a little better, he will ask them about their savings goals or help them determine how much they should save each week for an upcoming vacation, Georgiev said. Charlie will also send messages if it looks like a user is in danger of becoming overdrawn or to remind him or her of a bill that's coming due.
"We start small at first. We save a little money here, we avoid a few fees over there, and pretty soon, you'll start to notice a bigger bank account. Over time, the savings continue to add up, then you're well on your way to a financially healthier, wealthier you." — Charlie
All of the interactions take place in plain language between the user and Charlie. There are no complicated commands or keywords to remember. And the more interactions Charlie has with people, the smarter he gets.
User Satisfaction and Data Security are the Company's Highest Priorities
Georgiev emphasized that although users provide Charlie with their bank account and credit card credentials, the penguin does not have the ability to touch funds or execute any transactions.
"We take security and privacy very seriously," Georgiev said. "We know that if there's ever any breach of trust, that's a company-ending event. If users decided we're not doing the most honest thing with their data, then we're done."
He said the company never sees users' passwords, usernames, or any other sensitive information. All data is securely stored and anonymized.
Watch on
Georgiev said the Charlie team is also very interested in collecting user feedback and learning how to make Charlie better.
"If you sign up for Charlie, he's super needy for feedback," he said. "He actually asks for it a little bit too much."
Georgiev said the company asks users to rate Charlie on a scale from 1 to 10 at the end of the first day, first week, and first month of using the chatbot. The team also makes efforts to simply have conversations with users to elicit earnest feedback and learn how to improve upon Charlie.
"If Charlie is talking to the user and it seems like he isn't helping, or the user is stuck, Charlie will ask the user to include '#feedback' in their message," Georgiev said. "That acts like a buzzer in our company Slack channel and somebody will jump in to assist the user as soon as possible."
The company also monitors disconnect and deactivation rates, he said, but the rating scale and garnering feedback directly from users are the most valuable methods for improving Charlie.
Demographics are also important to the team behind Charlie. Georgiev said a lot of finance-related products are geared toward serving men in big cities who are wondering about diversifying their portfolios or investing in Bitcoin. He said Charlie is made for the average American to gain insight into their finances and save money. Currently, 80% of Charlie users are women, and the average user is 27 years old and makes $40,000 per year.
A Smarter Dr. Charlie is Forthcoming and Will Offer an Improved Onboarding Experience
In the coming months, new users to the platform will gain access to Dr. Charlie, Georgiev said. As Charlie has gathered more data and interactions over the past couple of years, he has become a lot smarter. New users currently don't get to experience the full benefits of Charlie, so Dr. Charlie will allow them to take advantage of certain features earlier in their experience.
"Dr. Charlie will create a prioritized list that highlights things the user is doing really well and celebrate those," he said. "That's something I'm really excited about because most personal finance products don't do that."
Georgiev said just having that positive reinforcement of good user habits will help Charlie's users strive to do even better. Then, Dr. Charlie will also offer some gentle advice about areas where he thinks he can help users do even better.
The U.S. has a long way to go in its efforts to support financial literacy, but in the meantime, Charlie the friendly penguin will be there to help users get a better grasp on their finances and alleviate some of the anxiety around dealing with money.
Advertiser Disclosure
BadCredit.org is a free online resource that offers valuable content and comparison services to users. To keep this resource 100% free for users, we receive advertising compensation from the financial products listed on this page. Along with key review factors, this compensation may impact how and where products appear on the page (including, for example, the order in which they appear). BadCredit.org does not include listings for all financial products.
Our Editorial Review Policy
Our site is committed to publishing independent, accurate content guided by strict editorial guidelines. Before articles and reviews are published on our site, they undergo a thorough review process performed by a team of independent editors and subject-matter experts to ensure the content's accuracy, timeliness, and impartiality. Our editorial team is separate and independent of our site's advertisers, and the opinions they express on our site are their own. To read more about our team members and their editorial backgrounds, please visit our site's About page.