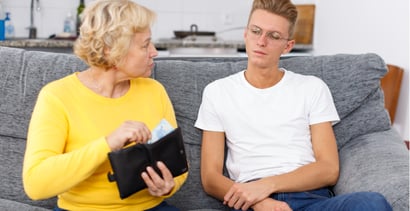 Teaching children of any age about wise credit usage is smart. By their 18th birthday, they should understand how to borrow money and repay a credit card responsibly and advantageously.
Of course, young adults will probably make a few mistakes along the way, and as a parent you may be called on to help. Providing financial assistance under the right circumstances is fine, but there are many other occasions when declining the request may be the better decision.
Here are seven reasons to stop bailing your kids out of debt.
1. Their Hand is Always Out
As parents, helping children out of a jam is par for the course. That may include paying off a credit card balance that has grown out of control. However, if your life raft becomes expected rather than appreciated, it's time to stop throwing it out.
Assess your child's attitude. If it seems he or she is coming to you time and time again without sufficient gratitude, it's a sign to reel it in. Even if you do get a heartfelt "thank you," you can't be expected to save the day on a regular basis.
Bailouts should be rare, and the request justified. Otherwise, even the nicest child will begin to view you as the piggy bank that never runs dry.
One of the problems may be that your child has too much access to credit. Encourage them to start small, then work their way up. A secured credit card where your child puts a cash deposit down can be ideal. The credit lines are typically small, and they'll know that, if they falter on the payments, their own funds are at risk.
2. They Have the Way But Not the Will
Shopping with a credit card is the fun part. It's the repaying part that's such a drag. It must be done, though, by ensuring there is sufficient income to manage the upcoming bill.
If your child can get a job but hasn't done so — or is working but on a part-time or sporadic basis — your cue is not to open your checkbook.
Instead, encourage your child to find the means to make the payment. A payment may be made late in the meantime, but a credit reporting ding (and a penalty fee) may be an incentive to correct their financial missteps.
3. They Have a Bad (or Non-Existent) Budget
Overspending almost always leads to overwhelming debt. To keep charges within reason, your child needs to first develop a spending plan – aka a budget. With it, they will know how much they have to spend on essentials before turning to a credit card to cover extras. Debt will creep up if they don't develop and stick to a realistic spending plan.
Remember: It is not your responsibility to cover the cost of your adult child's vacations, salon visits, dinners out, and new clothes. If they don't have the money now, they should either save for the luxuries or earn more to pay for them.
4. Addiction is Driving the Debt
One of the worst issues any parent can contend with is a child who is suffering from a substance abuse disorder. In addition to other serious consequences, high debt can mount up. If your child has access to credit, they may charge up to the limit, fast and repeatedly.
Whether your child is buying items for resale or taking out cash advances, the money is almost surely not going toward something positive. Making their payments for them will enable your child to keep using the card to support a dangerous habit.
If you believe your child has an addiction problem, consider using the money for something productive, like therapy or rehab, instead of using it to pay down the debt.
5. They Were Supposed to Repay You But Didn't
"If you can help me out with this bill, I promise to pay you back later!" Somehow, though, you were never repaid.
As a parent, you certainly don't want to assume the role of a debt collector and chase your child around for payment. Their broken promise puts you in an uncomfortable position.
Even if the request for money was made for a legitimate problem, hesitate to lend more. Either your child didn't take you seriously and failed to respect the arrangement or something else is going wrong.
Don't go down this path again. Insist that your child satisfy the initial debt by setting up a feasible payment plan. Divide what is owed into equal installments and request to be repaid on the same day each month.
After the debt is paid in full, you can revisit the possibility of issuing future loans.
6. You Already Said, "Never Again."
And then there are your own pledges that you must keep. Stick to your guns if you told your child that you were not going to be the bank of mom and dad again and would not give out any more money to handle their debt.
Of course, it will be hard to say no when your child is facing a delinquent bill or escalating debt, but you have to respect yourself.
In the future, try not to make such vows when you're angry. You may be open to stepping in and helping next time. Making a strong declaration that you willingly go back on creates an opportunity to be taken advantage of.
7. It's Putting You in Financial Jeopardy
As a generous, caring parent, you may be assisting your child to your own detriment. Immediately suspend all financial gifts if you are having trouble meeting your own bills, especially critical expenses, including housing, food, transportation, utilities, and medication.
It needn't be that dire, however. You deserve to fund your retirement account, enjoy your own life with trips out of town, activities, and meals at nice restaurants. You've earned it.
Hit the brakes if ensuring that your child maintains a pleasant lifestyle by keeping their debt to a minimum is impairing your own standard of living. You're not respecting yourself.
The Exception: Cosigned and Authorized User Debt
There are exceptions to every set of rules, and in this case, it's when you and your child are connected to the same credit card. This can happen in two ways: you cosigned the account or you made your child an authorized user on your credit card.
If that's true for you, the account is being listed on both of your credit reports and factored into your credit scores. You do not want to sacrifice your own credit rating just to make a point.
If you cosigned a credit card so your child can have a credit card in their name, both you and your child are equally liable for the balance due — even if you didn't make any of the charges. Therefore, if your child is not capable of making the payments, consider this your opportunity to conduct one final bailout. Use your personal funds to satisfy the entire debt obligation and then shut the account down.
In general, a credit card issuer will not close a credit card unless the debt is paid off.
If you don't have enough money on hand to pay the card's debt off, consider opening a 0% APR balance transfer credit card. With it, you can shift the balance from the current card to the new account. Depending on the balance transfer credit card, you can have a year or more to repay the debt before any interest is added and the normal interest rate goes into effect.
The process is not free; you may be charged a balance transfer fee of between 2% and 4% of the balance.

The solution is simpler if you made your child an authorized user on an account that is solely in your name. In this situation, the credit card account appears on both of your credit reports, but only you are the account owner. You can remove your child from the account in moments with a phone call to the issuer, and you don't have to pay the balance off to have them removed.
You will want to remove your child from authorized user status if they have abused their privileges, especially if it's putting you behind or causing you stress. You will be on the hook for any debt your child incurred, and if the balance is so large that the payments are too high for you to cover, your credit history will be damaged and your credit scores will decline.
Set Financial Ground Rules Early
It's never too early to educate your children about how to use a credit card responsibly, nor is it too late to set ground rules about what can happen if they get into financial trouble. The fact is, you won't be doing them any favors by allowing them to constantly acquire debt when they know that you'll always come to the rescue.
Advertiser Disclosure
BadCredit.org is a free online resource that offers valuable content and comparison services to users. To keep this resource 100% free for users, we receive advertising compensation from the financial products listed on this page. Along with key review factors, this compensation may impact how and where products appear on the page (including, for example, the order in which they appear). BadCredit.org does not include listings for all financial products.
Our Editorial Review Policy
Our site is committed to publishing independent, accurate content guided by strict editorial guidelines. Before articles and reviews are published on our site, they undergo a thorough review process performed by a team of independent editors and subject-matter experts to ensure the content's accuracy, timeliness, and impartiality. Our editorial team is separate and independent of our site's advertisers, and the opinions they express on our site are their own. To read more about our team members and their editorial backgrounds, please visit our site's About page.