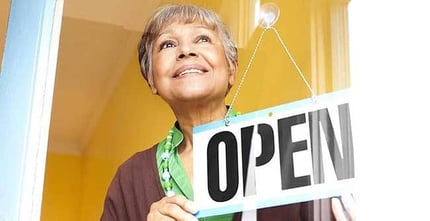 Our popular "How-To" series is for those who seek to improve their subprime credit rating. Our articles follow strict
editorial guidelines
.
Building a successful business is challenging enough. When you have bad credit, the odds are even more stacked against you.
However, if you are committed to making your business work, you can get over this problem. There are a few financing strategies you can use to keep your business running until your credit situation improves.
1. Lease instead of buy
With a bad credit score, it will be difficult to find loans to buy new equipment, land or buildings for your company. However, credit standards are much looser for leasing.
When you lease, you rent the equipment or building from someone else. You'll pay a bit more per month and won't own the asset, but you'll get to use the asset you need until your credit score improves.
 2. Use factoring to speed up payment
Keeping enough cash on hand is a constant struggle for businesses. This can be especially problematic when clients are slow at paying off their invoices.
One way to free up extra cash is to factor off some of your receivables. When you do this, you sell your invoices to a financing company and they collect payment from your clients later on.
This way you get money right away and save yourself the work of collecting on your invoices.
"The Internet has helped create a whole new market

for financing with peer-to-peer lending."
 3. Look to the government for help
The government knows many jobs come from small businesses. They provide financial support to keep companies running.
The best place to look for government help is the Small Business Association. One way the SBA can help you is by guaranteeing a bank loan. The SBA guarantees bank loans to small businesses so you have a better chance of qualifying with this agency's help. The SBA can also let you know if you qualify for any government grants that would give you extra money to build your business.
 4. Apply for peer-to-peer lending
The Internet has helped create a whole new market for financing with peer-to-peer lending.
On these websites, business owners can apply for small loans from individuals. This gives you a chance to promote your business and explain your past credit problems.
Since you're dealing with individuals instead of formal institutions, you're more likely to find someone willing to overlook your weak credit history, especially if you describe your business well.
Alternatively, you could apply for a loan specifically designed for people with bad credit.
 5. Turn to family and friends
If your family and friends believe in your business, they may be able to help you out financially with a personal loan. Since you're dealing with people you know, they likely won't ask for a credit check so your bad credit won't matter.
Just be very careful about paying the money back. If you mishandle a personal loan, you could damage a close relationship along with your business.
 6. Build credit as you can
You need to build up your business credit score as quickly as possible. While your bad score will prevent you from qualifying from a large bank loan or line of credit, you likely can still get a small credit card like a gas or office supply rewards card.
Use this card and be sure to make all your payments on time. Over time your business credit score will go up and you'll be able to qualify for more financing options.
Don't let your credit score get in the way of your dream of owning a business. Use these techniques to keep things running until you fix your credit and have more financing options available.
Photo source: visualphotos.com.