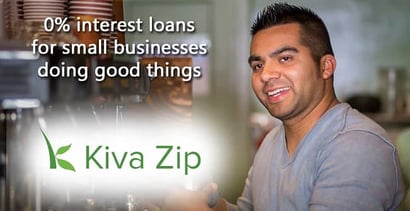 In a nutshell: Kiva Zip is a nonprofit program that offers small business owners interest-free loans through a process called "social underwriting" that ignores collateral, cash flows and credit scores.
When you have a bad credit score, you're a much greater risk in the eyes of lenders. How do they know if you'll repay your loan on time and in full? Your interest rates go up and the amount you pay over the life of a loan or credit card skyrockets.
This makes many goals, such as starting a small business, out of reach for people with subpar credit.
But what if there was a way to get a small business loan that completely ignores your credit history? And what if that loan charged zero percent interest?
"It sounds too good to be true, but it really is true," said Jonny Price, senior director of the Kiva Zip program, a group that cordinates crowdfunded interest-free loans for small business owners.
In case that name sounds familiar, the program is an extension of Kiva, a nonprofit organization that provides interest-free loans to entrepreneurs in rural parts of developing countries.
Using "Social Underwriting" to Expand Access to Capital
Kiva Zip works by connecting borrowers with lenders from all over the world. Anyone with an Internet connection can donate increments of $5 to help borrowers improve and grow their businesses. Borrowers then use those funds to expand their business and then pay back the lenders over an agreed-upon time frame.
Lenders receive their original investment (without interest) and are free to keep it for themselves or reinvest in another Kiva borrower.
The typical Kiva borrower is one who would otherwise have a hard time finding loans due to their location, existing debts, poor credit score or other factors that might deter conventional lenders.
"Rather than looking at credit scores and collateral and cash flows, we look at the borrower's character and their trust network," Price said. "We call it social underwriting. We're trying to look beyond the credit score when we make loans."
"Rather than looking at credit scores and collateral and cash flows, we look at the borrower's character and their trust network. We call it social underwriting. We're trying to look beyond the credit score when we make loans."
Minimizing Risk Without Credit Scores
Even if borrowers have excellent credit, tons of collateral and great cashflow, Kiva Zip does not use the typical data a conventional financial institution would rely on.
Naturally lenders would be wary to commit funds to a borrower if there's no metric by which to judge their creditworthiness. However, the program has four components to entice lenders to contribute to the loan.
The Kiva Zip team manually reviews all loan requests they receive. "If there's any suspicion of fraud or problems like that, we'll catch those and prevent them from applying for a loan," Price said.
Each borrower has a page featuring their story, endorsements from friends and families, fundraising goals, repayment terms and more. There are even options for communicating directly with the borrower to learn more about their business and goals.
Each loan requires a trustee, which is a person or organization that vouches for a specific borrower. The trustee's profile (located on the borrower's page) shows why they're providing the endorsement, as well as how many loans they've endorsed and the successful repayment rate of those previous loans."The repayment rate of the trustee can be established and the lender can use that as a data point in helping them to make a decision," Price said.
Every potential borrower must recruit 15 people from their network of family and friends to provide contributions (as little as $5 each) before Kiva Zip will list the loan publicly. "We've found that's a great determinant of the repayment rate of the loan. Small business owners who aren't really committed or don't have that entrepreneurial spirit or the ability to hustle and make things happen… their loans will expire."
Kiva Zip also has no effect — positive or negative — on a borrower's credit score. Even if they're delinquent on a loan or pay it back weeks ahead of time, Kiva never reports the information to credit scoring bureaus.
"The main incentive for borrowers to pay back their loans is the social commitment," Price said.
The Growth of Kiva Zip
While traditional financial institutions might not like the idea of lending money on the basis of someone's character, Price said Kiva Zip has seen a 90 percent repayment rate since the program began more than two years ago.
"That's in line with a lot of microloan programs in America," he said. "Lenders are only lending around $5, $25 or $50, so their tolerance for risk tends to be higher than a bank that's lending $50,000 or $100,000 lump sums."
As of publication, Price said Kiva Zip just passed its 850th loan and is on track to reach number 1,000 by the end of 2014. He expects the program to offer around 1,500 loans in 2015.
Public Partnerships
The program also has been generating a number of public partnerships as well. For example, the city of Oakland, California, became a trustee for local borrowers in the summer of 2013, sponsoring up to three borrowers at a time.
More recently, the County of Hawaii offered a grant to help match loans for local food producers following a severe drought in 2014.
"A lot of cities are seeing Kiva Zip as a program that can really reach into their communities to help small businesses," Price said. "These cities can do that in a way that's pretty cheap to them. This program isn't going to cost the cities millions in funding. If the city can help us get the word out, we can digitally reach out to small business owners in those cities."
Kiva Zip in Action
A little more than two years ago, Lani Jo Leigh and her husband purchased the Clinton Street Theater, a 100-year-old landmark in Portland, Oregon. Leigh and her husband use the theater to screen niche and cult films, art exhibitions, live music, activist events and other progressive endeavors.
As one might expect with any century-old building, Leigh had to invest considerable time and money in renovations for her labor of love. To look for funds, she turned to Kiva for a $5,000 loan.
"I'm raising the Kiva loan for concession stands," Leigh said. "We have a very tiny lobby, and I think if we could build a concession stand that's more streamlined and functional, we'll be able to serve people better."
Why didn't Leigh turn to a traditional bank for loans?
Although she doesn't run her theater to turn a profit, Leigh's theater is registered as an limited liability company (LLC) as opposed to a nonprofit 501(c)3.
She believes "that we can do more for the local community by remaining independent [by] avoiding all of the red tape associated with maintaining a nonprofit status." Because of this, she said she has difficulty finding grants and other programs geared toward nonprofits.
On top of that, she said she'd already taken out a substantial loan with a local bank just to get the business up and running.
"We already owe the bank over $80,000," Leigh said. "We took out a home equity line of credit (HELOC) on our house to buy the business, so I'm already in debt to the bank. I didn't feel like I could turn around and say 'Hey, loan me a lot of other money.'"
However, with help from her trustee Rebecca Parker and 175 lenders around the world as far as Norway, Israel, Taiwan and Australia, she was able to raise the $5,000 two weeks ahead of her fundraising deadline.
"What's so amazing is that there's people all over the world that are investing in my theater," Leigh said. "People really believe in what I'm doing and they're willing to take a risk that I'll pay them back."
"What's so amazing is that there's people all over the world that are investing in my theater. People really believe in what I'm doing and they're willing to take a risk that I'll pay them back."
Leigh herself is now an active Kiva lender. However, she gave herself a $100 lending limit, fearful that she'd become too zealous with her lending — "There's so many different things I want to contribute to!"
As part of their 100th anniversary festivities, the Clinton Street Theater will be screening the original "Lassie Come Home" on Saturday, Sept. 20.
Advertiser Disclosure
BadCredit.org is a free online resource that offers valuable content and comparison services to users. To keep this resource 100% free for users, we receive advertising compensation from the financial products listed on this page. Along with key review factors, this compensation may impact how and where products appear on the page (including, for example, the order in which they appear). BadCredit.org does not include listings for all financial products.
Our Editorial Review Policy
Our site is committed to publishing independent, accurate content guided by strict editorial guidelines. Before articles and reviews are published on our site, they undergo a thorough review process performed by a team of independent editors and subject-matter experts to ensure the content's accuracy, timeliness, and impartiality. Our editorial team is separate and independent of our site's advertisers, and the opinions they express on our site are their own. To read more about our team members and their editorial backgrounds, please visit our site's About page.