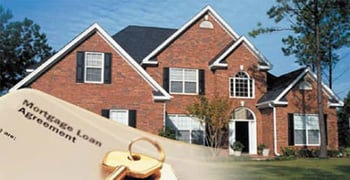 Our popular "How-To" series is for those who seek to improve their subprime credit rating. Our articles follow strict
editorial guidelines
.
In the years following the housing bubble and accompanying economic downturn, buying a home became a terrible financial decision. Recently, things are looking a lot better. In fact, home sales have been on a steady rise for the past few years in most housing markets. At the same time, mortgage interest rates are still near historic lows. So, now may be a great time to start house hunting. But what if you happen to have bad credit?
"Buying a home when you have

bad credit is more difficult,

but it is possible."
These days, many Americans have credit scores that are worse than they were before the economic crisis hit. If you are one of them, there are options available to you that allow you to buy a home and begin building equity.
This guide has been created to help you understand the different options and how you can make them work for you:
Work to Improve Your Credit
The type of mortgage you qualify for and the interest rate you will pay are heavily dependent on your credit score. Improving your score by even a few points can mean hundreds or even thousands of dollars saved. If you have not done so already, get a free copy of your credit report and comb through it for errors or incorrect data. Disputing any errors can raise your score almost immediately. Also, paying off one or more credit cards may improve your score.
Military veterans can qualify for a VA loan on most homes for sale. But even if you did not serve in the military, there are federal programs that can help you obtain a mortgage. The Federal Housing Administration [FHA] offers FHA loans for people with less than perfect credit. Many FHA loans do not have a minimum credit score requirement, and they often require a down payment of only 3.5 percent. The only exception is if your credit score has fallen below 580, the FHA loan may require up to 10 percent down in order to qualify.
Some mortgage companies will allow a co-signer to help you qualify for a home loan. Typically they will have to be relatives, such as a parent or grandparent. This can be a good option for someone who is confident they can make the payments, but otherwise would not qualify on their own credit history.
Owner financing is not very common, but it does occur. This is where the owner of a home allows you to purchase it and make payments directly to them. There are risks with a loan of this type, both for the seller and buyer. But if the deal is structured carefully, it can mean buying a home without the strict mortgage lender requirements.
Some lenders are willing to take a chance on someone with bad credit, although not as many as in the past. Loans such as these are known as sub-prime mortgages, and are heavily scrutinized by the banking and lending regulators. If you can find a lender willing to give you a sub-prime loan, chances are that you will be paying as much as 6.25 percent over the prevailing rate. I recommend against this type of loan, and would suggest working toward improving your credit score first.
Consider Buying a HUD Home
The U.S. Department of Housing and Urban Development [HUD] sells homes that have been foreclosed on by the FHA. They often require lower down payments and a lower minimum credit score to qualify. There are also special discount programs for certain occupations and geographic locations.
Having bad credit is not an easy situation to deal with. It is worth every effort that you can make to try to raise your score. When it comes to the interest rate on a mortgage, even a few points in your favor can mean thousands of dollars saved. You will be glad you made the effort to raise your score!
Photo:alba24.ro