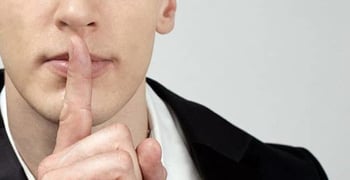 BadCredit.org publishes personal finance studies on the latest trends in the subprime marketplace. Our articles follow strict
editorial guidelines
.
If you're meeting someone for the first time and trying to come up with a topic for conversation, don't bring up credit card debt.
According to a recent poll, Americans rate credit card debt as the worst topic to discuss with someone they just met.
Americans were asked to rate how likely they would be to discuss a topic with strangers. Participants were asked to choose between very likely, somewhat likely, somewhat unlikely and very unlikely as their answers.
Eighty-five percent of respondents said they would be very unlikely or somewhat unlikely to discuss credit card debt with a stranger, making it the worst rated category.
"Details of your love life" was second worst at 84 percent and "your salary" came third at 80 percent.
"Eighty-five percent said they would be unlikely

to discuss credit card debt with a stranger."
Younger Americans were a bit more open to discussing credit card debt than older Americans. However, even 79 percent of Americans between 18 and 24 years old were not comfortable talking about credit card debt with a stranger.
This is likely because Americans view debt as a sign of personal failure since the recession started. It makes them feel bad to reveal they are struggling with debt. If you're still drowning in a sea of debt, contact a debt relief service to start getting your finances in order again.
Before the market crash, this wasn't such a taboo topic because most people were living off credit and it didn't seem like a problem. Today, it's a different story.
If you need something to talk about, the vast majority of participants were comfortable talking about the weather, the price of gas and their age with strangers. Leave talking about debt with your family and close friends.
Source: Fox Business. Photo source: whohesaysthatiam.wordpress.com.