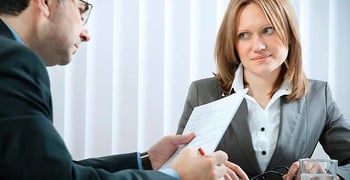 BadCredit.org publishes personal finance studies on the latest trends in the subprime marketplace. Our articles follow strict
editorial guidelines
.
We all know employers these days often use credit checks as a way to screen job candidates before making the decision to hire. So it's a bit of a surprise to learn fewer companies today are using this practice than just two years ago.
According to a new survey released by the Society for Human Resource Management (SHRM), only 47 percent of companies performed credit background checks on job applicants in 2012 versus 60 percent in 2010.
The survey also showed of the organizations that did rely on these credit checks, 80 percent reported hiring a candidate that had negative marks on their credit.
"Of the organizations that use credit checks,

80 percent hired a candidate that had negative marks."
Companies that participated in this survey reported the most important factors when choosing a candidate were previous work experience, a good fit with the job and organization and the specific skills needed for the job.
The least important factors were a candidate's financial and credit history.
The survey showed reasons for a background credit check were to reduce theft, with 45 percent of respondents stating this as the primary purpose. Twenty-two percent cited liability for negligent hiring.
Perhaps the most encouraging message to job candidates who have negative credit history is the fact 64 percent of employers take a candidate's explanation into consideration when making a decision to hire.
This should tell job seekers the best course of action is to be honest with an employer about their credit history and come to the interview prepared to fully explain the causes of it.
Source: CBSNews.com. Photo source: news.com.au.