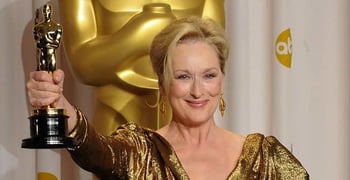 Experts share their tips and advice on BadCredit.org, with the goal of helping subprime consumers. Our articles follow strict
editorial guidelines
.
With the Academy Awards approaching on Sunday, March 2, many of us are debating which nominees are most deserving of an Oscar.
But when you've worked hard on improving your finances, you may feel like you deserve some recognition, too. Here's how to get your credit score so good that you'll feel Oscar-worthy.
1. Use tools to establish credit.
Some people are completely against the concept of debt and don't want a credit card or anything that could get them into trouble.
That's all good and well, but if you don't have any loans or credit cards, you can't build credit. Cash and debit cards won't help you.
Having a credit card doesn't necessarily mean you will be in debt. Just make sure to have a credit card in your name, make an occasional purchase and pay off the balance right away to avoid interest payment.
The simple act of using a credit card or opening a loan will help establish credit in your name.
2. Never miss a payment.
One of the quickest ways to damage your credit is to pay your bills late. Plus, depending on your credit card agreement, your issuer may increase your APR to a high penalty rate even if you pay late just once.
Always pay your credit card, loan, phone and utility bills on time every month to keep your credit Oscar-worthy.
If your problem is forgetfulness, set up calendar alerts or enroll in automatic bill payments.
If your issue is you don't have enough money to make ends meet, ask your issuer if they can make any accommodations or consider working with a credit counselor to negotiate different payment terms you can manage.
"Don't close down the account

if you want to win an Oscar."
3. Keep your balance low.
Your credit utilization rate — in other words, how much of your available credit you use at any given time — is another factor in your credit score.
Not needing to use all of your available credit makes you look like a responsible borrower. According to credit bureau Experian, the less of your credit you need to use, the better.
They recommend never using more than 30 percent of your available credit. This means if you have a $30,000 credit limit between all of your cards, you should never carry more than a $10,000 total balance at any time if you can help it.
Borrowing more than that shows you are relying too heavily on borrowed money.
4. Don't close accounts early.
Some things get better with age, including credit cards. Another factor in your credit score is the longevity of your accounts.
When you have accounts with good standing open for long periods of time, it helps your score.
If you're trying to cut back on credit card usage, your inclination may be to completely close your credit card accounts. While it's wise to reduce your reliance on plastic, don't close the account if it's been open for years. Keep the card.
If temptation is an issue, freeze it in a sheet of water or even cut it up. Just don't close down the account if you want to win an Oscar for good credit.
Photo source: bp.blogspot.com