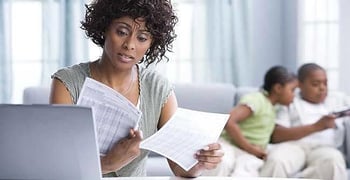 BadCredit.org publishes personal finance studies on the latest trends in the subprime marketplace. Our articles follow strict
editorial guidelines
.
When it comes to money priorities, Americans are focused on the basics: paying their bills on time and paying off their debt.
The financial website Bankrate.com ran its third annual Financial Security Survey to see how American households are doing financially. This survey asked respondents to list their top financial priority for the year.
Of the survey respondents, 36 percent said their top goal was simply to pay all their monthly bills on time while another 23 percent were trying to pay off debt.
Only 18 percent said their main goal was to increase their savings.
This survey shows Americans are still suffering in today's economy as respondents are struggling just to pay off their monthly bills and can't focus on the long term.
"Thirty-six percent said their

goal was to pay their bills on time."
It's possible the situation may have gotten worse as more respondents listed just paying the bills as their top goal this year than a year ago, while fewer are focused on saving and paying off debts.
One problem is Americans are uncertain about their job stability. Twenty percent of respondents feel less secure about their jobs than a year ago while only 17 percent feel more secure.
This survey did have some good news, though.
Twenty-nine percent of participants said their net worth has gone up over the past year compared to only 16 percent who reported a drop in net worth. This reflects that the stock and housing markets are doing better.
Unfortunately, the results of the Bankrate survey show times are still tough in America. Hopefully the economy continues to recover so Americans have more money after their monthly bills that can be used for long-term financial goals.
Source: cbsnews.com. Photo source: visualphotos.com