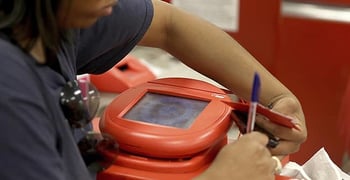 Our popular "How-To" series is for those who seek to improve their subprime credit rating. Our articles follow strict
editorial guidelines
.
This holiday season, shoppers got a bit of a wake-up call.
Hackers managed to break into the credit databases of Target and stole the credit and debit card records of millions of shoppers.
There are a few important lessons to take from this situation that you should keep in mind, especially if you think you may have been affected by the Target breach.
1. Regularly review your account statements.
The Target breach shows your credit information can be stolen at anytime.
As a result, you should be regularly keeping an eye on your credit and debit card statements to make sure there are not any problems.
With the Internet, you can instantly log into your accounts and see whether there are any fraudulent purchases. It's a good idea to check your statements every week.
If you wait until you get your monthly paper statement, it gives thieves too much time to cause trouble. 
2. Report fraud immediately.
If you notice fraudulent purchases on your accounts, you should call up your bank or your credit card company immediately and report the problem.
This is because the liability protection on your accounts ends after a certain amount of time, usually after 60 days. If you do not report fraudulent purchases by then, you might need to cover the cost yourself.
3. Check your credit report for fraudulent accounts. 
The Target identity thieves primarily focused on stealing the card information from shoppers so they could make purchases.
However, other hackers look to steal your personal financial information like your Social Security number so they can open new accounts under your name.
To make sure you don't have your identity stolen, you should order a copy of your credit report at least once a year.
"Check through accounts under your

name and confirm you authorized them."
4. Consider signing up for credit monitoring.
Target knows they let their customers down and one way they are looking to make amends is by offering to pay for credit monitoring.
Credit monitoring is a service when the rating agencies keep an eye on your credit report and report any suspicious activity to you, like a new large account opening up under your name. This helps you identify problems more quickly.
If you were a victim of the Target breach, you should take advantage of this free service. Even if you aren't a Target victim, it might be a good investment to pay for this service to protect your credit.
5. Remember credit cards are safer than debit cards. 
At the end of the day, shoppers who used debit cards will most likely be hurt more by the Target breach than shoppers who used credit cards.
This is because credit cards offer better fraud protection. If you shop with a credit card and someone steals your account, you are typically liable for no more than $50.
Most credit cards will not charge you anything in the event of fraud.
With debit cards, if you do not report a stolen account within two days of the incident, you may need to cover up to $500 out of pocket.
If you used a debit card at Target, you need to be extra vigilant of your account for the next few months. This incident should also encourage you to start shopping with a credit card instead.
It is a shame events like the Target breach come up. Keep these pointers in mind so you'll be safe even after a bad situation like this one.
Photo: articles.baltimoresun.com