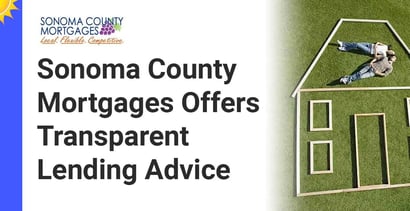 Experts share their tips and advice on BadCredit.org, with the goal of helping subprime consumers. Our articles follow strict
editorial guidelines
.
In a Nutshell: Scott Sheldon founded Sonoma County Mortgages more than a decade ago to help would-be homebuyers understand the ins and outs of the market. Scott offers advice that explains mortgage loans, interest rates, and inflation to a diverse readership. Meanwhile, New American Funding helps borrowers improve their credit scores and purchase homes. Together, the educational and loan arms get families in Sonoma County, California, and beyond into their own homes. 
When mortgage rates increase, some would-be homeowners wonder if it is the time to buy. 
Scott Sheldon, the Founder of Sonoma County Mortgages and Branch Manager at New American Funding, suggests that buying a home with a higher-interest mortgage may not be a bad idea. Even if someone buys a home with a high-interest loan, they can always refinance when rates fall. 
Sheldon said he regularly addresses the timing of when to buy with his clients. After more than a decade in operation, he has seen his share of market variations. 
"It's always that balancing act, in my opinion," he told us.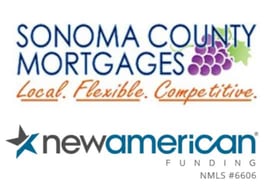 Nationally, mortgage volume is down, and mortgage companies are going out of business. That means that fewer loans are being issued, which drives up interest rates. But the current inflation is not sustainable, according to Sheldon. If the United States goes into another recession, mortgage rates will also fall. 
The conversation Sheldon said he is frequently having with clients is that they should not be afraid to buy a house in today's market for a couple of reasons. To start, if there were a 1% reduction in mortgage rates, someone taking out a $500,000 mortgage today at 6% interest would save around $400 a month. And rates will eventually go down. 
Another reason buyers should consider buying now is that when interest rates drop, more people will be able to qualify for loans, meaning that there would also be more offers on available homes, which in turn will drive home prices up, even if mortgage rates themselves are lower. 
"It's always that balancing act. It's going to be way easier to refinance your house and exchange your 6% mortgage rate when the market goes down, rather than waiting, seeing what happens, rolling the dice, and then being up against other offers. If that happens, you might be in a bidding war again, depending on what market you're in," Sheldon said. 
Launched to Provide Trusted Services and Information 
Sheldon created Sonoma County Mortgages in 2010, just after the US came out of a financial crisis. At that time, there was so much misinformation available related to home loans that Sheldon wanted to set the record straight. 
"I had clients tell me repeatedly, you're very articulate; you can explain this in a simple way. And a friend of mine at the time said, 'Hey, you should start a blog, and put information out there that's real,'" he said. 
Sheldon took his friend's advice and created a website that not only helped families in Sonoma County but consumers around the country make more informed mortgage decisions. His goal is to help would-be borrowers make the most of their money.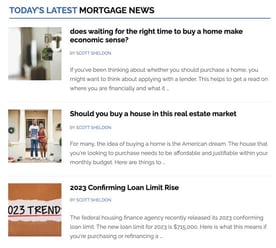 Sheldon said he has seen mortgage trends come and go, so he stays updated on the latest developments in the industry. Right now, many would-be homeowners are nervous about taking the next steps. But waiting may not be the best strategy. 
For one, buyers in higher-interest rate markets are more likely to win the homes they bid on rather than being outpaced by other offers. 
"They can actually get a really fair price on the house, too. Depending on where you are, what part of the country, you could lock in and your property taxes and rates are cyclical," Sheldon said. 
Based on what he has seen in the market, Sheldon said that borrowers unhappy with higher mortgage rates will have the opportunity to refinance for the lower rates over the next year and a half. 
"That's my suspicion based on what I'm seeing in the market," Sheldon told us. 
New American Funding Is a Top Mortgage Servicer
After the success of his blog, Sheldon said he decided to start New American Funding, the lending arm of Sonoma County Mortgages. The local lender has been highly successful and was even named J.D. Power and Associates' top mortgage servicer in 2022.  
New American Funding is highly rated, in part, because the team understands the local market. The team knows local real estate agents, sales prices, purchasing power, and activity.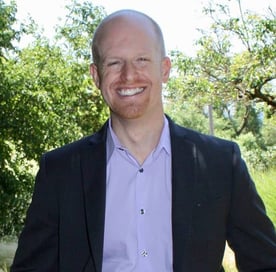 Borrowers often discover that national lenders don't understand the ins and outs of the local market. For example, national lenders may struggle to find a local appraiser, a problem for time-sensitive homebuying. National lenders also may not know whether a home needs a special assessment for flood or fire.
"There's a whole barrage of different elements that can come into play that only somebody local would have at their fingertips, and that's the value that consumers would find with us," said Sheldon. 
Another benefit of working with New American Funding is that it continuously seeks out innovative solutions for customers. Soon to be rolled out is a program that can help someone who is looking to purchase a home become a cash buyer. The mortgage team will buy a property in cash for the client, then sell it back to them with financing provided by the organization.
"If they have another house to sell, and all the equity is in one house, and they don't want to make a contingent offer, they can have us buy the house for them in cash. Then, they can sell the other house after the fact," Sheldon said. 
Education and Advice for Would-Be Homeowners 
Not every would-be homebuyer who comes into New American Funding qualifies for a mortgage. But Sheldon and his team are always willing to offer clients advice about how they can improve their credit scores, which, in turn, can improve their likelihood of success. 
Sheldon shared the story of helping one buyer boost his FICO score by paying off old credit cards. Having a cash-positive bank account improved the client's credit score significantly. 
"They're euphoric right now. We told them what to do. We told them what it would take to do it and they did it," Sheldon said. 
Unfortunately, Sheldon estimates that only about 30% of clients actually take his advice. 
"About 30% will actually do what we tell them to do, despite our proactive, robust followup efforts to remind them. The other 70% they just don't do it," he said. 
Sheldon said he thinks the larger percentage that doesn't improve their credit may face issues with emotional spending or defeatism. He said he often finds that those who struggle with credit have problems with overspending.  
Still, Sheldon and his team hope that would-be homebuyers across the credit score spectrum come to Sonoma County Mortgages and New American Funding for advice. 
"I don't care if someone has a really ugly credit score. It's not about the loan and the transaction, it's about helping a family be successful. I tell folks, 'This is where you are. This is where we're going and how we're going to help you get there.' That's what I love about New American; our company is in alignment with those values," he said.