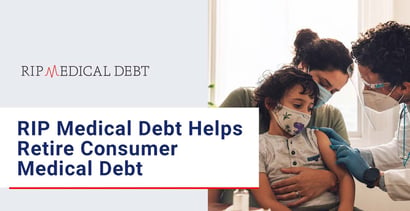 In a Nutshell: Medical care is a basic necessity, but medical debt can be a crippling burden that drastically reduces people's quality of life. RIP Medical Debt is a nonprofit that buys debt on the secondary market and from hospitals and doctors' groups and then forgives it, helping people make clean starts toward stronger financial positions. This mission is more important than ever in the wake of the COVID-19 pandemic, when many people have lost both their jobs and health insurance and are sometimes faced with long hospital stays. But RIP Medical Debt's mission will remain crucial for as long as the healthcare system continues to place the greatest financial burden on those least able to shoulder it.
In 2011, Jerry Ashton was working in the debt collection industry and living in lower Manhattan's financial district. There, he had front-row seats to the Occupy Wall Street gatherings and demonstrations based out of Zuccotti Park.
Ashton, a former Navy journalist and naturally curious, began chatting with some of the activists, and he quickly found himself connecting with a working group that was dedicated to purchasing and paying off medical debt as a charitable act.
The group's mission was about more than retiring medical debt, though. It was about calling attention to the failings of the healthcare system in the United States and the financial burden that falls on individuals least able to bear it.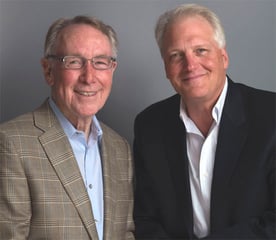 Together with his friend Craig Antico, who also worked in the collections industry, Ashton helped facilitate the working group's process. The group eventually dissolved but not before making an impact — and not least on Ashton and Antico. The pair left their old jobs behind and started a nonprofit organization, RIP Medical Debt, to continue the work that the group had started.
"No one chooses to get sick. No one chooses to be in an accident. No one chooses to be born with a chronic health condition. These things happen to people," said Daniel Lempert, Director of Communications at RIP Medical Debt. "We provide a financial benefit for individuals. We wipe out debts."
The most obvious benefit is the improvement of a recipient's financial situation. They're no longer struggling to pay bills, which means more money can go into savings, retirement, or college funds. But it also reduces emotional stress, which further improves physical wellness and overall quality of life. That, in turn, helps to prevent further medical issues. And when those issues arise, people who are debt-free are more likely and able to seek the care they need.
Medical Bills Can Pose Serious Financial Problems
Medical debt is reminiscent of trickle-down economics—but not in a good way. Medical debt is the number one cause of bankruptcy in the United States.
"More than half of cancer patients in this country, by their second year of treatment, go bankrupt, or become insolvent because they just can't afford that treatment," Lempert said. "We read everyday about individuals who can't afford their insulin. It's a huge issue in this country."


There are any number of ways surprise medical debt can blindside someone. One of the most common is emergency care, which Lempert says can be a "financial death sentence for a lot of individuals." The cost of an ambulance and hospital care can be truly staggering.
The COVID-19 pandemic has only caused the core problems with the medical debt to worsen. Health insurance in the United States is predominantly employer driven, and with so many vulnerable workers laid off during the height of the pandemic—right when they needed medical insurance most—that safety net effectively disappeared.
In addition to endangering people's physical health, the cost also has huge repercussions on their financial well-being. Not only are some consumers left holding massive bills, their credit can also suffer if they miss payments.
"If someone's debt is sold to the secondary debt market to a debt buyer or a debt collector, those entities are even more likely to report to the credit bureaus because they're trying to incentivize you paying," Lempert said. "It decimates people's credit. They can't get a car loan, can't get a mortgage. It's both preventing them from seeking further care and it's casting this wider financial ruin."
Even Wages for the Insured May Not Cover Healthcare Costs
The problem has become prevalent over the past decade as gig work has become more commonplace in the economy. From Uber drivers to freelance writers and graphic designers, these workers receive no benefits—no 401k contributions, no paid vacation, and no employer-based insurance options.
"We've seen that a lot of these big companies are very averse to providing those benefits for workers," Lempert said. "An individual in that situation wouldn't be able to afford a monthly premium. … [When you don't] have an employer helping pay toward health insurance, then it really becomes infeasible for a lot of Americans."
And even when someone does have medical insurance, adequate care can still carry a crippling cost. In states that haven't adopted Medicare expansion, for example, RIP Medical Debt has seen more pervasive medical debt carried by consumers, and that debt tends to reach higher levels.
Part of the cause is a policy's limited coverage of procedures. In addition to high premiums, another major contributing factor is the high deductibles that people have to pay before their insurance steps in and begins providing coverage.
"When you have a deductible that is close to $6,000 or $7,000 or higher, most people don't have that kind of money sitting around," Lempert said. "Most people don't have $300 for an emergency situation."
Secondary Market Offers Access to Medical Debt Relief
Obviously, the problem with medical debt is systemic; it's a result of the dynamics between insurers, care providers, pharmaceutical companies, and a host of ancillary players. To truly address the problems, the system itself must change. But until then, RIP Medical Works within the system as best it can to provide relief.
That relief begins when RIP Medical Debt acquires an individual's debt. This may come via a purchase on the secondary debt market, where hospital administrators who lack the internal resources to pursue collections themselves sell off debts to buyers who will either collect it themselves or farm it out to a third-party collector.
RIP Medical Debt can purchase debt directly from hospitals, but it also works with reputable, vetted debt buyers. Recipients of debt relief are individuals whose income is less than two times the federal poverty level, whose out-of-pocket debt expenses are 5% or more of their gross annual income, and whose debts are greater than their assets.
"Those are the three qualifications we're looking for," Lempert said. "Those are the individuals who are most burdened by medical debt and have the least ability to pay."
RIP Medical Debt uses proprietary technology to identify these individuals, and then it buys their debt in bulk. It's a random lottery in the sense that RIP Medical Debt can only purchase what's available at the time. But it nonetheless provides financial relief for many people who otherwise would suffer the financial and emotional burden of trying to pay off medical expenses that are well beyond their means.
RIP Medical Debt: More Than $4.5 Billion Abolished So Far
RIP Medical Debt is founded on a novel concept. It works in a relatively obscure industry in the sense that many people don't understand the inner financial workings of the healthcare industry, which Lempert describes as "obtuse by design." As a result, the nonprofit's visibility remained fairly low—until it was featured on Last Week Tonight when John Oliver was examining the secondary debt market with a focus on medical debts. That was the boost RIP Medical Debt needed.
"At the end of 2019 we hit $1 billion of medical debt abolished," Lempert said. "That's after being founded in 2014. And since then, it's been a dramatic uptick. At the end of 2020 philanthropist MacKenzie Scott gave RIP $50 million for debt relief. So now, as it stands, we've abolished $4.5 billion for 2.6 million people. And we're rapidly approaching $5 billion."
In the wake of its success, RIP Medical Debt has begun branching out to pursue new goals that advance debt relief. One of those is working against the stigma surrounding medical debt. Simply carrying debt is stressful and causes adverse health effects, but laboring under the false social stigma only intensifies those problems.
RIP Medical Debt is also partnering with economists to study the behavior of people carrying medical debt. If people are already burdened by debt for medical care, they're less likely to seek out additional care, especially preventative care. This also has substantial impacts on people's long-term well-being.
"This is a sort of an under-researched area, [so we're] trying to get a sense of what that impact actually looks like on individuals," Lempert said. "The more we understand the social and emotional benefits of medical debt abolishment, the more we can help those in need."
Advertiser Disclosure
BadCredit.org is a free online resource that offers valuable content and comparison services to users. To keep this resource 100% free for users, we receive advertising compensation from the financial products listed on this page. Along with key review factors, this compensation may impact how and where products appear on the page (including, for example, the order in which they appear). BadCredit.org does not include listings for all financial products.
Our Editorial Review Policy
Our site is committed to publishing independent, accurate content guided by strict editorial guidelines. Before articles and reviews are published on our site, they undergo a thorough review process performed by a team of independent editors and subject-matter experts to ensure the content's accuracy, timeliness, and impartiality. Our editorial team is separate and independent of our site's advertisers, and the opinions they express on our site are their own. To read more about our team members and their editorial backgrounds, please visit our site's About page.