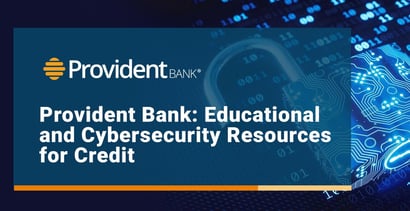 Experts share their tips and advice on BadCredit.org, with the goal of helping subprime consumers. Our articles follow strict
editorial guidelines
.
In a Nutshell: Provident Bank aims to ensure a high-quality experience for everyone, whether they're shopping for a loan or planning their retirement. That includes providing consumers with the financial education necessary to understand and maximize its products and services. The bank's educational resources also include information on cybersecurity, so customers can keep their data safe while banking or shopping online.
In 1839, Provident Bank opened its doors to customers in New Jersey. Back then, it occupied a one-room office, and its first day's deposits totaled $227.
Today, Provident is New Jersey's third-largest bank. It employs more than 1,200 staff members at its 96 branches across New Jersey and Pennsylvania. It now oversees $13 billion in assets.


Provident's growth is a testament to its dedication to providing quality service and experiences to its customers. That is true of each product and service it offers — including its financial education and cybersecurity resources.
Provident emphasizes safety when banking online, and it recognizes that physical bank branches still have an essential place in the market. That's because many people still prefer to visit a brick-and-mortar location and speak to a representative of the institution managing their money.
That remains true despite recent trends toward digital banking and online transactions. Provident's in-house studies show that 58% of its customers still visit branches, and the bank is committed to providing excellent service during those visits.
"We will continue to enhance and invest in our digital banking platform, but the in-person experience is just as important, if not even more important, to us," said Vito Giannola, Executive Vice President, Chief Retail Banking Officer. "The retail landscape is ever-changing. We're constantly moving in that direction. Our priority is, and always will be, to create a convenient and a best-in-class banking experience for our customers."
Personalized, Proactive Service Delivers Relevant Solutions
When a customer approaches Provident for a residential or consumer loan, they connect with a representative who stays with them through the life of the loan, ensuring continuity of service and a personalized journey.
"The customers like to see that stability," Giannola said. "They like to deal with their banker. They have long-term relationships that they build, and that's the beauty of community banking. Customers who are banking with community banks want that personalized touch."
Provident prioritizes those strong relationships. Giannola characterized the bank as consultative rather than transactional. As an institution, its goal is to provide effective long-term financial solutions, not quick product sales. Maintaining relationships with customers enables Provident to better understand their situations and help them find the financial products that best meet their goals.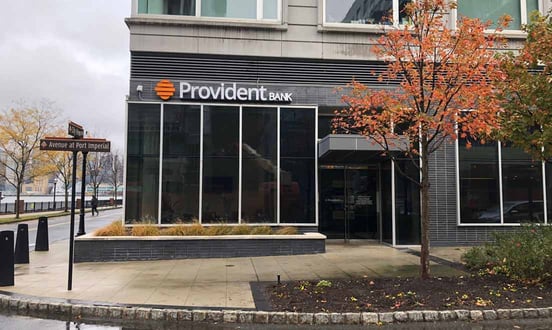 These products and services cover everyday money management, retirement planning, and many short- and long-term goals. The bank's variety of products and services ensures that Provident can provide appropriate and valuable fits for customers in any financial situation.
"We can offer what the large banks offer but with a personalized touch," Giannola said. "We've always been that way, but even more so now. We're there to do the transactions for the customer, but we've become even more of a consultant."
Online and In-Person Education Help Consumers Build Credit
All the products and services in the world won't benefit customers who don't understand how to use them. For example, not understanding the nature of debt could seriously impact a consumer's credit score and damage their financial standing.
To ensure its customers get the most value with minimal risk, Provident maintains a robust financial literacy program. But its efforts aren't limited only to people who have relationships with the bank. It also helps boost the economic well-being of all the communities it serves.
"We're committed to giving back to the community," Giannola said. "One way that we do this is through the financial literacy program. The program has expanded to serve both adult learners as well as children in school."
As of July 2021, more than 8,500 learners have used the adult education program to learn about homeownership, retirement planning, and investing.
Provident's financial literacy team also conducts direct education through in-person seminars and virtual webinars covering many topics. In branches, trained representatives can help guide customers through financial education modules relevant to their current goals.
"It's not only our job to educate the customers, but it's our responsibility," Giannola said. "Recently, our CEO Chris Martin endorsed our financial literacy program and highlighted it as a way to give back to the community. Our brand promise is: Commitment you can count on."
Products to Protect Identity and Financial Well-Being
Alongside practical education, cybersecurity is one of the most critical factors that can impact financial wellness. Stolen credit card numbers and fraudulent purchases can cost consumers money and future opportunities. Low credit scores and high debt-utilization ratios can limit access to other financial products and result in higher interest rates.
Many banks and credit card companies have policies and safeguards to help prevent these situations, but identity theft and fraud can still be stressful and damaging. The best way to avoid personal and financial duress is to prevent those breaches from occurring in the first place.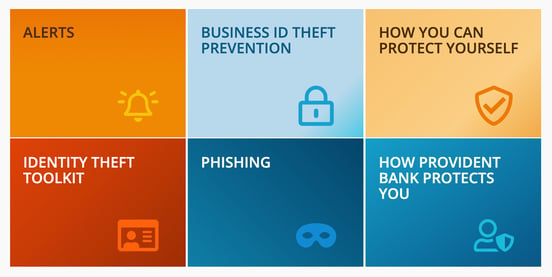 That's why Provident ensures every staff member is aware of current threats and scams. In addition to sharing that information within the organization, Provident also publishes articles and webinars to alert customers and the public to potential hazards.
Provident also offers identity theft protection called Ultimate ID to bolster those lines of defense. This service protects the identities of customers on the dark web — where hackers and thieves often exchange stolen personal data — and it monitors all three credit bureaus for reports of unusual activity.
"As a customer, you can participate in this service. It's got a lot of other features and benefits," Giannola said. "It's just another tool we offer our customers to assist them."
Provident: Strengthening Communities Through Education
Provident Bank has put down deep roots in its communities since it opened more than 180 years ago. It has developed strong relationships with generations of customers and partner institutions.
"It's definitely multigeneration, and also, we have a large business base," Giannola said. "Because we do so much in the community, we have very strong ties with all the businesses, and businesses have been banking with us for a very long time. We receive referrals from them, and all that leads to the success and the stability in the bank."
That success and stability ensure customers can always turn to Provident for their financial needs, whether they are looking for a consumer loan or education about money management. And Provident aims to keep pace with changing trends and demands.
Provident is in the process of enhancing its financial literacy website through a partnership with EVERFI. It plans to add more topics based on customer demand, and the site will be more interactive. But its core purpose will remain the same: educating and serving customers and community members.