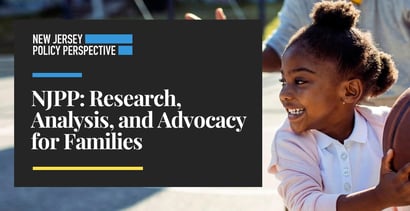 In a Nutshell: New Jersey Policy Perspective conducts research and advocacy to help the state's residents achieve and maintain financial independence. One barrier to its mission is government reluctance to raise taxes, eliminating a potential funding source for schools, transit, and affordable housing. Another issue for New Jersey is focusing too much on closing the skills gap, which means the problem of inadequate wages, particularly for freelance workers, may be overlooked. New Jersey Policy Perspective works to highlight those realities and urge individuals and decision-makers to push for change.
New Jersey has a substantially higher median household income and a slightly lower poverty rate when compared with national statistics. But those optimistic numbers don't tell the full story. Too many New Jerseyans don't have the resources they need to put food on the table, keep a roof over their heads, and save for the future.
Those disparities are among the economic and social issues for which New Jersey Policy Perspective advocates solutions. As a self-described "think-and-do tank," the organization promotes changes in health care, economic security, and tax and monetary policy. Its goal is to advance economic, social, and racial justice through evidence-based, independent research, analysis, and strategic communications.
"Even though we do a ton of research, we also have a very intentional and robust communications apparatus," said Brandon McKoy, President of New Jersey Policy Perspective. "We don't just write a report and then hope people read it. We drive attention around it and make sure everybody — from the media to lawmakers to everyday citizens — knows what we have found. And that information shapes conversations."
New Jersey's median household income is $87,726, according to Statista, and the state's poverty rate is 9.2%. In contrast, the Census Bureau puts the median household income in the U.S. at $68,703 and the national poverty rate at 10.5%.

New Jersey Policy Perspective advocates for policies that foster financial stability for individuals and families. It seeks to help them reduce and avoid debt and earn enough to support themselves, afford homes, and save for retirement.
"We understand how history has brought us to this moment where communities, especially those who have been disenfranchised for so long, are fundamentally at a disadvantage," McKoy said. "What does that mean for them? What does that mean for the health and well-being of our collective economy? We want to help fix that in a way that's not just reinforcing existing systems."
New Jersey Policy Perspective's mission is to research those questions and advocate for the people who need answers the most.
Outdated Tax Policies Hinder Economic and Social Progress
McKoy said that some of New Jersey's most significant issues are affordable housing, a shortage of good schools, and cost-effective and reliable transportation. The population's biggest employment centers are located outside the state, so transportation is vital. New Jersey residents regularly travel to New York City and Philadelphia for work.
"The fact that transit exists, and we invest as much as we do in pre-K and K-12 education, that's how we get our No. 1 education ranking," McKoy said. "But the state has a lot of lawmakers who still are in the 1980s mindset when it comes to taxes."
New Jersey residents pay relatively high property taxes to fund public services at the local level, McKoy said, but sales and income taxes are middle-of-the-road compared with taxes in other states in the union.
However, New Jersey decision-makers have said they believe those taxes cannot be raised any higher, thereby eliminating a funding source for public services and institutions. That puts the entire state — but especially minority communities — at a disadvantage.
"It's a very political conversation because people see that in terms of political outcomes and benefits. It's holding us back from addressing these disparities," McKoy said. "On the one hand, you have legislators who say the diversity of our state is one of our strengths; it's one of the things we're most proud of. But they don't do enough to make sure we live up to that statement. If you're so proud of diversity, then make it a state where not being white doesn't put you at a disadvantage."
Focus on Skills Gap Obscures More Fundamental Employment Issues
A false dilemma exists around the labor skills gap in New Jersey, according to McKoy. The standard solution is to match job seekers with empty positions, but that approach doesn't address the fundamental problem of wages commensurate with the work performed.
"When you look deeper, many empty job positions are not empty for months at a time. They are folks who recently moved onto a new job or were recently fired. They're sort of fresh, and they don't stay empty for a long time," McKoy said. "It's not a skills gap issue. It's a lack of coordination in where people are and between employers and employees. That's because the employers are unwilling to pay a wage that would make someone want to take that job."
For example, a sales job might require a wardrobe upgrade, travel costs, and other expenses. If an employer doesn't pay a wage that offsets those and other basic expenses, plus leave some money left over, then interest in that position is low. Taking that job could involve taking on more consumer debt, and no amount of skill-matching will remedy the problem.
Another pressing issue in New Jersey is the dilemma of gig work. Freelancers enjoy flexible schedules and expanded opportunities to find work in the digital age, but that also means increased competition can drive down wages. Gig workers may also face difficulties acquiring health care and saving for retirement since their clients aren't paying into either of those funds.
"We all just accepted the fact that the companies didn't want to provide the benefits. And now we're all supposed to figure this out on their own," McKoy said. "That is not a sustainable way to go about it."
Consumers, Not Employers, Drive the State's Economy
The inconsistency and variable compensation of gig work aside, standard wages present another problem for New Jersey. In 2018, the state passed legislation to establish a $15 minimum wage, which will be implemented gradually for most workers.
Farmers are on a more extended incline schedule, and when the minimum wage is fully implemented, it will increase the earnings gap between tip and wage workers.
"It'll be nice to see how having a higher minimum wage improves this crisis or prevents some of the challenges people see in other states that don't have that. But it has still been a struggle," McKoy said. "I think it's been successful recently, but we need to do more to get folks to understand. Businesses don't create jobs. Customers create jobs. If you don't have customers, then you don't have a business."
Watch on
And you can't have customers when people aren't earning enough to purchase goods and services. That can damage personal well-being and the state's economy, as the people who make up the markets don't have enough money to spend.
People in lower-income brackets often can't meet their basic needs without accruing credit card debt — which also affects more than just their financial situations.
"In a capitalist society, consumption is what drives the economy," McKoy said. "If the vast majority of the people cannot consume to the degree that matches their demand, then we're out of flux. Many people like to look at the supply side and say we need to make sure there's enough. The issue is, can folks get the things they need? Can they afford the things they need?"
NJPP: Learning Valuable Lessons from COVID-19
The COVID-19 pandemic has heavily impacted the financial situations of New Jersey residents. It has been less strenuous for those who have plenty of savings and adequate access to health care. But for everyone else, the pandemic only escalated existing problems and tensions.
"A lot of the disparity we see manifests as a result of the pandemic and the recession. It's not like the pandemic caused those disparities. They are linked to existing disparities, access to services and programs, and basic support," McKoy said. "We've all been living with these disparities for decades, and this was entirely predictable."
The $600-per-week unemployment support helped people stay afloat while it lasted. When it expired, and no additional assistance followed, the general financial decline accelerated toward its logical conclusion. But that isn't an inevitable end.
"I think it's a lesson to policymakers that unemployment should be more robust. It should be more generous concerning who is eligible for it," McKoy said. "Many workers weren't sure if it was for them — and it should be more than $600 a week."
Policy hasn't kept pace with the job market, which is now populated by a new generation of freelancers and entry-level workers with student debt. Those financial straits make it hard to help support the economy, save for retirement, purchase a home, or enjoy a comfortable standard of living.
Instead, they may find themselves accruing credit card debt to meet basic needs and getting trapped in a vicious cycle of financial dependence.
"Those are things we continue to let fester," McKoy said. "And until we do something about it, those disparities will continue to get worse."
Advertiser Disclosure
BadCredit.org is a free online resource that offers valuable content and comparison services to users. To keep this resource 100% free for users, we receive advertising compensation from the financial products listed on this page. Along with key review factors, this compensation may impact how and where products appear on the page (including, for example, the order in which they appear). BadCredit.org does not include listings for all financial products.
Our Editorial Review Policy
Our site is committed to publishing independent, accurate content guided by strict editorial guidelines. Before articles and reviews are published on our site, they undergo a thorough review process performed by a team of independent editors and subject-matter experts to ensure the content's accuracy, timeliness, and impartiality. Our editorial team is separate and independent of our site's advertisers, and the opinions they express on our site are their own. To read more about our team members and their editorial backgrounds, please visit our site's About page.