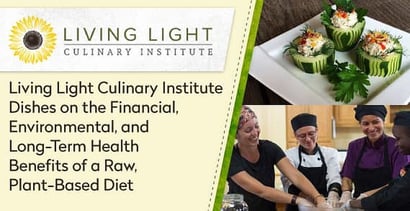 In a Nutshell: A common misconception is that healthier diets always come with higher price tags. However, avoiding costly meat and dairy purchases can often lead to lower grocery bills. When the Living Light Culinary Institute opened its doors in 1998, traditional diets incorporating raw foods were mostly limited to sprouts and smoothies. Under the leadership of Living Light founder, Cherie Soria, the Institute revolutionized the plant-based food movement in the United States by introducing gourmet cuisine made from the earth's highest-quality natural ingredients. Today, the Living Light Culinary Institute provides top chefs and home cooks interested in achieving healthier and more sustainable diets with the knowledge to incorporate plant-based nutrition into their own kitchens — and often at lower costs.
Although some have been tempeh — oops, we meant to type "tempted" — to dismiss vegan and plant-based diets as a fringe fad, trends indicate that meat and dairy-based diets are becoming less popular. Today's millennial and Gen Z consumers are more likely to eschew a cheeseburger in exchange for tofu, and they purchase as much as 80% more kale and up to 550% more plant-based milks than prior generations.
Why the shift? In addition to the associated long-term health benefits and boosts to environmental sustainability tied to eliminating meat and dairy from one's diet, transitioning to a plant-based lifestyle may ultimately be a wise decision for the wallet, according to this study from the Journal of Hunger & Environmental Nutrition.
"When my clients add up the price of all the processed foods in their pantry and fridge," said James Sant, Creative & Culinary Director for the Living Culinary Institute in Fort Bragg, California, "they quickly see that a diet based on organic whole foods is actually not more expensive."


We recently spoke about the advantages of a cleaner diet with the Living Light Culinary Institute team, including Erica Harrold, who serves as Communications Support for the institute.
She shared some of the ways that shifting away from the cheap, processed and fast food options and toward a diet that highlights the attributes of plant-based eating is a better bet — especially in the long run — for the body and the budget.
"People are looking for more options than the Standard American Diet, which is acronymed as 'SAD' for a reason," Harrold said. "It, unfortunately, is not geared toward the most optimal nutrition for the body."
A Healthy Body Means a Happy Wallet: The Healthcare Cost Advantages of Plant-Based Eating
"[Plant-based diets] might seem initially more expensive for people who are used to eating fast foods or processed foods," Harrold said. "But, if you start to factor in the health costs involved with a poor diet, then the long-term benefits of eating organic and nutrient-rich foods easily justifies the investment."
An observational study published in the scientific journal, Critical Reviews in Science and Nutrition, hails the health-protective attributes of a plant-based diet. The study notes a 25% decrease in the incidence and mortality from ischemic heart disease and an 8% decrease in incidence of total cancer in participants who consume a vegetarian diet. Among study participants who maintain a vegan diet, the journal notes a significant reduction of risk (15%) of incidence from total cancer.
Harrold describes plant-based consumption as eating closer to the soil — or, in other words, taking a more garden-to-table approach to meals that offer a starring role to vegetables, nuts, and legumes. She notes that the Living Light Culinary Institute looks toward the centenarians who live in the world's Blue Zones as models for longevity rooted in healthy diets and lifestyles.
"There are places in the world where, because of their diet and lifestyle, people have longevity that well exceeds the typical population," Harrold said. "They typically tend to be either vegetarian or vegan in these types of places."
Beyond adhering to a vegan or vegetarian diet, some studies indicate that the longest-living and healthiest people in the world's Blue Zones share an interesting commonality: regularly participating in the act of cooking itself increases the odds of being alive in 10 years by as much as 47%.
Developing Raw Skills for Better Eating at the Living Light Culinary Institute
It's not just the nutrients from plant-based meals that contribute to good health. The acts of meal-planning, shopping or foraging for ingredients, and the social aspects of cooking and sharing meals all contribute to better mental, physical, and emotional well-being.
When it opened 20 years ago, the Living Light Culinary Institute was among the first schools to offer gourmet raw cooking classes. Today, it remains a destination for the world's top chefs seeking to elevate their plant-based culinary oeuvre. The institute also welcomes folks who seek a better understanding of raw food nutrition and preparation but lack culinary training.
Watch on
"The school provides an approach to taking everyday meals people enjoy that include dairy or meat and finding unique or creative ways to turn those into plant-based meals," Harrold said. "It gets people familiar with basic healthy meal preparation — like knowing how to set up a kitchen and basic knife skills."
"The way that you prepare vegetables — the mouthfeel — is attributed to the ability to chop, dice, and julienne. You learn these really fundamental skills, as well as how recipes are converted from cooked to raw. Students get hands-on experience in making the fresh soups, sauces, wraps, entrees, pâtés, crackers, and some desserts, and then they learn a little more about effective meal planning."
Living Light offers a two-day "Nutrition 101" course for beginners to answer common questions about food science, such as how to receive adequate protein and amino acids from plant-based diets.
"Instructors discuss the benefits and the challenges that could come up with plant-based diets, and they work with the students around understanding how certain raw foods and a plant-based diet can be incorporated into their life," Harrold said.
Exploring the Benefits Behind Local, Plant-Based Foods
Another advantage for Californians who attend the Living Light Culinary Institute is a focus on locality.
"It benefits you, healthwise, to be eating foods that are grown close to where you live because the bacterias in the soil actually benefit your immune system," Harrold said. "You may have heard about beekeepers: when they look after the hives, the bees actually create honey that is beneficial to that beekeeper because of the sort of resonance of that pollen they're around.
"It seems like a kind of mystical thing that happens, but there's a truth to it. The same thing happens around the bacteria in the soil: it starts to improve our immune systems for where we live."
Harrold also mentioned that wild food can contain more vitality than farm-raised food because the wild food hasn't been cultivated or 'forced to grow,' but is growing in the environment best suited for it. To this end, Living Light students go on frequent field trips to forage in various environments near the northern California school and produce garden-to-table meals as part of their training.
"We take students mushroom hunting or foraging on coastlines for seaweed and sea plants you can incorporate into some of the meals we make," Harrold said. "The premise, really, is to open people's eyes to their connection to a place and to its food. I think that shifts people's understanding of how they move in the world or what they choose to purchase or consume."
Stress-Free Transition: Making Partial Changes to Achieve the Diet that Works for You
Although switching to an entirely raw, vegan diet can be a challenging venture for many people, there are significant benefits to personal health and budget that can be achieved by introducing more plant-based meals to one's diet — without necessarily making the leap to 100% raw food. As more people transition toward plant-based diets, more vegan options became available to maintain a delicious lifestyle that relies less on meat and dairy.
"People are starting to clue in that they feel better; they're getting access to better food," Harrold said. "There are all these vegan nut cheeses and 'meats' that are coming out. There are opportunities to have choice and delicious foods without the consequences of factory farming, disease, and the harm that could come from a Standard American Diet."
Courses at the Living Light Culinary Institute are geared toward helping folks achieve the plant-based dietary habits that work for them — whether it's a commitment to wholly raw eating, or a lifestyle change that meets folks somewhere between the dollar-menu fries at the drive-thru and the health store aisle with the sprouted breads and dehydrated seaweed.
"What we're interested in is helping people learn where their food comes from, how it can help them, and how it connects to their health," Harrold said.
Advertiser Disclosure
BadCredit.org is a free online resource that offers valuable content and comparison services to users. To keep this resource 100% free for users, we receive advertising compensation from the financial products listed on this page. Along with key review factors, this compensation may impact how and where products appear on the page (including, for example, the order in which they appear). BadCredit.org does not include listings for all financial products.
Our Editorial Review Policy
Our site is committed to publishing independent, accurate content guided by strict editorial guidelines. Before articles and reviews are published on our site, they undergo a thorough review process performed by a team of independent editors and subject-matter experts to ensure the content's accuracy, timeliness, and impartiality. Our editorial team is separate and independent of our site's advertisers, and the opinions they express on our site are their own. To read more about our team members and their editorial backgrounds, please visit our site's About page.