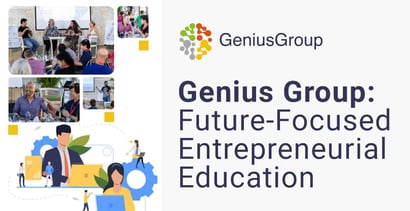 Experts share their tips and advice on BadCredit.org, with the goal of helping subprime consumers. Our articles follow strict
editorial guidelines
.
In a Nutshell: Public schools often fall short in preparing students for the future and its economic and societal shifts. Genius Group helps people of all ages and educational levels overcome obstacles through a future-focused approach that emphasizes entrepreneurship, purpose, and flexibility. GeniusU, its flagship entrepreneur education program, trains students from 16 to 60 in a high-tech, community-based learning environment. Free resources and tools at GeniusU also help people turn their passions into profits.
The global economy isn't waiting for students and entrepreneurs to catch up with the pace of innovation. Across the globe, traditional, rigidly structured educational and training programs consistently fail to instill in students the creativity necessary to ride the wave of change.
For example, public education and university administrators in the United States and elsewhere often develop siloed programs dependent on rote memorization and standards-based learning. Students may struggle to achieve a holistic viewpoint and gain practical experience in those programs.
When the time comes for them to contribute, many fall back on their lessons because they don't have the confidence to strike out on their own. Others may have good ideas, but past setbacks and obstacles prevent them from implementing their plans.
Genius Group, a global education and edtech company based in Singapore, stands in stark contrast to the educational status quo, and students worldwide flock to its programs.


More than 2.9 million learners — from preschool to retirement age — in 200 countries seek out Genius Group's future-focused entrepreneurial approach. The group is a cutting-edge institution that emphasizes purpose and flexibility. Its programs range from early learning to primary and secondary school, university, adult education, and even corporate training.
The group also hosts a range of programs from student camps to entrepreneurial accelerators, live events, and online courses that help individuals identify their talents, passions, and purpose. Then, Genius Group connects them with peers, mentors, and teachers. The group makes entrepreneurial education more accessible, so anyone can become part of the global solution.
"We believe the current educational system needs to be more relevant and student-centered, and it needs to be more high-tech and high-touch," said Michelle Clarke, Chief Marketing Officer at Genius Group. "By being mission-driven and having a great curriculum, we believe we can be a real force for good."
Entrepreneurial Education for Students of All Ages
Although Genius Group began as a supplement to existing educational curricula, it has grown organically and through acquisition. As of 2022, all the pieces are in place to build toward lifelong global learning opportunities and provide government-accredited alternatives to many current public education systems. Genius Group's tech-based platform accommodates learners from K-12 to university level and beyond, and encompasses vocational and entrepreneurial training.
Details may differ according to educational levels and goals, but students, employees, freelancers, and founders involved with Genius Group programs work based on a shared philosophy. Genius Group's mission is to build job creators rather than job takers; entrepreneurship rather than wage earning is the goal.
The early learning program is built around certified home instructors trained in child care and education. Children participate in group learning activities but also learn through play to connect with what stimulates them.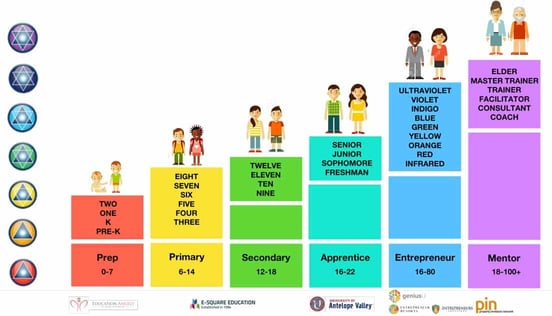 Genius School exposes pre-K to secondary-age students to the excitement of inspiration. Through Genius School, students participate in transformational two-day camp experiences, homeschooling, virtual classes, and local and virtual microschools.
Through Genius School's Young Entrepreneur Academy, students participate in a two-week online microschool that empowers them to launch digital businesses.
"I've done the mentoring at the Young Entrepreneur Academy, and I'm blown away by what the young people come up with," Clarke said. "We see them making money during the two weeks we're running the program."
Genius Group also recently acquired a university, the California-based University of Antelope Valley. There, students can choose entrepreneurial education programs, among many other opportunities.
A $1 million scholarship fund for Antelope Valley students makes entrepreneur education more affordable and accessible. It's easy to apply for the funds and gain exposure to the many courses, certifications, and degrees available at this fully accredited institution.
GeniusU Offers Access to Knowledge and Opportunities
Genius Group trains students from 16 to 60 in a high-tech, community-based learning environment. Free resources and tools at GeniusU also help people turn their passions into profits. GeniusU forms the curricular basis of the Genius School and the Young Entrepreneurship Academy. It's also home to many free opportunities available to everyone interested in embarking on an entrepreneurial path but in need of guidance and insight.
"Set up a profile, and you can instantly start your journey," Clarke said.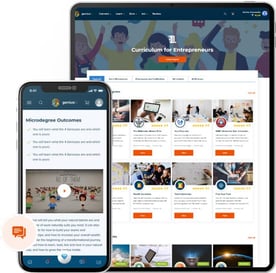 The popular Genius Test is among the many free assessments and micro-degrees available through GeniusU. More than 1 million people have completed the assessment to learn their genius type (Dynamo, Tempo, Blaze, or Steel) and achieve a better match with their life goals.
GeniusU includes learning communities for entrepreneurs and investors. A virtual university campus targets students interested in obtaining a vocational certification, bachelor's degree, or master's degree. And a student campus targets those at the secondary level. Users may filter a calendar of events to drill down into immersive in-person and online opportunities.
Everything at GeniusU operates according to the CLEAR principle, an acronym for connecting, learning, earning, acting, and reviewing.
Students connect by selecting mentors. They learn through free assessments that help them discover themselves and their potential.
They earn by learning about ways they can start driving revenue in their own companies through certifications and partnership opportunities. They're rewarded when they act by finding memberships, products, and opportunities to earn from. And they review overall performance to learn where they need to take further action.
"The great thing about GeniusU is when you get into a like-minded community and connect with someone who's already super successful," Clarke said. "And, by the way, they're looking for someone like you right now to come and support them."
Roger Hamilton is running one of the organization's events on November 3, 2002, and Genius Group is making free tickets available for Badcredit.org readers.
Hamilton, creator of Wealth Dynamics (and host of this masterclass), built GeniusU into a $250 million company that was listed on the New York Stock Exchange in 2022.
His Entrepreneur Dynamics 5.0 masterclass will be held on Thursday, November 3 at 10 a.m. EST, and he will discuss the eight different types of entrepreneurs, and how you can determine which one you are.
Hamilton will also cover the Top 10 trends and how you can use your unique strengths and areas for improvement in a world being designed with AI, robots and technology in mind. 
Badcredit.org readers can reserve a free spot in the Masterclass.
Revitalizing the Global Education Industry
Students benefit from personalized Genius Group programs because they help them discover their genius and make earning and learning lifelong activities. For parents, the platform provides an alternative to potentially counterproductive traditional educational options for their children.
Teachers may earn certifications through Genius Group institutions, participate in instruction, and further their careers. Schools and colleges that partner with Genius Group gain access to a curriculum that prepares students for a changing global economy.
Likewise, businesses looking to hire leaders and performers leverage Genius Group to build student and employee development pipelines to ensure their ongoing success. And governments benefit because education boosts productivity and helps win the competition between nations.
"There's always a way for you to learn, not just through the free content," Clarke said. "You can apprentice yourself with people and even get paid while learning."


As part of the United Nations Global Compact, Genius Group pledges to encourage businesses to adopt sustainable and socially responsible policies.
Genius Group teaches global citizenship skills to help build awareness and promote sustainability. It teaches innovation and creativity skills and encourages critical and analytical thinking.
Its technology program helps produce programmers and more sophisticated technology users, and promotes digital responsibility. And participation helps build emotional intelligence, including empathy, cooperation, negotiation, leadership, and social awareness.
Because Genius Group learning is personalized and self-paced, it's flexible enough to respect the diverse needs of each learner. And because the platform is accessible and inclusive, everyone can benefit from it.
Genius Group's commitment to innovation positions it as a positive and more effective alternative to traditional education everywhere.
"When you surround yourself with people who understand the game of wealth and how entrepreneurship works, you learn much," Clarke said. "There's always somebody out there who's done what you want to do."