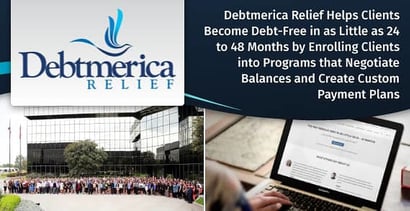 In a Nutshell: Eight in 10 Americans hold some sort of debt — from credit cards to loans or mortgages. While debt is prevalent across the country, many people prefer not to talk about their financial struggles out of embarrassment. Debt, when manageable, can be a natural part of the financial life cycle. Too much debt, combined with a drop in income or unforeseen event, can make every waking moment a nightmare. Since 2006, Debtmerica Relief has enrolled clients into programs that resolve their unsecured debt for as little as 15 to 75 cents on the dollar. The company's debt resolution programs create customized payment plans with the goal of getting clients debt-free in 24 to 48 months. Debtmerica has a solid reputation among current and former clients and doesn't receive compensation from its debt resolution partners until a client's debts are renegotiated and, in most cases, resolved. This commitment to helping clients escape debt is why we're recognizing Debtmerica with our Editor's Choice™ Award.
A little more than 20 years ago, Debtmerica's VP of Corporate Development, Alex Edens found himself lost and embarrassed as he drowned in an unmanageable pool of debt that seemed to grow deeper every day.
His credit score had dropped to an all-time low of 540 as the unsecured debt continued to build, and interest charges ate away at the payments he managed to make.
He remembers the fear he felt even today — two decades after the debt has been eliminated and his credit score revived. The fear drives his work as Brand Ambassador with debt negotiation and relief firm, Debtmerica Relief.
"I was scared," he said. "I didn't know what would happen or how far the creditors would take things. I was ashamed because I thought I should have known better in order to avoid my situation at the time — but frankly, it's not as uncommon as people think."
Debt is so common in America that eight in 10 consumers hold some sort of debt — from credit cards to loans or a mortgage.
Edens' experience helped guide his career path into financial services and to Debtmerica, where he and his team regularly work with clients who have varying amounts of unsecured debt. The company enrolls clients into customized solutions that are intended to resolve the money owed in as little as 24 to 48 months.
As part of the plan, debt resolution firms which have partnered with Debtmerica work on the client's behalf with creditors to reduce the amount owed, while executing a customized payment plan that resolves the enrolled debts.
"We take a very honest approach with our clients," Edens said. "It's a very consultative sales approach where we do everything we can to understand the situation the client is in and the type of hardship they're experiencing."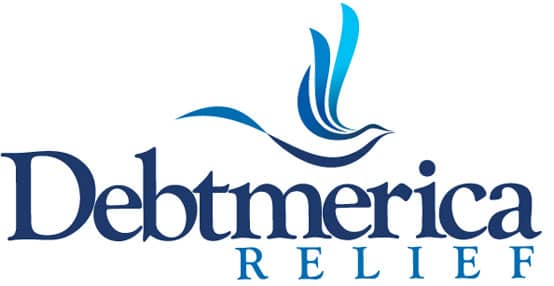 Debtmerica is a member of the American Fair Credit Council and the company maintains a high rating among former clients.
"Quite often, what we do is simply give advice," Edens said. "A lot of times, that's all people need. A fair percentage of the US population could use a bit more education about financial services all the way down to the basics of self-budgeting."
Debtmerica's offices are in Southern California, but the company works with clients nationwide. The firm was named one of Inc. Magazine's 500 Fastest Growing Companies in 2009 and 2010 in part for its approach to client relations and its track record of its clients experiencing debt resolution of 15 to 75 cents on the dollar.
"This is not a magic-wand solution where we're able to magically manipulate or twist the arm of the creditors," Edens said. "You have to really understand what the hardship is and who the creditors are, as well as the type of debt that is owed."
Customized Plans Help Clients Eliminate Debt
Debtmerica clients make one payment each month to their resolution program. Those funds accumulate and are used in the resolution of the client's debts. Before the process begins, though, Debtmerica urges consumers looking for debt solutions to do their homework and fully understand how this works.
"We hope that people research us before they contact us," Edens said. "We want to be vetted so people can understand that we're a company that's legitimately trying to help people. When they have a level of comfort with us, they can call us or fill out a web form requesting that we call them. Either way, it starts with a conversation."
Watch on
That conversation includes details about the money owed, the creditors involved, and the status of each account. Debtmerica's resolution partners then research each creditor's policies, guidelines, and background to prepare the next step in the relief process.
"This information, and other key factors, are used to customize an approach for each individual," Edens said. "Every one of the programs we enroll clients into are based on the specific mix of debt and creditors."
The program initially gives clients an idea of how much their debt can be reduced and the total monthly payment they will be required to pay. Most importantly, clients are given a conservative estimated date by which they can expect to graduate from the program.
"All of this is told to them with the understanding that the program is done through a professional negotiation process," Edens said. "We're communicating to them our very close approximations. Very often, resolution programs outperform what a client is initially indicated, which means they could become debt-free even faster."
Debtmerica Doesn't Get Paid Until a Debt is Resolved
Edens pointed to a previous client to show how Debtmerica's services can help consumers drowning in debt. This client was a successful Realtor before the real estate bubble claimed his job and his savings in quick succession. Soon after, his wife became ill and required extensive medical treatments. The family had no medical insurance to buffer those expenses.
Faced with more than $100,000 in growing debt, the client considered bankruptcy but had several assets he wanted to save. All of the properties he owned were tapped out of equity and his credit score and income dropped low enough to exclude him from any form of consolidation loans. In a state of apprehension, he turned to Debtmerica.
"He became very motivated after the first account was settled and started finding alternative work to make extra money and complete the program faster," Edens said.
Despite having one of the largest debt loads Edens has seen, the client managed to graduate from his program, debt-free, in just over two years.
"It was one of the fastest graduations I've ever seen," Edens said. "It was especially impressive when you consider how much debt he started with."
Edens said the average client comes to Debtmerica with about $30,000 in debt, though there is no debt ceiling and the company can work with clients who have any amount of debt as long as it qualifies for renegotiation.
"The trick is to make sure the proper underwriting procedures are followed," he said. "That sets a monthly program payment amount into our program that is designed to get the client out of debt within a certain amount of time."
Debtmerica doesn't get paid unless the company succeeds for the client. When a client makes their monthly payment, the money is deposited into a client-owned account. It then accrues and is used to pay the eventual settlement with each lender. Fees, typically between 20% and 24% of the debt load, are removed from the account after each debt is negotiated and resolved. That means even the cost of the program is included in the monthly payment — avoiding the creation of another debt.
"The thing to remember is that the fee is rolled into the monthly payment," Edens said. "This isn't a case of helping a client get out of debt and then we hit them with our bill. You're paying for our services while you're paying off your debt."
Turning Tears of Sadness Into Tears of Joy at Graduation
Edens' and each of Debtmerica's Debt Consultants own experiences with debt help them lend a sincere ear to anyone who calls Debtmerica seeking help.
"Unfortunately, there is a lot of shame around debt," he said. "Because of that, we don't come from any kind of judgmental place. Life's circumstances take over sometimes. We've all struggled financially."
In his time at Debtmerica, Edens has been on the receiving end of countless phone calls from clients who, after a few months with the program, reach out to celebrate the settlement of their first debt. Edens said the feeling he gets during those calls never gets old.
"You hear the joy in their voice and you hear the hope," he said. "They're so excited to have one knocked out. They see that their program works and, if they continue to do it, they're going to eliminate their debt."
Debtmerica's resolution partners can negotiate unsecured debts down to an average of 15 to 75 cents on the dollar. The company works with clients to enroll them into programs that create a payment solution to eliminate the renegotiated debt and, in a majority of cases, leave the client debt-free in 24 to 48 months.
"You get them crying in the beginning because they're sad, and then they're crying in the end because they're overjoyed," Edens said. "It means so much to know that we get to play a role in that."
Advertiser Disclosure
BadCredit.org is a free online resource that offers valuable content and comparison services to users. To keep this resource 100% free for users, we receive advertising compensation from the financial products listed on this page. Along with key review factors, this compensation may impact how and where products appear on the page (including, for example, the order in which they appear). BadCredit.org does not include listings for all financial products.
Our Editorial Review Policy
Our site is committed to publishing independent, accurate content guided by strict editorial guidelines. Before articles and reviews are published on our site, they undergo a thorough review process performed by a team of independent editors and subject-matter experts to ensure the content's accuracy, timeliness, and impartiality. Our editorial team is separate and independent of our site's advertisers, and the opinions they express on our site are their own. To read more about our team members and their editorial backgrounds, please visit our site's About page.