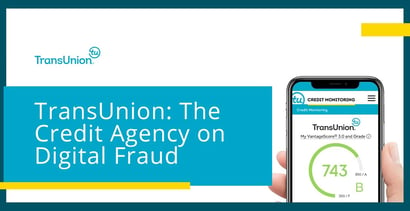 In a Nutshell: Digital fraud attempts increased notably over the past year, according to data from credit reporting agency, TransUnion. And fraudsters are becoming more sophisticated, even as security methods increase to meet the attacks. The company not only helps businesses assess risk, but it provides solutions to protect both consumers and businesses against fraud. Having protections, such as TransUnion's TruValidate and myTrueIdentity, in place reduces fraud and data breaches while strengthening trust between businesses and consumers.
In the internet's early days, a six-character password was standard fare when it came to protecting personal accounts. While passwords are still the most common security measure used to protect valuable information on the consumer level, many experts say it's time to move away from password protection altogether.
Many consumers may find this appealing since the average person has between 70 and 80 passwords to keep track of.
Similarly, financial institutions and other businesses must protect sensitive information of their own as well as the personal and financial data of customers.
While some companies are still hanging their hat on the old password method, other companies, like the credit reporting agency TransUnion, are advancing digital security techniques that protect businesses and individuals.

While many people know TransUnion as a credit reporting agency, the company's mission is much broader.
"TransUnion is a global information and insights company that makes trust possible between businesses and consumers, by ensuring that each consumer is reliably and safely represented in the marketplace," according to the company.
The company does this by gaining an accurate and comprehensive picture of consumers. While this picture is grounded in its foundation as a credit reporting agency, TransUnion also combines rich data, expertise, and passion to protect businesses and consumers.
"Because of our work, organizations can better understand consumers in order to make more informed decisions, and earn their trust through great, personalized experiences, and the proactive extension of the right opportunities, tools and offers. In turn, consumers can be confident that their data identities will result in the opportunities they deserve," according to the company.
A big component of trust is security.
We recently spoke with Melissa Gaddis, Senior Director of Customer Success for TransUnion Fraud and Identity Solutions, about digital fraud and identity theft in today's environment, how consumers can protect themselves, and TransUnion's products and services that stave off fraud.
Fraud Attempts are on the Rise and Techniques are Becoming More Sophisticated
Gaddis said over the past year, TransUnion studies have shown a large increase in fraud and fraud attempts across all industries.
"I believe the pandemic we're in with COVID is one of the primary factors for that, for a couple of reasons," she said. "One is from a business perspective — suddenly shifting all of your lines of business online was a huge move for a lot of businesses."
While many businesses have some level of online presence, many of them weren't prepared to the extent necessary to basically move to a completely online model.
"Now, suddenly, you have to rely on what you can get online to validate who you're working with or who you're selling to," Gaddis said.
The credit reporting agency's studies also revealed that younger generations are getting targeted and impacted by fraud more frequently than in the past, she explained.
"This is counter to what I've always seen and heard," Gaddis said. "It's usually the older generations who are targeted. I'm thinking about my parents who are in their late 80s who get a fraudulent IRS call and think, 'Oh my gosh, the IRS is after me.' Whereas, I get a fraudulent IRS call and don't think about it."
Gaddis said part of the reason for fraudsters targeting younger people now is because so many people were laid off or furloughed during the pandemic and are relying on unemployment or stimulus checks.
"They're actively seeking and desperately in need of these services," she said. "So when an email or call comes in that looks like you're going to get relief, it looks legitimate because they've been waiting for it."
A lot of people are seeing phishing attacks to gain access to credentials to conduct fraudulent activity directly or sell the information on the Dark Web.
"We're also seeing a lot more account takeover types of activity, where they're getting into an account to either take over a line or adding a line to cell survive," Gaddis said. "Or getting stolen credit card information, purchasing a cellphone or electronic device, having it shipped, and then never intending to pay."
How Consumers Can Remain Vigilant
While some aspects of preventing and avoiding fraud are out of the hands of the average consumer, Gaddis offered some tips and advice for what people can do to help.
"Diligence is number one. And education is extremely important," she said. "There are a lot of savvy people who are your readers. But for every savvy reader you have, they know people who might not be. I just saved a fraudulent text to show my children and even my husband, who doesn't work in the online world."
Just helping people understand that these fraud attempts exist and are out there every day can go a long way toward preventing it, Gaddis explained.
Watch on
"And if they do fall victim to a scam, they aren't alone. I think it's very important for people to know that," she said. "People sometimes get scammed and think, 'How stupid was that? How obvious?' But it's not obvious. People shouldn't feel like they're alone if they are victims of fraud. It's a huge industry."
Gaddis' second main area of advice is about adding friction to accounts.
"People should be willing to have a little friction in your accounts," she said. "With my bank, vendors, retailers, or wherever I'm storing a credit card, if I'm logging in from anything other than my home or my home computer, I will have them verify me."
Gaddis said she doesn't take this extra step if it's for a service such as Facebook, where there are no transactions involved.
"If they want to look at pictures from my garden, more power to them," she said. "But anything with financials or anywhere I'm storing credit card information, I'm willing to have a little bit of friction to protect myself."
TransUnion Solutions that Protect Businesses and Maintain Consumer Confidence
"Building a reputation that you have the systems in place to protect your consumers is extremely important," Gaddis said. "I think it goes beyond just protecting the data — which is certainly absolutely imperative — but it's also helping consumers protect themselves is more and more a responsibility of businesses."
TransUnion offers a number of products and services that are aimed at protecting businesses and consumers, and building trust between the two parties.
TruValidate helps businesses confidently engage with consumers in a digital world, according to TransUnion.
TruValidate™ delivers an accurate and comprehensive view of each consumer by linking proprietary data, personal data, device identifiers, and online behaviors," according to the company. "Our advanced insights and global network of fraud reporting helps businesses discover anomalies, assess risk and confidently identify good consumers."
This allows businesses to protect themselves while focusing on offering effective, personalized experiences with just the right amount of friction.
TransUnion also offers solutions that address the ever-present threat of data breaches.
"Protect and restore consumer confidence, quickly and effectively, with myTrueIdentity: Data Breach Services from TransUnion," according to the company.
This product eases the burdens a data breach can place on a brand and its consumers. According to TransUnion, 15.4 million Americans were victims of identity fraud in 2016.
"That's a new casualty roughly every two seconds. It's important to be proactive and not wait until a breach happens to consider consumer impact," according to the company. "Putting an actionable program in place can preserve your business' reputation, as well as prevent the loss of customers. The ability to notify and assist impacted individuals and get back to business as usual could make the difference between solid recovery and grinding to a halt."
Preparing for a More Digital World
"We're hearing about the vaccines rolling out and businesses opening up again," Gaddis said. "But I don't believe that we are going to go back to the working environments that we had pre-COVID.'
People don't have the appetite to go back to an office five days a week if they don't have to, she said.
"So while I think the fraud trends that we're showing now are likely to go down, I don't think they're just going to drastically drop off as the economy starts opening up again," Gaddis said. "I think we're going to see a shift more toward online. And so people need to be more aware and savvier once we're in our new normal, so to speak, in protecting themselves."
Advertiser Disclosure
BadCredit.org is a free online resource that offers valuable content and comparison services to users. To keep this resource 100% free for users, we receive advertising compensation from the financial products listed on this page. Along with key review factors, this compensation may impact how and where products appear on the page (including, for example, the order in which they appear). BadCredit.org does not include listings for all financial products.
Our Editorial Review Policy
Our site is committed to publishing independent, accurate content guided by strict editorial guidelines. Before articles and reviews are published on our site, they undergo a thorough review process performed by a team of independent editors and subject-matter experts to ensure the content's accuracy, timeliness, and impartiality. Our editorial team is separate and independent of our site's advertisers, and the opinions they express on our site are their own. To read more about our team members and their editorial backgrounds, please visit our site's About page.