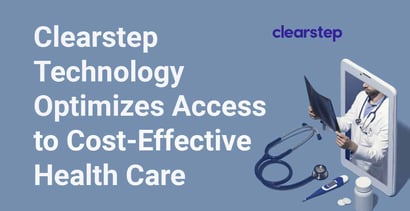 Experts share their tips and advice on BadCredit.org, with the goal of helping subprime consumers. Our articles follow strict
editorial guidelines
.
In a Nutshell: As the COVID-19 pandemic gathered steam in the US, Clearstep introduced a chatbot-based screening tool to route individuals to the most effective course of treatment. Now some of the nation's largest healthcare providers, systems, and management organizations partner with Clearstep to empower patients to take informed control of their symptom checks. Clearstep technology presents users with a personalized course of treatment based on industry-leading nurse triage guidelines for more than 120 symptoms. The healthcare chatbot is continually reviewed and refined for the most current information.
When people notice lingering or worsening health symptoms, they often don't know what to do next. Research has shown that most folks in that situation turn to the internet.
Given the inaccuracy or hyperbole inherent in much healthcare info on the web, that's not necessarily a good thing. A web search on something as simple as a tickle in the throat often returns results that can make a person fear the worst.
When sick people consult a healthcare provider online, things often grow more complex. Hospital and health system websites tend to be challenging to navigate and designed in a way that's anything but consumer-centric.

Patients may misdiagnose themselves and consult inappropriate sites of care, such as emergency rooms, when they're not necessary. The consequences can cost money and time.
It also puts an undue administrative burden on understaffed care teams, who could be caring for people with more complex needs instead of shuffling paperwork and sending patients in another direction.
Technology and tools from Clearstep help patient-consumers and caregivers understand the best options for care before meeting face-to-face with doctors. With Smart Care Routing™ embedded on websites and patient care portals, health consumers can triage themselves to the right care and services.
The technology also automates key touchpoints to reduce administrative burden and streamline follow-ups and remote monitoring workflows. Clearstep facilitates better access to the most cost-effective care by plugging seamlessly into existing infrastructure as a white-labeled product.
"Clearstep was founded because we believe health care should be easy," said Raven Cobb, Vice President, Marketing and Growth at Clearstep. "We build technology that makes it simple for people to access the most useful, clear next steps for healthcare."
A Better Experience for Patients and Care Teams
Clearstep started when two college classmates with professional backgrounds in healthcare consulting and medicine created a chatbot-based tool to screen people with COVID-19 symptoms.
The tool distinguished itself by digging deeper than competing products to indicate the potential for other serious conditions associated with the virus, such as respiratory failure attacks.
As COVID-19 approached endemic status in the US, Clearstep expanded the number and types of symptoms the tool could check, and clients began using Clearstep technology as a general triage tool.

Consumers sometimes have the wrong idea about which facility or treatment course offers the most straightforward path to a resolution. They may end up spending more time and money than necessary.
Cobb said Clearstep's Smart Care Routing™ is an attractive choice for healthcare providers, health systems, and health management because it tends to reduce unnecessary demand on emergency room and call center care teams.
"If patient-consumers insist on being treated in a certain way, they may have to wait a very long time, and that's most likely going to impact their health outcomes and overall care experience negatively," Cobb said.
Clearstep helps care teams reduce their administrative burden and improve their performance by automating data capture to assess a patient's symptom severity. This frees up time and focus that enables care teams to dedicate their energy to more complex issues.
Clearstep also helps streamline follow-up. Care teams spend more face time with patients than on administrative work, which improves patient care and the health system's bottom line.
"The American Medical Association says for every hour teams spend with patients, they double that on administrative work — entering items into recordkeeping systems, shuffling paperwork around, scheduling and rescheduling appointments, getting caught up," Cobb said. "Automation leads to better health outcomes and a better experience for patients and care teams."
Triage 120+ Symptoms Based on Industry Protocols
Clearstep's platform provides users seeking to check their symptoms with highly effective tools built on an extensive dataset that meets rigorous industry standards.
"We triage more than 120 symptoms," said Kelsey Udy, PA, Virtual Triage Product Manager at Clearstep. "Whether the user's having a sore throat, chest pain, or a headache, each symptom has an entire protocol, an algorithm developed by our clinical team of emergency, internal medicine, and urgent care providers."
Schmitt clinical content, used in 95% of nurse triage lines across the US, supplies the triage content in Clearstep's system. Clinically active primary care and emergency medicine physicians, physician specialists, call center nurse managers, and call center medical directors review this clinical content annually. That work ensures the data remains current, evidence-based, and compliant with updated professional recommendations.

The most used protocols direct users to 911 emergency response services, emergency rooms, and urgent care facilities or recommend scheduling a doctor visit or taking care of symptoms at home. Clearstep can also triage patient-consumers to about 30 different specialists.
"You can bypass urgent care or your primary care practitioner and go directly to a cardiologist, orthopedic knee surgeon, behavioral health specialist, or other specialists you may need," Udy said.
An internal team of clinicians at Clearstep monitors engagement with the tools to uncover unmatched symptoms and build protocols based on demand. Analyzing completed conversations helps the team discover misalignments and tweak the system to make it as clinically accurate as possible.
User feedback also plays a role, Udy said. The result is fewer hours spent in waiting rooms, more affordable copays and other expenses, and better health outcomes. Good things happen when patients are in the right place at the right time.
"We also listen to the market to create new features to get the most clinically accurate triage system and get the correct patients in front of the right provider," Udy said.
Empowering Patient-Consumers to Take Control
Some of the most far-reaching US healthcare provider networks use white-labeled versions of Clearstep to accomplish those goals.
CVS Health, the most extensive national retail pharmacy healthcare system, uses Clearstep to direct users to educational content, recommended over-the-counter (OTC) medications, its walk-in clinics, and primary, urgent, and hospital care providers.
HCA Healthcare, the largest US health system, integrates Clearstep across its network. And the health management network Medecision controls health outcomes for diverse client populations by using Clearstep as a digital front-door solution to check symptoms and engage in remote patient monitoring.
Meanwhile, Clearstep continues to expand and enhance specialty referral tools. Cobb said a critical goal is to help ensure consumers are preauthorized to receive the care they request.
"We've all had that experience where you show up to an appointment, and they tell you you're missing prerequisites. First, you need to do X, Y, Z — and then you can reschedule," she said.
The team is also exploring providing virtual triage to hospital and health system call centers.
Watch on
Diagnostic-based triage — which is critical because care centers have distinct diagnostic capabilities — is also on the road map.
Based on symptoms, the system will determine the diagnostics needs of patients and where to send them.
Clearstep is also building a direct-to-consumer version of its technology, rolling out in limited markets as of early 2023. The tool promises more effective outreach beyond covered populations and consumers with ongoing healthcare relationships.
Cobb said the intention behind that initiative is to distribute tools for healthcare empowerment as widely as possible.
"The main thing is to be helpful and easy and simple," she said. "We hope to be so well known online that when people realize they have symptoms, they turn to us first."